The Bucs' Offseason Additions Powered Their Super Bowl Win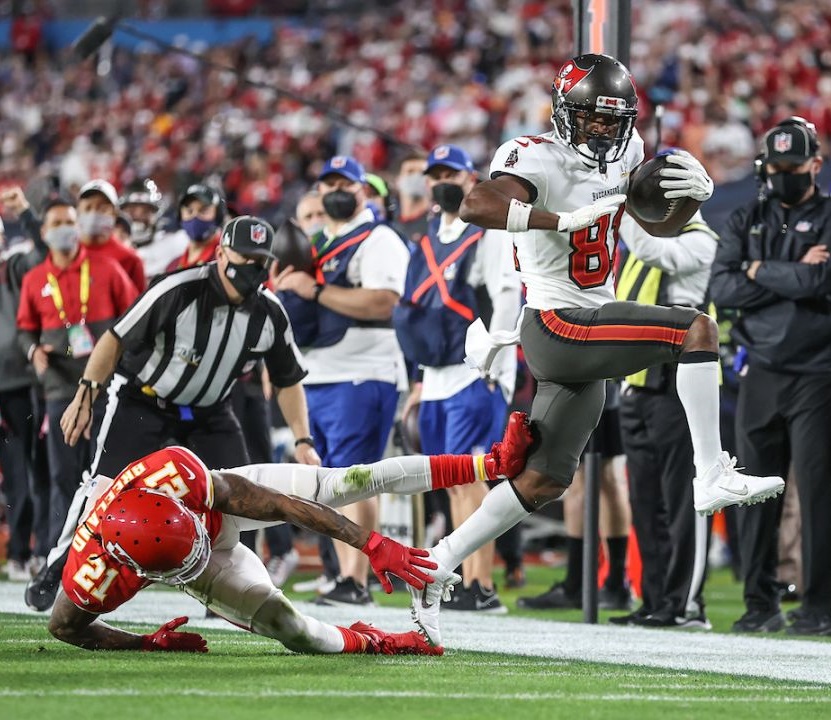 The Eagles' 2011 Dream Team will live forever in infamy, but that's hardly the only superteam that was anything but. NFL history is littered with cautionary tales of overhyped so-called "offseason winners" that went big in free agency and added big-ticket names only to underwhelm, or straight-up fall apart, when the real football started. The 2020 Buccaneers will not be adding their name to that inglorious list.

Tampa Bay's 31-9 victory over the Chiefs in Super Bowl LV was a dominant performance, a true team win that underscored the Bucs' brilliant strategy, their near-perfect execution, and their unmatched balance on both sides of the ball. It was impressive as hell to watch Tampa Bay's defense swarm around Patrick Mahomes and stop the Chiefs in their tracks. And the offense's Super Bowl performance served as a perfect microcosm for what it really means to win the offseason.

Tampa Bay's marquee offseason addition was, of course, quarterback Tom Brady, who won his fifth Super Bowl MVP award after completing 21-of-29 passes for 201 yards and three touchdowns. But behind him, the Bucs' offense sliced up Kansas City's defense thanks to a trade acquisition in tight end Rob Gronkowski (six catches for 67 yards and two touchdowns), another free-agent pickup in running back Leonard Fournette (16 rushes for 89 yards and a touchdown, plus four catches for 46 yards) and a top draft pick in right tackle Tristan Wirfs, who played a key role on the team's top-tier offensive line in protecting Brady and opening up run lanes for Fournette.

Every time you looked up, one of the team's newcomers seemed to be making a crucial play. Kicker Ryan Succop (another 2020 free-agent signing), hit his only kick, a 52-yarder. And you could even add receiver Antonio Brown, who technically signed in late October, to the group; Brown grabbed a big touchdown of his own. Buccaneers GM Jason Licht's vision for how to build a championship roster played out in real time on Sunday night.

Tampa Bay's path to a Super Bowl win wasn't always a smooth one. Even before the season began, there were plenty of reasons to doubt how the "offseason winners" label this group had earned would manifest on the field. Tampa Bay had added plenty of big, recognizable names, sure, but it wasn't hard to imagine a world in which a 43-year-old quarterback, even one as accomplished as Brady, would fail to put a team with a 13-year playoff drought over the top.


It certainly wasn't a lock that a guy like Gronk, who'd retired after suffering multiple debilitating injuries, could come out of retirement and make a big impact; or that Fournette, who'd washed out of Jacksonville as a disappointing former top-4 pick, would find new life with another team. And finally, as a general rule, it's never a good idea to assume a rookie offensive lineman like Wirfs would come in and play like a seasoned pro.

That group's impact wasn't immediate. Without the benefit of a normal offseason or preseason reps, the Buccaneers' wheeling and dealing seemed to have added a bunch of pieces that didn't quite fit together. Brady needed some time to get comfortable in the offense, and to get on the same page with his receivers, who seemed to frequently zig when he was expecting them to zag.

Gronkowski caught just two passes in his first two games, and early on looked like a dude who'd spent the past year, uh, not playing football. Fournette played second fiddle to starter Ronald Jones for long stretches of the season, and was a healthy scratch in Week 14. And in four of his first six games as a pro, Wirfs earned a Pro Football Focus grade under 70. At several points in the season, particularly after the team's 38-3 beatdown at the hands of the Saints in Week 9, a game in which Brady tossed three picks, the Buccaneers had the look of yet another team that'd fail to live up to the offseason hype.

But Tampa Bay's offense started to coalesce down the stretch, and the team's offseason additions led the charge. Brady settled in and got back to picking apart opposing schemes. Gronk rediscovered his touchdown-scoring mojo. Wirfs emerged as one of the top offensive linemen in the league. And Fournette, thrust into the starting lineup when Ronald Jones went on the COVID list, started to look a lot like the guy we saw at LSU. The Buccaneers won their final four regular-season games before laying waste to the NFC postseason field, getting past Washington, New Orleans, and Green Bay to set up a Super Bowl showdown with the Chiefs.

Fournette, who'd earned the nickname Playoff Lenny with big-impact performances in the team's three previous postseason wins, came up big again on Sunday, becoming just the third player in NFL playoff history (joining Larry Fitzgerald and Terrell Davis) to score a touchdown in four straight games in a single postseason. His touchdown run was an improbable one, a 27-yard rumble off the right side of the line that NFL Next Gen Stats gave a 0.9 percent probability of ending up in the end zone.

That play was nearly as impressive as the touchdown Fournette scored in the NFC championship game against the Packers (a run that NFL Next Gen Stats noted had a 0.4 percent chance of being a touchdown), and served as further evidence that the former Jaguar was an integral part of the team's Super Bowl run. Fournette produced multiple touchdown runs that lesser backs simply would not have made, and if you're still doubting the impact he made for Tampa Bay this postseason, it's worth noting that Fournette just became the ninth player to rack up 400-plus yards and four scores in a single postseason, joining Hakeem Nicks, Fitzgerald, and a smorgasbord of Hall of Famers in Davis, Marcus Allen, Thurman Thomas, Jerry Rice, and Emmitt Smith (who did it twice).


Gronkowski, meanwhile, looked like his vintage self in the win over the Chiefs. I'll admit to likening the 2020 version of Gronk to a badly damaged and battle-worn B-17 limping back to base after a bombing run-at least, that's kinda how he runs-but the dude is undeniably a big-game playmaker. After finishing the year with 45 catches for 623 yards and seven touchdowns, Gronkowski had been relatively quiet in the team's previous three playoff wins (grabbing a combined two passes for 43 yards). But he came up huge for Tampa Bay on Sunday, collecting six passes for 67 yards while finding the end zone twice.

The first was a brilliantly schemed RPO in the first quarter that put Tampa Bay on the scoreboard. And his second came on a double move in the back of the end zone in the second quarter.

With those two scores, Gronkowski not only provided the Buccaneers a surprising boost, but cemented himself as one of the all-time great postseason playmakers. The big tight end joined Jerry Rice as one of just two players in league history with at least two receiving touchdowns in multiple Super Bowls. Gronk has now caught 13 postseason touchdowns from Brady, the most for any quarterback–pass catcher connection in NFL history.

Of course, while Fournette and Gronk made some splashy plays, the Buccaneers almost surely wouldn't be Super Bowl champions had Brady chosen another team. It wasn't just his characteristically steely play on Sunday, a game in which he calmly picked up first downs, found his pass catchers downfield, and notched a 125.8 passer rating, his highest ever in a Super Bowl. It wasn't just his ability to beat the blitz and to get the ball out quickly to avoid the Chiefs' pass-rush schemes. Brady's value goes deeper than box scores can show; he's the undeniable GOAT because of the intangibles he provides, whether that's his leadership, his poise, or his Michael Jordan–like ability to will his teams to wins.

I remember reading theories for why the Eagles' ignominious Dream Team failed so spectacularly. Defensive tackle Cullen Jenkins explained years after the team dissolved that with so many big names coming together at the same time, the team struggled to establish leadership. He implied that communication was an issue; and expectations were unclear.

With Brady under center, that was never going to be a problem. It did take some time to hone the team's on-field communication, but there was little doubt about whose team this was the moment Brady showed up. More than that, though, with Brady at the helm, a team long used to losing started to believe that anything was possible. The biggest thing that changed when the Buccaneers signed Brady, as head coach Bruce Arians said last week, was "the belief he gave everybody in the organization that this could be done. It only took one man."

Of course, it took a team effort for the Buccaneers to beat the Chiefs. But Brady was undeniably the glue that held the pieces from the team's wheeling and dealing in place. He's the reason it all actually worked, when so many other "offseason winners" have faltered in the past. <

Danny Kelly, The Ringer.com, published 8 February 2021