How Todd Bowles and the Bucs' defense shut down Patrick Mahomes
On a night where Bucs star Tom Brady cemented his status as the GOAT, Tampa Bay's defense made Chiefs superstar Patrick Mahomes look like, well, a goat. Last year's Super Bowl MVP finished with the worst passer rating of his career (52.3) and was held without a touchdown pass for only the fifth time as a pro (and first since Week 4 of 2019).

Those statistics aren't a reflection of how Mahomes played in the Bucs' 31-9 win; they're a sign of how dominant coordinator Todd Bowles' defense was. "Give credit to Todd for the job that he did," Kansas City coach Andy Reid said. "He got us."

And he did it 10 weeks after the Chiefs got him in a 27-24 Bucs loss that wasn't as close as the final score indicated. Speedster Tyreek Hill was the star in November with a 269-yard, three-touchdown masterpiece. But Hill's success that day was largely a product of underneath routes — the short passes he and Kansas City's other elite pass catchers could turn into long gains.

Bowles wanted to shut those down in the rematch. "The biggest thing was trying to take away the first read," Bowles said.

He did that by mixing coverages in a way that looked nothing like what Tampa Bay did on Thanksgiving weekend. Kansas City saw a lot of zone defense on first and second down with tricky disguises on third. "We weren't able to handle that too well," Reid said.

No, they weren't; the Chiefs didn't convert on a third-down pass until midway through the fourth quarter, when the game was essentially out of reach. By shutting down Mahomes' first read, the Bucs forced him to hold onto the ball longer. And with Tampa Bay's elite pass rush facing a depleted offensive line without both of its Week 1 starting tackles (Mitchell Schwartz and Pro Bowler Eric Fisher), the Bucs thrived.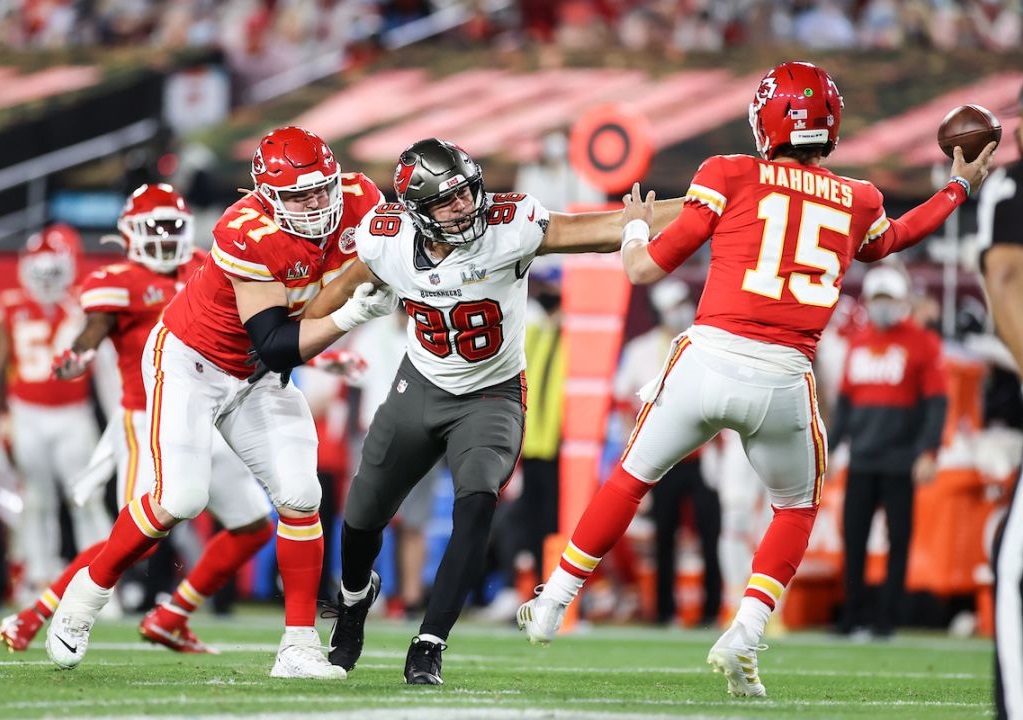 The Bucs finished with three sacks (including 1½ by Ndamukong Suh). Pass rusher extraordinaire Shaquil Barrett had one, too, and four of the team's eight hurries. Mahomes spent most of his night either backpedaling, scrambling or picking himself up off the Raymond James Stadium turf. That's why he averaged more yards per rush (6.6) in the first half than he did per pass attempt (3.5). "It was a bad day to have a bad day," Reid said.

When Mahomes wasn't fleeing Suh and Barrett, the Bucs were forcing him into incompletions with their coverage downfield. Mahomes missed on eight of his first nine passes and 10 of his first 13. Tampa Bay held the NFL's leading passer (316 yards per game) under 100 yards until the closing minute of the third quarter. The Bucs either intercepted or broke up nine of Mahomes' 49 passes; Kansas City had only one, total, on Brady.

The two most impressive plays were back-breaking interceptions. In the third quarter, safety Mike Edwards broke up a pass to a diving Antoine Winfield for a pick that set up the Bucs' final field goal. The final one came from the night's biggest star, linebacker Devin White (12 tackles, two for a loss).

He was upset with himself earlier when he thought he had a shot at an interception, but Mahomes floated a ball over his head. With a minute and a half left and deep in his own territory, White saw the ball coming his way and wasn't going to miss it again. "I just said, 'I'm going to get this ball,'" White said.

So he did, snagging an interception to ice the game and hold Kansas City without a touchdown. White, like the Chiefs and coach Bruce Arians, gave the credit to Bowles, who was passed over for head coaching opportunities this cycle. "Man, that guy's a mastermind…" White said. 'I'm glad he didn't get a head coaching job. I love playing for him."

After Sunday night's masterpiece against Mahomes, how could he not?

Matt Baker, Tampa Bay Times, published 8 February 2021