Chiefs offer no excuses for night of self-infliction
The prevalent punch line of this Super Bowl will be whether the team that arrived late Saturday afternoon ever really showed up at all. Coronavirus precautions kept the Chiefs in Kansas City until Super Bowl eve, allowing them the rare benefit of spending game week sleeping in their own beds.

Then came Sunday, when they made their own bed. "You can't do the things that we did and beat a good football team like that, particularly at this level," coach Andy Reid said.

In a span of four mostly self-destructive quarters, the Chiefs regressed from fledgling dynasty to flustered. Bereft of discipline (11 penalties, 120 yards) and continuity, and mercilessly harassed by the Bucs' assortment of coverages and pass rushes, Kansas City failed to score a touchdown for the first time in quarterback Patrick Mahomes' three-season tenure.

The Chiefs' 350 total yards in Sunday's 31-9 loss in Super Bowl 55 were nearly 200 fewer than they amassed on the same field (543) in a 27-24 regular-season triumph against Tampa Bay on Nov. 29. "They were the better team today," Mahomes said. "They beat us pretty good, worse than I think I've been beaten in a long time."

Actually, it was Mahomes' worst loss since Nov. 29, 2016, when his Texas Tech squad was pummeled 66-10 by Iowa State. Mahomes, who was sacked three times, faced a record 29 pressures, according to ESPN, with one of his two interceptions coming on a blitz.

"(Bucs defensive coordinator) Todd (Bowles) had a good plan," Reid said. "But like I said, I could've done a whole lot better putting these guys in a better position to make plays. My guys busted their tail and it just didn't work for us. But give Todd credit for the job he did. He got us."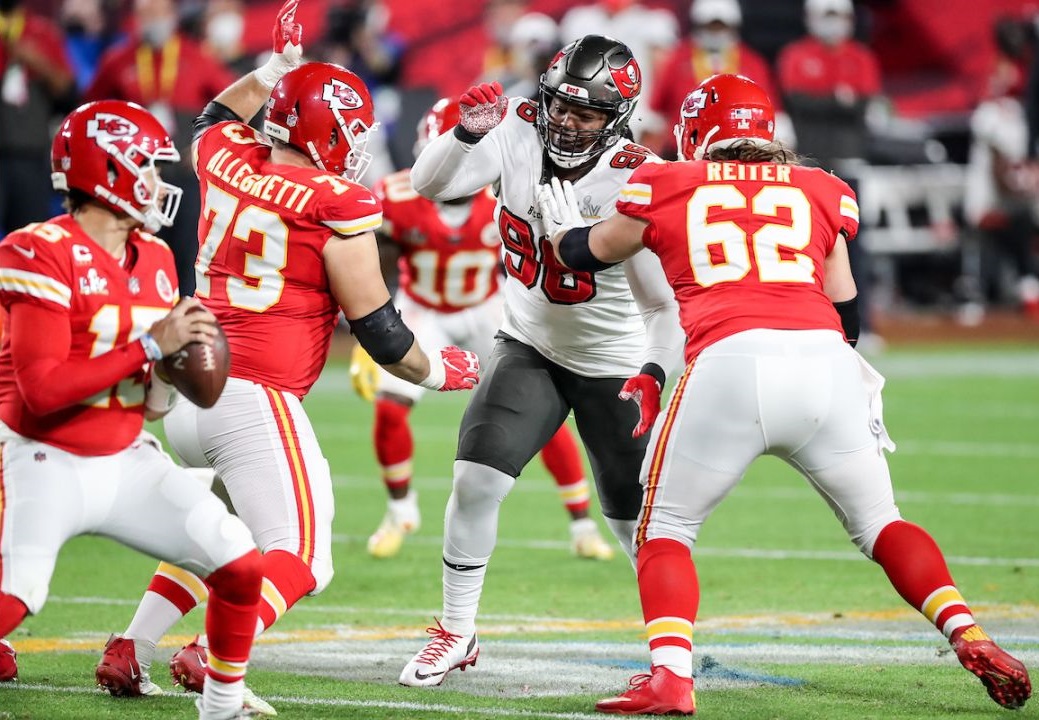 When Bowles wasn't getting them, the Chiefs were doing a fine job stymying themselves. The Chiefs' 90 penalty yards in the second quarter were most in a single period in Super Bowl history, according to Elias Sport Bureau. All those yards seemingly converged to shift momentum permanently to the hosts.

After a goal-line stand early in the second, the Chiefs couldn't capitalize, but punter Tommy Townsend nailed a 56-yard punt to give his defense some breathing room. A holding penalty negated the punt, however, and Townsend shanked his next attempt, which sailed only 29 yards to the Chiefs' 38.

Three plays later, Tyrann Mathieu intercepted a Tom Brady throw intended for Mike Evans, but a holding call on Charvarius Ward wiped it out. The defense then forced a three-and-out, but an offside call on Ryan Succop's 40-yard field goal try gave the Bucs a fresh set of downs. The next play, Brady found Rob Gronkowski for a 17-yard touchdown - despite a Chiefs holding penalty on the play - giving the hosts a 14-3 lead.

"Really, it came down to execution," Chiefs defensive end Frank Clark said. "They executed better than we did on all fronts. Penalties, I'd say they were (less) penalized than us by damn near 100 yards. When you're playing that type of football, you're going to make it hard for yourself."

Naturally, questions arose about the effect of last week's tragic events on Sunday's performance. When Kansas City took the field Sunday, less than 72 hours had passed since the vehicle accident involving Reid's 35-year-old son resulting in injuries to two children. Reid said the incident didn't affect Kansas City's game plan, which had been installed the week before. Mahomes seemed to concur.

Joey Knight, Tampa Bay Times, published 8 February 2021