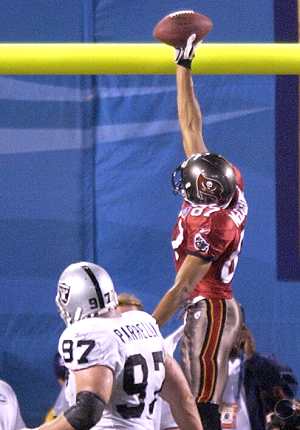 The Tampa Tribune, published 27 January 2003

There was Keyshawn. The Bucs always had Keyshawn to rely on for 70 or more catches a year. But to be successful - to reach the biggest stage and win - teams that capture Super Bowl rings usually have a receiving corps, not an individual, who can haul in passes.

Tampa Bay's stunning run through this season's playoffs, culminating with Sunday's 48-21 Super Bowl victory against the Raiders, proved they finally have that group on the other end of Brad Johnson's passing. And that includes running backs who are also a receiving threat.

Yes, Keyshawn is still the go- to guy. Just like he has since arriving in Tampa in 2000, Johnson led the squad in receptions. During the regular season, he made 76 catches for 1,088 yards and five TDs. In the playoffs, Johnson also was the top receiver, making 14 catches for 194 yards. In the Super Bowl, he topped all receivers with six grabs - one more than the legendary Jerry Rice.

But just past the midpoint of the season, some other names began popping up in the Bucs passing game. And by the time the Bucs were hoisting the Lombardi Trophy on Sunday, receivers Joe Jurevicius and Keenan McCardell and tight ends Ken Dilger, Ricky Dudley and Todd Yoder were familiar names. Adding a special twist to that passing show were running backs Mike Alstott and Michael Pittman.

``You talk about the ultimate team game, we have the ultimate team,'' Brad Johnson said after the Super Bowl win. ``Good and bad, we stayed together this year and kept working away at the plan and kept believing in it.''

It's hard to pinpoint a particular day when it all came together for Bucs receivers. Invariably, it was something of a symbiotic relationship with Brad Johnson. Should either have an off day, the passing game was not going to be as effective. And since the Bucs were statistically a passing team (they ran the ball 414 times in the regular season and passed 567), their aerial performances were of paramount importance.

If there was a breakout game for the receivers and Brad Johnson, it had to be Week 9 at Raymond James Stadium, where the Bucs hosted the Minnesota Vikings. Johnson completed 24 of 31 pass attempts for 313 yards, a career-best five TDs and no interceptions. More importantly, he shook off the effects of a fractured left rib and showed the ability to spread the ball around to his running backs and to reserve flankers, who were subbing for the injured Jurevicius and McCardell.

After that 38-24 victory, Johnson seemed to rise to another level, and each week, at least one receiver, end or back, had stepped up to equal or surpass his previous best as a pro. In Week 12, it was McCardell, who had 11 catches for 107 yards and one TD. The next week against Atlanta, it was Jurevicius' turn.


He came up with eight receptions for 100 yards and two scores. McCardell had just four catches that day but two were TDs. And four of Jurevicius' receptions were on third down. ``He [Jurevicius] was the third and fourth option on a lot of those plays,'' Brad Johnson said after the victory against the Falcons. ``He made a lot of big plays.''

The passing game took a bit of a drop the two weeks following the win against Atlanta. The Bucs struggled to a 23-20 win against Detroit and, with Brad Johnson out with a sore back, lost to the Steelers on a Monday night. In the loss to Pittsburgh, Keyshawn Johnson and McCardell combined for 14 receptions but much of it came too late.

After Rob Johnson led the Bucs to a 15-0 win against Chicago in the December cold of Champaign, Ill., Brad returned two weeks later to pick up where he and the receivers left off with a 31-6 playoff victory against San Francisco.

Against the 49ers, Dilger and Yoder stepped up by combining for four catches, as did Pittman and Alstott at running back. Pittman was particularly effective in the passing schemes the following week against Philadelphia, making five receptions, the same number as McCardell. The Bucs' performance against the Raiders on Sunday was only a continuation of a formula that slowly developed this season under Coach Jon Gruden: a big-time receiver such as Keyshawn Johnson surrounded by any number of players who can catch the ball.

Against the Raiders, Keyshawn led the way with his six receptions but Alstott added five, Jurevicius made four (and a game-high 78 yards), McCardell two (both for TDs) and Dilger had one for 12 yards that helped set up the Bucs' first score of the third quarter.

``What we were able to accomplish and how far we came as a team this season, it was just a great, great feeling,'' said McCardell, who 10 years ago was a Plan B free agent struggling to make the Cleveland Browns roster. ``A lot of credit has to go to Coach [Gruden] and Brad but in the end, this was a total team effort from Day One. There was a lot of will, a lot of faith, a lot of belief in our locker room.''