Now And Forever, Bucs Are Champs
Martin Fennelly, The Tampa Tribune, published 27 January 2003

It began on April 24, 1974. That's when the National Football League awarded its 27th franchise to Tampa Bay. Vince Lombardi had died four years earlier. The trophy renamed in his honor was 7 years old. There were so many times when it all seemed like a dreadful mistake.

The Tampa Bay Buccaneers have been called everything in their history. Season after season, decade after decade, people pored over dictionaries looking for new ways to describe the goriest show on earth. The Bucs were called everything one could imagine, because one could never imagine this. Call them what they are. Champions.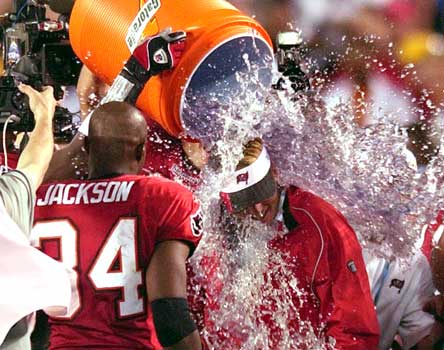 If you stayed up all Sunday night, go get some rest. Have no fears. Super Bowl XXXVII still will have turned out the same way when you wake up. Your favorite rock pounders now rule over the third rock from the sun. ``It's the truth,'' Bucs defensive lineman Simeon Rice said. ``The world saw it.''

The Bucs of Tampa Bay. The Bucs of defense. The Bucs of Chucky Gruden. It was child's play. It was for all of you. ``By God,'' Jon Gruden said. ``This night belongs to Tampa Bay.''

Now and forever. History will state that the score was 48-21. That Dexter Jackson won the MVP with his two interceptions. That Keenan McCardell caught two touchdowns. That Michael Pittman, running in his hometown, rushed for 124 yards. That Brad Johnson is at last a Bull with a ring. That Gruden became, at 39, the youngest coach to win a Super Bowl. It will not say that Al Davis and his Raiders were left Silver and Black and Blue. It will not speak to a night, or week, that changed the Bucs forever. America knows them now. It has no choice.

The Bucs drained San Francisco Bay. The closed down Veterans Stadium. And on Sunday they conquered Raider Nation. There are no questions. There are no doubters. Only fireworks and confetti. Only cheers and tears. From anyone who ever pulled for the team that couldn't win. For the Bucs. Now and forever.

It was such a big night that even Keyshawn said, ``I don't know what to say.'' It was so big that Gruden didn't have to get up at 3:17 this morning because he never went to bed. It was so big that John Lynch, San Diego's own - Tampa Bay's own, too - grabbed a huge Bucs flag and waved it on the field at Qualcomm Stadium. Then he planted it in the Yucks. Now and forever. ``All those years,'' Lynch said. ``We were like the little [train] that could. `We think we can, we think we can, we think we can.' ''


Now they have. Warren Sapp jammed a cigar in his mouth. ``Done,'' he said.

It was the defense that did it. In all its glory, it put a stranglehold on this postseason. It defined itself for history. The Bucs held the Raiders to 62 yards in the first half. By the time they relaxed, Dwight Smith had returned an interception for a score and it was 34-3.

When Oakland rallied, when anyone who remembers those orange uniforms started to have the same old nightmares, the defense grabbed the silver trophy for good. Derrick Brooks, the best player in the NFL season, brought one back. Smith brought another one back, running past Gruden, who waved him down a sideline. Smith scored with two seconds left. Defense to the very last drop. Remember them all. Now and forever.

Funny thing about those three returns for score. The Bucs also did that on Dec. 11, 1977. In their first regular- season victory as a franchise. To end 0-26. History is funny like that. No one will laugh anymore.

A footnote: He was worth it. Jon Gruden was worth it even before Sunday. You knew it when you walked around San Diego and saw Bucs fans with their chests out. Sunday he faced his old team and Davis and everything else. He arrived in San Diego as he arrived in Tampa, with everyone waiting to see what Gruden would do. And now it is done. ``Now they can't forget us,'' Simeon Rice said.

The tortoise can catch the hare. The cow can jump over the moon. Anything is possible. It's the truth. The Bucs are champions. Now and forever.