Tampa Goes Bucs Crazy: Does It Get Any Better?
The Tampa Tribune, published 27 January 2003

The champions came home. And the crowd went wild. Civic buttons popped with pride. Unified and fortified, this far-flung community with a history for petty squabbling gathered Monday to stand as one, sharing common high-ground. We are Tampa Bay. We are a winner. This magic moment brought to you by the Super Bowl XXXVII champion Buccaneers.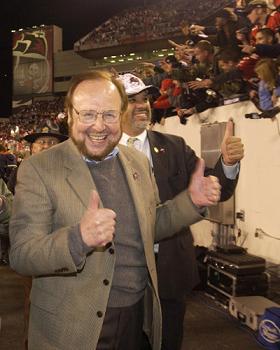 From near and far, men, women and children came to Raymond James Stadium early and stayed late, everyone in attendance basking in the moment that will live forever in Buccaneers and city history. They came dressed in anything red and pewter, official colors for people about to bust with pride. They arrived on a mission with something to say: Go Bucs!

At 5 p.m., almost two hours before the stadium would open and almost four hours prior to the Bucs' arrival from San Diego, fans already were gathering on adjacent streets. Within 30 minutes of the gates opening at 6:45, the arena's lower level was almost full. By the time pro football's new world champions arrived directly from their flight to Tampa International Airport, an estimated crowd of 65,000 was on hand, and late arrivals were being turned away on orders of the fire marshal. Hail to the victors.

Football's one-time laughable losers are today's ultimate winners. The Buccaneers won the Super Bowl. The Buccaneers won the Super Bowl. The Buccaneers won the Super Bowl. Raider Nation was defeated, once again making the streets of San Diego safe for all people and, thankfully, sending Tampa local- television news anchors back to their studio desks. Can life get any better?

The ugly duckling didn't just turn into a swan, it won exclusive rights to the whole pond. A lump of coal transformed itself into a diamond. The one-time laughingstock laughs best. Who would ever have imagined? Not since the arrival of paved streets has there been a reason for so much civic pride. The nation's previous largest metropolitan area without a sports world major championship is home to the Super Bowl XXXVII champions. And, as an extra bonus, victory came at the expense of the Oakland Raiders.

As cities go, Oakland is Newark only on Pacific Standard Time. It's ugly, dirty and boring and that's just the fans. So, when the Raiders took their 48-21 beating and explained it as a result of simply not having their A game, the news only added fuel to the Buccaneers celebration. ``Their A game isn't the only thing they didn't bring,'' said Bucs fan Pat Benson of St. Petersburg.

Meanwhile, the Bucs were bringing home the hardware. Their chartered flight touched down at TIA just before 8:30, welcomed by crossing arches of water blasted into the sky by airport fire trucks. After team buses rolled into the stadium behind a police escort, owner Malcolm Glazer, with Lombardi Trophy held high, led the Bucs onto the field just before 9 p.m. ``Go Bucs! Go Bucs! Go Bucs!'' Glazer said. ``We've waited a long time for this, now it's here. Go Bucs! Go Bucs!''


Coach Jon Gruden took the microphone and followed the lead. ``Tampa, we love you,'' Gruden said. ``Now I'd like you to join me in saying this: Pound that rock! Pound that rock!''

A few minutes later, the Lombardi Trophy - in the hands of some half-dozen different players - began a victory lap around RJS, before finally being intercepted by team executive vice president Bryan Glazer, who took it from there, covering the final 100 yards of the trip in a full sprint. As pep rally speeches and antics go, there may have been a certain lack of creativity, but it didn't matter. The secret is knowing your audience. And this audience was starved for this moment.

Earlier in the day, citizenry across the area waited in line at shops and department stores to claim merchandise - any merchandise - boasting those magic words: Super Bowl XXXVII Champions. They grabbed T-shirts from clerks unpacking boxes direct from the receiving docks. They waited to take numbers just to reserve the right to buy caps that might not be delivered until later in the week. Others took more drastic measures. Tampa Fire Chief Pete Botto went for a tattoo of the Lombardi Trophy. ``Got it this morning,'' he said. ``I'm still a little sore.''

And so, Chief, where exactly is the hot spot? ``Below the waist is all I'm going to say,'' said the Bucs season-ticket holder since 1976.

It's part of a matched set, the Lombardi Trophy going well with the Bucs original and present logos which Botto already sports. ``You got to be a little crazy to be a firefighter,'' he said.

At least Botto got to rest his wound. Oakland's fire department spent Sunday night putting out fires started in the aftermath of the Raiders loss. ``Oakland fans have no class at all,'' Botto said. ``That wouldn't happen in Tampa.''

It's too busy having fun.