An interview with former Bucs kicker Michael Husted
This interview took place in September 2015

Where are you and what are you doing these days?
I currently live in Solana Beach, CA. It is a small beach town in north San Diego county. My main job is loving and taking care of my two daughters and wife of 17 years. After creating and then selling an online recruiting tool for athletes, I now run the National Camp Series which is a series of nation wide kicking, punting and long snapping events hosted by quality kicking coaches to help properly train and create exposure to colleges. I also do private coaching for specialists at all levels as well as coach special teams at a local high school.

When did you first become a kicker?
I grew up playing a lot of soccer, and I could kick the ball very far with good accuracy. I was fast and having playing goalie for a few years, I also had good hands. So, when I tried out for the football team in 9th grade, I went expecting to play QB, wide receiver or defensive back. On that first day of practice, being on a football team to kick a football never entered my mind.

But on that sunny afternoon, as we all stood in anticipation of what position we might get picked to play, the head coach called out to the team asking, "Can anyone kick?" Looking around and not seeing anyone put their hand up, I raised mine and said, "I play soccer." The coach looked at me and said, "Good. You're our kicker."

Kicker??? Not exactly what I had in mind, but I thought I'd give it a shot. However, my first attempt at kicking a football in front of the team was not very successful. I didn't have my cleats on and as we started to practice field goals I was told to, "Take three steps back, two over, and kick the ball." Easiest enough, right? Soccer style.

Well, as I went to plant for my first real field goal attempt ever, I slipped and fell on my butt. Needless to say, the whole team and coaching staff laughed. I stood up, gained what composure I could, and tried kicking conventional style or "Toe Jam" as I call it. I kicked the ball pretty well. But I wanted to try soccer style again. This time I hammered the ball.

I looked up at the head coach and said, "Which way do you want me to kick it?" He looked at me and said, "Son. I don't care if you kick it with your ass. Just get the damn ball through the uprights." Thus, my kicking career was born.

When did you first think you had a chance of playing in the NFL?
I always wanted to kick in the NFL from the first day I started kicking on a team. However, the first time I thought I had a chance was in college. We were doing Kickoff Coverage and I kicked one through the uprights. One of my teammates came up to me and said, "Dude, you're going to kick in the NFL one day. I'm serious." So, I thought, maybe I do have a chance.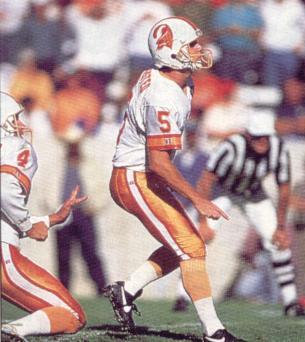 Training camp in 1993 saw a whole bunch of kickers competing for the job - did you think you would wind up becoming a Buccaneer?
The Bucs had drafted Darren Alcorn with the very last pick of the draft, Mr. Irrelevant. There were four of us in training camp. It was an intense battle, but I felt that since they were looking to go young at kicker, I had a great chance if I just made my kicks.

Your first NFL fieldgoal attempt against Kansas City - what do you remember of the first one?
I remember my parents attending the game, Joe Montana, my childhood QB hero, playing his first game with the Chiefs and it being crazy hot. As for the kick, I was glad it was a 35 yarder. I just went out there and let my body react, made good contact and surreal to see it split the uprights.

What were your memorable moments as a Buccaneer?
The first FG agains KC my rookie year, the two back to back game winners in 1995 against Cincinnati and Minnesota that gave us a 5-2 record just days before the city voted on the 1/2 cent sales tax to fund the new stadium. Lastly, my game winner in 1997 against the Colts after I had struggled on the field due to the impending death of my mother from cancer. Tony Dungy stuck by me and to come out and hit the game winner was rewarding.

You nearly scored a touchdown against the Oilers in 1998 on a fake fieldgoal - what do you remember about that play?
We had it called on my two previous FG attempts, but they didn't give us the look we were looking for, so we called it off and I kicked. On that play, they were in the look we wanted. I was stoked to get a chance to run the ball. If Patrick Hape would have held his block a little longer I would have scored. Or maybe, I could have been a little faster, but I felt like I was running as fast as I could. I was tackled on the 5, out of breathe with 4 seconds on the clock and then had to turn around and kick a short FG to end the half.

What was Sam Wyche like as a head coach?
I genuinely like Sam. He gave me an opportunity and was very supportive of me. He was personable, very smart and a good person. I'll always appreciate and have respect for Sam.


What was Tony Dungy like as a head coach?
Probably one of the best human beings that I have ever known. A man of integrity and conviction. Honest, which is hard to be when you're a head coach in the NFL since some things are out of their control. I am very honored and privileged to have played for him.

Who were your best friends/team-mates during your career?
The long snapper, punter and equipment manager. LOL. There were so many great guys that I played with during my career. I'd have to say that my best friend during my career was Demetrius DuBose. After our second year in the league, we traveled Europe for a month. It was tragic when he was shot by the police back in 1999. He was a very eccentric person, smart and someone that I miss on a regular basis.

English football - are you a fan? If so, which team?
Yes, I am big fan of English football. In fact, a few years ago, a few friends and I flew over to Manchester to watch a couple of games. We went to Old Trafford to watch Man U vs Newcastle. The next day we travelled to Liverpool to watch them play Man City. I don't really have a favorite team. I play Premier League Fantasy Football with friends and I always find myself rooting for the underdog, as I felt that is what I have been my whole life.

And if you had to sum up your time in Tampa in one word, what would it be?
One word? That's tough. Tampa is a great city with great people. It was a great time of my life to live there, be part of that community and be part of a team that turned that franchise around. However, if you are looking for one word, I'd say, "EPIC."