An interview with former Bucs QB Gary Huff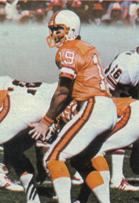 This interview took place in April 2010. Gary Huff played for the Buccaneers in 1977 and 1978 and was the quarterback in the first-ever win in franchise history against New Orleans in December 1977. Originally a 2nd round pick of the Bears in 1973, he remains connected with his alma mater, the Florida State Seminoles.

First up, what are you doing in life now?
I am the chief financial office for Florida State University Business Services. I am over all the areas that try to make money. Golf Course, Computer Store, Parking, Food Services, etc....

You became a Buc the year after they went winless. How did that feel?
It felt very odd. I was one of only a couple of players who came to the Bucs by choice, not in the allocation draft. The players were glad to see someone that was not from USC.

The offenses in the 1970s were very different to those run today, can you remember any of the plays or formations?
We ran the I-formation, split backs, and a little slot formation (with the flanker on the same side as the split end). The bump and run coverage rules, hitting receivers downfield before the ball was thrown rules, and the pass blocking rules did not change until 1978 so the QB had much less time to throw and the receivers had much more trouble running crossing routes. Remember, the offensive line could not use their hands to pass block.

What was Coach McKay like?
Coach McKay was taking everything personally. He did not want to admit that the pro game was much different than college. The talent level in the pros was not forgiving like in college at USC where the high level of talent compared to the other team covered up bad coaching decisions or play calling.

Was it hard playing through 1977 when the winless streak just kept on going?
Not really, I think most of the team was very professional and prepared and played the game with focus.


And then came the win in New Orleans. What was that like?
It was absolutely great. I called numerous run audibles to get us out of bad plays and I played without my knee brace at Coach McKay's request so I could be more mobile. The defense played superbly and allowed the offense to play relaxed.

And then a week later, another win at home to St.Louis. Good memories of that day too?
Yes, it was two in a row after losing all those games. It would have been three in a row if they had let me start agains my old team, the Chicago Bears, the week before the New Orleans game. I remember Gary Fencik coming up to me before the game and asking me if I was really not starting. I knew everything about Chicago. I always figured that the owners had an under the table agreement not to play me against Chicago since they "traded" me to Tampa.

After your NFL life ended, what did you do?
I was a CPA with a large local firm and also a national firm in Tampa, Florida. I then coached for five years with the Indiana University Hoosiers, Memphis Showboats (USFL), Houston Oilers, and University of Kansas Jayhawks. I then was Chief Financial Officer for the Los Angeles Raiders for six years before they moved back to Oakland, California.

Do you have any regrets looking back on your career?
I wish I had played baseball. In baseball you do not have to have a team around you to excel. I did not play with talented teams in the NFL. I finished my career in the NFL with the 49ers. When I was cut, Joe Montana told me I was throwing the ball better "than any of us". I cherish that comment...because I could throw with anyone and Joe was a young QB. My roommate, Dwight Clark, said Joe thought HE was going to be cut. Funny how fate deals the hand you have to play.


Who were your best friends on the team?
Dan Ryczek the center for the Bucs, Morris Owens the receiver, and Dave Reavis the tackle, Dave Green the punter. Actually they all were my friends. We all love each other and respect what we all went through.

When you were a player, what did you think you would do after you retired?
Accounting....and I did. Your education is the reason you go to college. A football scholarship is just the vehicle...enabler.

Do you remain in contact with any of your former team-mates?
Yes, but only recently because of the internet...sure glad Al Gore invented it for us. ha.

And if asked to sum up your Buccaneer days in one word, what would it be?
Character.