Finding Something to Laugh About in 0-26
John McKay Was a Winner Pre- and Post-Record Streak
John McKay came riding into Tampa on a spirited white Trojan horse 28 years ago last summer. "Not so fast," they said, and they asked him to stable it at city limits. They made him switch to a sway-backed plow horse that had one good eye and a bad limp. "Okay," they said. "Now, go!"


In the vernacular of the time, it was as if Mario Andretti had been given the keys to a '65 Olds Cutlass and then ordered to give 'em hell in the Indy 500, or if Jack Nicklaus had been told to dominate the PGA tour using antique golf clubs.

John McKay had been the head football coach at USC from 1960-1975. His Trojan teams had won 75 percent of their games (127-40-8) and been national champion in 1962, 1967, 1972, and 1974. Three of his teams had not lost a game, five had played in the Rose Bowl, and he had been Coach of the Year twice (1962 and 1972). The '72 team almost always ranks at or near the top of most lists of the greatest college teams of all time.

John McKay also was the most erudite coach of the era, a man who could dish out quips, one-liners, and sarcasm better and faster than anyone. "The only problem with doing the impossible," he said of his success at USC, "is that everybody expects you to duplicate the impossible."

The impossible was one thing. The Tampa Bay Plow Hor-, er, Buccaneers were something else. McKay could deal with the routinely impossible. Miracle working was something else.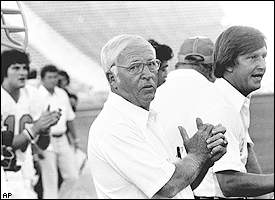 The man who had done all there was to do on the West Coast of California was given a bunch of misfits and castoffs -- "and those were the GOOD ones," McKay would say-and was told to produce a successful expansion football team on the West Coast of Florida. Free agency did not yet exist, and the Seattle Seahawks were also added to the NFL in 1976, thinning the available talent pool. Wayne Fontes, who came with McKay to coach the Bucs' defensive backs, says, "Half of our team the first two years couldn't have made our second teams at SC."

In 2003 and 2004, the New England Patriots set a new standard of excellence. They finished 2003 with 15 victories, including one over Carolina in Super Bowl XXXVIII. They began 2004 with five more wins and have done something no pro football team ever has done: win 20 consecutive games. Had they kept it going through November 28, it would have reached 26 games. Wow! Stratosphere that seems to be the stuff of impossible dreams. And on the other side of the spectrum, the sadly possible nightmare of an earlier time…

In 1976 and 1977, the Tampa Bay Buccaneers set a standard of futility and ineptitude that may never be matched. With John McKay at the controls, they lost all 14 games in 1976. Super Bowl? This was a team for the Stupor Bowl, a team that was nightly fodder for Johnny Carson's monologue on The Tonight Show. And there was more ignominy to come…12 more to be exact. Tampa Bay began the 1977 season with a dozen more losses and the streak of bleak hit 26 games.


The quarterback in 1976 was Steve Spurrier, who had failed in nine seasons as a backup in San Francisco, and whose resume later would include coaching stops with the University of Florida (positive) and the Washington Redskins (negative). With the Bucs, Spurrier had the passing will but not the way. Dick Maxwell, then the Bucs' PR director and now an NFL broadcast executive, laughs and says, "John McKay's youngest son Rich [later the Bucs' general manager, now Falcons' general manager] was the quarterback for his high school team. Rich had a stronger arm than Spurrier."

In the beginning, John McKay had high hopes. And why not? He had a Midas touch at USC and he hadn't moved to the pro game to look silly. He scheduled the team's inaugural preseason game against the Rams in the Coliseum in Los Angeles. McKay would get a chance to strut in front of his old cronies and friends, to charm his favorite media people. But the Rams humiliated the Buccaneers in the same stadium in which McKay had had some of his greatest successes. "It was the longest plane ride home ever," Maxwell says. "The coach took it very hard. I thought, 'Oh, oh, we could be in for a rough time of it.'"

To put it mildly. Their first regular-season game was in the Astrodome against the Houston Oilers, who also had gone 0-6 in the preseason. The Bucs came charging out of their dressing room and turned left to get to the tunnel that would take them to the field. They should have turned right. The entire team was lost in the cavernous building for 20 minutes. "That should have been a clue," McKay said after it was over, after Houston had won 20-0.

In Week 2, San Diego threw another blank, 23-0. In Week 3, the Bucs managed three field goals in a 14-9 loss to Buffalo. In Week 4, Tampa Bay cornerback Danny Reece scored the team's first touchdown -- on a fumble return. No matter, Baltimore won 42-17. In Week 5, the Bucs were back shooting blanks, 21-0 to Cincinnati. The Bengals were so unimpressed with their victory, however, that they didn't even award game balls. Asked what he thought of his team's execution, McKay said, "I'm all for it."

In Week 6, the Bucs actually had a chance to win a game in Tampa against Seattle. The Seahawks won the "Expansion Bowl" 13-10 in a dreadfully misplayed match-up in which the two teams combined for 35 penalties and 310 penalty yards. Both one-game figures rank second in NFL history. McKay threatened to trade players who weren't giving 100 percent to the team to Green Bay, his personal Siberia. "If a contest had ninety-seven prizes," he said, "the ninety-eighth would be a trip to Green Bay."

As if to show the coach, the Bucs then put together their strongest back-to-back games of the entire two-year streak in Week 7 and Week 8. They lost to 23-20 Miami and 28-19 to Kansas City and hope sprung eternal. Hope was an illusion. Denver won 48-13 in Week 9, the New York Jets 34-0 in Week 10, and Cleveland 24-7 in Week 11. "Even our fans, bless their hearts, were getting into it by then," Maxwell says. "We had been shut out four times and were averaging nine points a game. In Tampa Stadium, people with seats on the five or ten yard line held signs, 'The Bucs Stop Here.'"


In the last three weeks of the first season it got worse before it never got better. Week 12: Oakland 49, Tampa Bay 16. Week 13: Pittsburgh 42, Tampa Bay 0. Week 14: New England 31, Tampa Bay 14. "Coaching an expansion team is a kind of religious experience," McKay said. "You do a lot of praying but most of the time the answer is 'no.'"

Neither prayer nor an infusion of new talent helped much through most of the 1977 season. (Ron Wolf, whose savvy eye would help the Packers rise to the top in the 1990s, was the Bucs' general manager in the early years.) Despite the presence of No. 1 draft choice Ricky Bell (of USC), the offense, unimpressive the year before, actually regressed.

The losses the first four weeks were respectable-13-3 to Philadelphia, 9-3 to Minnesota, 23-7 to Dallas, and 10-0 to Washington-before the Bucs had to look into the mirror after another loss, 30-23, to their expansion brothers in Seattle. After the loss to the Seahawks that made the Bucs 0-19, McKay said, "We didn't tackle well today, but we made up for it by not blocking."

Could it get any sadder? What do you think? Make your, uh, worst guess. To follow are the un-magnificent seven results that sent the franchise on its final free fall into The NFL Record Book:

Loss No. 20 -- Green Bay 13, Tampa Bay 0. The wartime Chicago Cardinals and the 1961-62 Oakland Raiders had shared the previous short-end-of-the-stick record at 19. Now it belonged to the Bucs alone. And they weren't through.

Loss No. 21 -- San Francisco 20, Tampa Bay 10.
Loss No. 22 -- Los Angeles 31, Tampa Bay 0.
Loss No. 23 -- New York Giants 10, Tampa Bay 0.
Loss No. 24 -- Detroit 16, Tampa Bay 7.
Loss 25 -- Atlanta 17, Tampa Bay 0.
Loss 26 -- Chicago 10, Tampa Bay 0.

Seven games, five shutouts, 17 total points scored (2.4 average), 14.3 average margin of loss. The Bucs' next opponent was the Saints, in New Orleans. In a bulletin board quote for the ages, Saints quarterback Archie Manning, soon to be the father of future quarterbacks Peyton and Eli, told the media, "Losing to that team [the Bucs] would be disgraceful."

Game, set, and stunning mismatch: Tampa Bay rose from its ashes to strike down New Orleans 33-14. Three of the Bucs' four touchdowns came on interceptions of passes by Manning. Tongue planted firmly in cheek when it was over, McKay said, "Whatever Archie says, I agree with."

When the Bucs returned to Tampa that night, more than 8,000 people greeted them at the team's offices near the airport. McKay spoke from a flatbed truck. "Did I miss something? Did we win the Super Bowl?" he asked and they roared. "Three or four plane crashes and we're in the playoffs," he added and they laughed. (It was McKay's first coaching victory since USC defeated Texas A&M in the Liberty Bowl two years earlier.)

And McKay and the Bucs even had 1977's last laugh when they upset the Cardinals 17-7 in the season finale. Even more astonishing, only two years later, McKay had the Bucs atop the NFC Central and then in the NFC Championship Game. They lost to the Rams but were back in the playoffs in 1981 and 1982. John McKay's final curtain came after the 1984 season, when he retired from coaching.

"I began to question my ability to relate to young players," McKay said, "when I asked one, 'When's your birth date, son?' and he said, 'June 10,' and I said, 'What year?' and he said, 'Coach, I have it every year.' I knew then it was time to get out."

John McKay died at 77 of diabetes-related complications in June, 2001. Of course, there were reports that he rode off into his sunset on--what else? -- a white Trojan horse…survived by a lot of laughs, a lot of victories…and, oh, 26 indelible losses.

John Wiebusch AOL Sports