An interview with Ray Perkins - Part One
Ray Perkins still has the voice. The slight Southern accent with a hint of drill sergeant voice. The Strother Martin "Cool Hand Luke" voice. You know the one: "What we have here is a failure to communicate." That is the Ray Perkins voice.

It is the no-nonsense voice of a man who has spent his entire career teaching the sport of football to both collegiate school boys and grizzled pros. It is the voice of a man who was a disciple of Paul "Bear" Bryant and a teammate of Johnny Unitas. It is the voice of a man who is at peace.

Ray Perkins was the head coach of the Tampa Bay Buccaneers from 1987 to 1990 and during his tenure he was characterized with contradictory adjectives by players, fans and the media. Perkins was seen as aloof and warm, strict and fair, creative offensively and too offensively conservative. A man who engendered controversy just by doing his job, Perkins was kind enough to share some thoughts on his Tampa Bay career recently with BUCPOWER.COM.

Living in semi-retirement in his native Mississippi, Perkins stills sounds as if he could command a squad full of players on the day of a game. With polite, yet pointed responses, Perkins provided insight into his hiring as coach, his football philosophy and the emotions he still feels to this day about his time in Tampa Bay.

Perkins enjoyed a successful collegiate career at Alabama in the 1960's. A wide receiver, Perkins caught passes from Joe Namath and achieved All-American honors in addition to being part of two national championship teams under Paul "Bear" Bryant. As a professional, Perkins spent five years in Baltimore playing with Johnny Unitas. In fact, Perkins caught a key 68-yard touchdown pass from Untias that helped propel the Colts to a 27-17 victory over Oakland in the AFC title game on the way to a Super Bowl championship in 1970.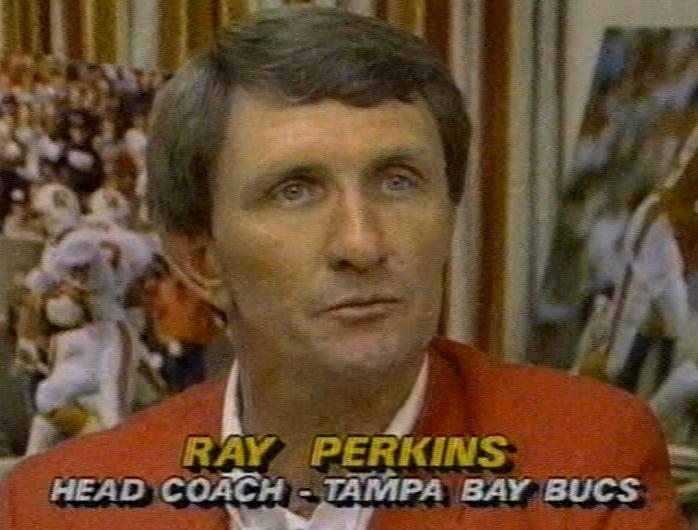 As a coach, Perkins was the offensive coordinator for the "Air Coryell" San Diego Chargers of the late 1970's. After overseeing the 1970's version of the "Greatest Show on Turf," Perkins was offered the chance to become head coach of the New York Giants in 1979. At the time the Giants were a laughingstock, coming off six straight losing seasons. In a matter of two years Perkins turned the Giants around, leading them to their first playoff appearance in almost 20 years. One of his signature wins was a 17-14 defeat of then undefeated Tampa Bay in 1979.

Perkins was the head coach at the University of Alabama when Hugh Culverhouse came calling in late December 1986. Culverhouse had just fired Leeman Bennett and was so enamored with Perkins, he didn't interview any other candidates. According to Perkins, it was Culverhouse that came to him with a request to interview.

"He (Culverhouse) had called and the way I remember it he had called and asked to interview," Perkins said. "To be honest I don't remember exactly how we got together, but at any rate we agreed. We agreed to an interview in a Birmingham hotel."

Perkins and Culverhouse met, broke off for the night and met again the next day for breakfast and further meetings. By the end of the second day, Hugh Culverhouse offered Perkins the Bucs job and the Tide coach accepted. "He made me a real good offer and when I let my president know that, there was no action one way or the other to try and make any kind of counteroffer to keep me at Alabama."

Perkins did want to clarify that he did not have the total football control that some surmised. "I was the head coach period, that was the job I took," he said. "I was involved in all the trades and drafts. I was actively involved in all of that."

However, Perkins points out that he did not have the final say on all football matters. That rested with the owner. "There was a delegation of duties. (Phil) Krueger was the contract guy, bean counter if you will for Mr. Culverhouse. If it was something kind of big it would go through Krueger to Mr. Culverhouse to get the final okay."

The first draft of the Perkins era presented the Buccaneers coach with more than 20 picks with which to make his mark on the team. According to Perkins, he approached his first Buccaneer draft with the same philosophy he had acquired throughout his coaching career.

"My basic philosophy is the philosophy of a lot of different people," Perkins explained. "I don't think you get very far without a quarterback and I don't think you can go very far without a defense. Those are the two places that I like to start when looking at a team overall to eventually take it where you like to take it."

In the 1987 draft Perkins focused on both sides of the ball. On defense he brought in key contributors Ricky Reynolds, Winston Moss and Curt Jarvis. On offense, Mark Carrier, Ron Hall and Bruce Hill were all drafted and became very productive receivers.

As for who would throw them the ball, Perkins made the decision that would define his career in Tampa Bay. Instead of keeping Steve Young, Perkins and the Bucs elected to trade the raw but promising Southpaw to San Francisco and draft Heisman Trophy-winning quarterback Vinny Testaverde out of Miami.


"It was a matter of us feeling strongly enough about Vinny Testaverde to pick him where we picked him," Perkins explained. "If you are going to pick a quarterback where we picked Testaverde, you are pretty much saying he is going to be your quarterback. So that left Steve Young and Steve DeBerg as the back-ups. One of them is going to be a back-up and which one are you going to get the most for in a trade?

"You kind of put them out there and feel around. San Francisco wanted Steve Young so that is the route we went. This is where Phil Krueger, Mr. Culverhouse and myself were all involved in that particular trade. We talked about it."

With a batch of young players, Perkins next set out to separate the wheat from the chaff by organizing what has become an infamous training camp. The Buccaneers were coming off back-to-back 2-14 seasons in 1987 and Perkins felt the talent level was not up to caliber. In an attempt to discover which of the Bennett-era holdovers and his acquisitions were going to be football players, Perkins knew he needed to get as much practice time in as possible. As a result, Perkins instituted a three-a-day schedule to maximize the amount of time on the field.

"It was a concept that I had used in college at Alabama," Perkins said when asked to describe the philosophy behind the three-a-days. "What it is, your first practice is early in the morning at 8:30 and all you do is work on special teams. Then you go out with another practice before lunch and you work on certain aspects of your offense and defense. Then you go out like at 3 o'clock in the afternoon and you work on other aspects of your offense and defense."

"In other words," the coach continued, "you have basically one special teams practice in the morning and two offensive and defensive practices before lunch and in the afternoon. But from a time standpoint, time spent and plays run, you are really not running any more plays and spending any more time on the field. It's just a matter of how you are splitting it up and the fact you are going out three different times."

The three-a-days led to a misperception about Perkins. A stern disciplinarian, his practices would wear his players out. Working out three times a day in the heat and humidity of a Tampa Bay summer was just asking for trouble. Perkins heard those opinions, but felt they were uninformed because they didn't take into account that his players didn't have to go as long over three sessions as some teams did in two.

"I think it helps take care of the players because they are out there for shorter periods of time," Perkins said. "Back then it wasn't anything for a lot of teams to be on the field two hours, two and a half hours. But we were always off the field in an hour and a half."

"It helped us get in practices like the one before noon," Perkins continued, stating that the schedule also helped eliminate lost practice time due to the daily violent thunderstorms endemic to Tampa Bay summers. "You get to work on some offense and defense where later in the afternoon in Tampa there are several times where you get rained out, because that time of year in Tampa there is almost always a rain shower."