One play, and maybe one call, derail Bucs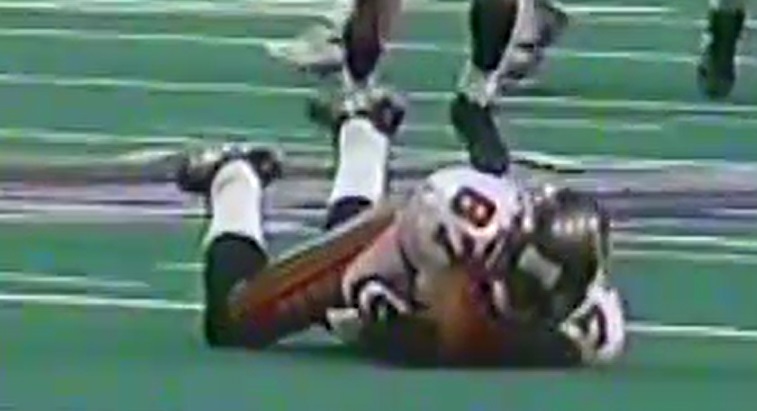 Martin Fennelly, The Tampa Tribune, published 24 January 2000

They came within four minutes and 48 seconds of a Super Bowl and it will stay with most of them the rest of their lives. They led it that late. The little train that could huffed and puffed. Even with its offense sitting on its caboose, the little pewter train chugged on. They thought they could, they thought they could, they thought they could. Then the St. Louis Rams made a play. "One play," Bucs defensive tackle Warren Sapp said. One stinking play. A football pass from Kurt Warner that barely eluded the fingers of Bucs cornerback Brian Kelly and fell into the arms of Ricky Proehl for the winning touchdown.

Then the officials took away a play. A crazed replay man called down to a blind referee. Together, they cut the beating heart out of what could have been the drive from nowhere, the one that won an NFC Championship. It was ruled Bucs receiver Bert Emanuel trapped the ball. He'd done no such thing. He caught it. He knew he had, he knew he had, he knew he had. "This was cruel," Emanuel said.

Their final play, a Hail Mary, didn't have a prayer. The believers went to their locker room at the Trans World Dome, stunned that it was the losing one, that destiny had been so brazen as to hop from the little train one stop before a chapter that would have erased decades of pain. The Super Bucs. A defining moment. It would have been, it would have been, it would have been. Now Bucs linebacker Hardy Nickerson stared and spoke softly. "We had 'em," he said. "We had 'em."

THE FINAL SEEMED a softball score, a punch line: 11-6. You could just see NFL commissioner Paul Tagliabue writing a note to himself: "That's it - no more Bucs-Rams title games." America kept staring at this Tampa Bay nightmare, wondering how half a team got this far.

The men on the little train didn't care. They'd drained the blood from the NFL's best offense. They'd made the Rams" thrill-ride play bumper cars. The St. Louis crowd was numb. A truly majestic defense never stood taller. Marshall Faulk was bottled. Kurt Warner was confused. The game was almost done. A miracle was at hand: Tony Dungy's offense in the Super Bowl. That's like riding a bicycle to the moon. But the underdogs led 6-5 in the fourth quarter.

You counted the minutes down, growing more amazed as each one melted away. Ten minutes left. Nine minutes. Eight. Seven. Six. It was going to happen. The steel-fisted defense and the hand-puppet offense. They'd get off a plane in Atlanta and everyone would begin to doubt them all over again. Their hearts would tell them they belonged. Those hearts felt cheated Sunday. "Oh, yeah," Nickerson said. "I felt like it was our destiny to win that game the way it was going. They couldn't move the ball and they were getting frustrated."

They had 'em. They had 'em. Warner to Proehl. Brian Kelly reaching. He'd made plays all day, including an interception. Now he reached. One play. They still believed. They believed so much that even the Bucs offense believed after Proehl's touchdown grab. "We stood in the huddle and we all said, "We're gonna win, we're gonna win," " Emanuel said.

This is the same offense that kept the Bucs from being a great team. The same offense that could have made the Bucs Super Bowl champs if it had just been average. The offense that needs to get better. Twice the Bucs defense handed the offense the ball inside St. Louis territory with that strange 6-5 lead. Any points would have done. The offense began both drives with sacks of Shaun King, who on the first one let the ball slip out of his hand - again. The offense threw when it should have run on that first drive. Remember the running team? Pound it. Grind it. Win it.

King mostly was terrible. Even good turned to bad. On fourth down, King hit Emanuel coming across. It went 23 yards to the St. Louis 12. It was wiped out on a delay penalty. That offense. The Bucs punted. The next time, King was picked off. That offense. That's why the ending was a crime.

FOR THE IMMOVABLE object started to move. The Rams led and all was lost - but the Bucs offense moved. The clock ticked. From their 23, the Bucs moved. No way this was happening. Across midfield, the Bucs moved. Against all odds. The Bucs moved. Do they have parking for little trains at the Super Bowl? The Bucs kept moving. Less than two minutes left and they still moved, even after King was sacked for the fourth and fifth times of the day. Down to 1:25 remaining. It was second down and 23 at the St. Louis 35. The Bucs aimed at a miracle and looked to move some more. Emanuel thought they had. He caught a King pass and fell to the Trans World's rug with a 13-yard gain. It'd be third and 10 at the Rams" 22. Two shots. Decent shots. Destiny still had a pulse.

Then it died. The replay official, Jerry Markbreit, called down from high above, and we don't mean heaven. Referee Bill Carollo scurried to his replay machine. He returned with his decision. By chance, he stood next to Bert Emanuel. And robbed him. It shouldn't have been reviewed. Emanuel had possession. At the very most, the ground caused a fumble - and he recovered. It was inconclusive. No matter. The ball went back to the 35 and it was third-and-23. And there really was no chance after that. Bert Emanuel caught that ball. It always will be that way. "We would have won," Emanuel said.

You didn't necessarily agree, because you just never knew with this offense. How the Bucs ever came this close ... but who could say that to Bert Emanuel's face? Or heart? He'd fought through injuries and drops this season. Now he looked around the losing locker room and refused to see losers. He saw a team that was 3-4 and won nine games after that. He saw the little train. "We were underdogs," he said. "Nobody in America thought we could win ... to be winning with less than five minutes left, to frustrate them all along, it's hard because it's been a long road. We fought hard and we fought back ... I knew we were going to win. To come so close and not win ... it just doesn't seem right. "We won't reverse his call.