Bucs lose Mike Evans, beat Falcons and clinch No. 5 seed
There is a fine line between making history in the NFL and becoming a footnote to it. Between experiencing pleasure and excruciating pain, injury and injustice. Mike Evans and the Bucs straddled those emotions - most significantly in back-to-back plays - in Sunday's 44-27 win over the Falcons in the regular-season finale.

Evans became the first player in NFL history to reach 1,000 receiving yards in each of his first seven seasons with a 20-yard catch over the middle in the first quarter. But on the next play, he dropped a pass in the end zone, slipping on the grass and hyperextending his left knee. He tried to stand before dropping back to the turf.

Evans remained there for several minutes with trainers, who helped him to his feet and supported him as he exited to the locker room. The 16,009 fans at Raymond James Stadium - who had risen to their feet to give Evans a standing ovation - collapsed, stunned, into their seats over the untimely injury.

"It's definitely a roller coaster of emotions," receiver Chris Godwin said of Evans. "He breaks the record, and … I was so proud just of the man that Mike is and the way he works. I think that's awesome. Then, next play, he goes down. It hurts. I think the life in the stadium got sucked out of it, and I think that's when you see how important Mike really is to this team, to the organization, to this city."

The early news Sunday night was good for Evans. Preliminary tests did not indicate major structural damage to the knee. "It meant the world for him to get that record," coach Bruce Arians said not long after the game. "Just a freaky thing. … We'll know more in the next 24 hours."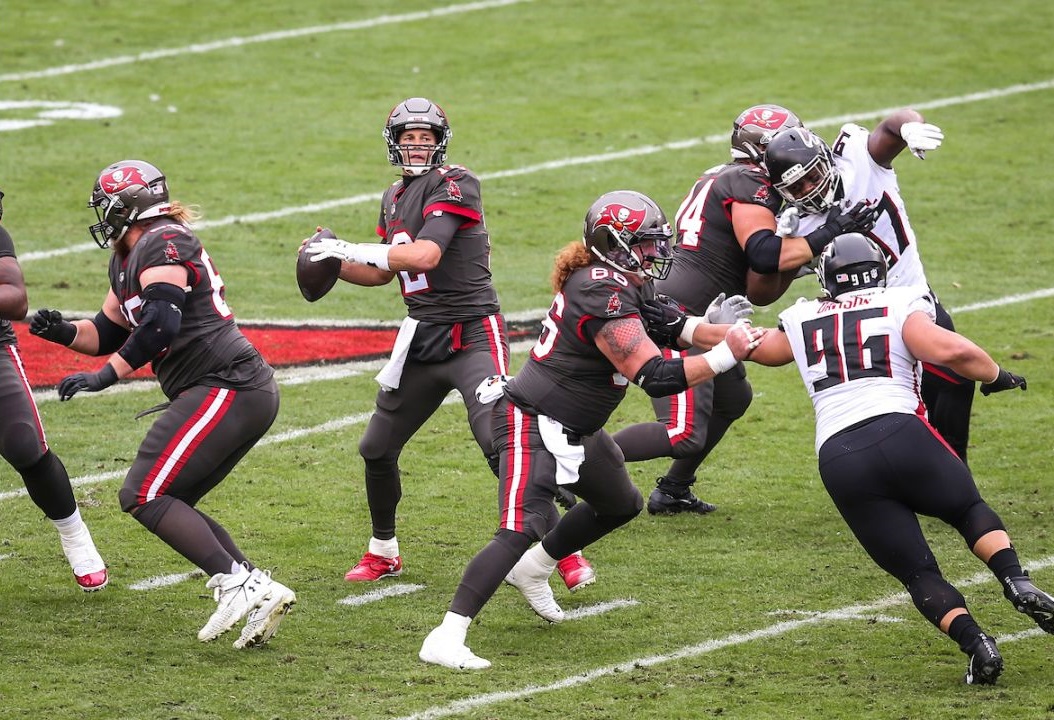 Here's what we know about the Bucs: By beating the Falcons for the second time in three weeks to finish 11-5, they secured the No. 5 seed in the NFC as a wild card and will start the playoffs on the road against NFC East champion Washington on Saturday night. (8:15 p.m., NBC).

If they don't have Evans, the Bucs seem equipped to make a run without their marquee receiver. Godwin (five catches, 133 yards, two touchdowns) and Antonio Brown (11 catches, 138 yards, two touchdowns) put on a show. It didn't seem to matter who was on the receiving end for Tom Brady, who passed for 399 yards and four touchdowns while connecting with eight players.

Brady finished the regular season with 40 touchdown passes, the second most of his career and the most since throwing 50 in 2007. The Bucs scored on every possession Sunday, except when receiver Scotty Miller had a pass deflect off his hands to safety Ricardo Allen in the third quarter and on the final kneel down.

"When (Brady and I) first met, that's really what we talked about," Arians said, "the players we had and what he could do with the players we have. … I envisioned 40 (touchdowns). I really did. When (Brady) first signed, it was like, 'Okay, we'll be a 40 (touchdowns)-10 (interceptions) team. But I was expecting practice. I was expecting (organized team activities) and everything (all affected by the coronavirus). But what he's done with none of that? Especially this last half of the season, it's incredible."

The Bucs enter the playoffs with some wind in their sails. They have won four in a row, albeit against some of the league's bottom-feeders. They scored 40-plus points in back-to-back games for the first time in club history. Brady hated to lose Evans, but he noted how receivers such as Miller and rookie Tyler Johnson stepped in to help fill the void.


"It's an incredible record to have," Brady said of Evans' mark. "Toughness, dependability. Obviously, skill, but attitude plays a big factor into those things. I just love playing with the guy. When he went out (of the game), other guys kept making plays. … So we've got to keep it going. We've got a big one next week. Now that the regular season is over … it's one football game. Who executes when the pressure is on."

If there is cause for pause with the Bucs, it's not knowing who they will have on defense next weekend. Inside linebacker Devin White tested positive for the coronavirus Thursday. NFL protocol mandates a player must quarantine at least 10 days after a positive test for the virus, meaning White wouldn't be available Saturday night. Outside linebacker Shaquil Barrett and defensive lineman Steve McLendon are quarantined for close contact and must sit out at least five days unless they develop symptoms.

The Falcons closed within 30-27 on Matt Ryan's second scoring pass to tight end Hayden Hurst with 8:19 left in the game. But twice the Falcons had the ball at the Bucs 5-yard line or closer and had to settle for field goals.

Fortunately for the Bucs, Brady kept making plays to Godwin and Brown and Miller and Johnson. Now they may have to all be like Mike. Said inside linebacker Kevin Minter, "We finished this thing for 13 (Evans' number)."

Rick Stroud, Tampa Bay Times, published 4 January 2021