Five topics suitable for inane debate on talk radio
John Romano, The St.Petersburg Times, published 1 January 2007

1. AN ERA PASSES: Do not weep for Mike Alstott. A fairy-tale ending would have been nice, but it was hardly necessary. His career was not built on highlight reels or yardage records. His legacy was earned hit by hit and inch by inch. You did not need to see another Alstott touchdown to appreciate his legacy.

2. THE FINAL TALLY: The record was bad. The details were worse. If you take away defensive touchdowns, the offense averaged 11.9 points, making it Tampa Bay's most inept offense since 1977. Excluding TD returns by opponents, the defense gave up 20.3 points per game, its worst showing since 1994.

3. NEW YEAR'S RESOLUTION: Have a daily conversation with a Glazer. (Guessing I'll go 0-for-365 on this one.)

4. THIS IS KNOWN AS RUBBING IT IN: Good news? Tim Rattay's 88.5 passer rating was the third best in team history. Bad news? He only started two games.

5. THE EVIL AL DAVIS: It's hard to imagine the Bucs having interest in quarterbacks (Brady Quinn, Brian Brohm or JaMarcus Russell) or a running back (Adrian Peterson or Marshawn Lynch) at the top of the draft, so that probably leaves Georgia Tech receiver Calvin Johnson as the favored choice. And there is already talk that the Raiders, with the No. 1 pick, have a crush on Johnson.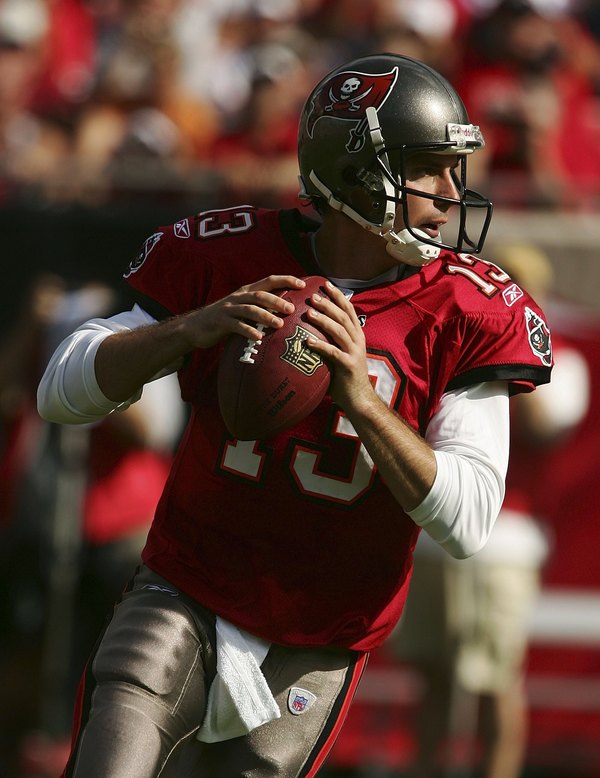 Five explanations for 2006
5. No Todd Steussie? No "amazing" meds.
4. Gave up on 62-yard field goals after Philly game.
3. Distracted by all those offseason moves by Devil Rays.
2. Lost the will to win once Kenyatta Walker was hurt.
1. They stink.

Five angry men
1. JOEY GALLOWAY: He was named team MVP, surpassed 1,000 yards receiving and led the team with seven touchdowns. Why should he be angry? Because he left, oh, about 500 yards on the field. Had the Bucs gone to Rattay sooner, Galloway could have had 1,500 yards and 10 touchdowns. Speaking of which ...

2. TIM RATTAY: If the last three games taught us anything, it was that Rattay was the second-best quarterback on the roster, which means he sat behind an inferior player for 11 weeks. Bruce Gradkowski took the offense to 11 touchdowns in 10 1/2 games. Rattay had six TD drives in 2 1/2 games.

3. CADILLAC WILLIAMS: This is a guy who should be angry with himself. The offense may have been feeble, but the past couple of weeks, Michael Pittman showed what could be done if you hit holes quicker and with more authority.

4. BRIAN KELLY: He wants out, and it doesn't look like he's going to get his wish. The Bucs need offensive linemen, receivers, a quarterback, defensive linemen and safeties, so it'd be foolish to add cornerback to the list. Especially when they have a good one under contract.


5. JON GRUDEN: Worst season in nine years as a head coach. (And seven seasons as an NFL assistant.)

Five Super Bowl picks
1. RAVENS: Put your flak jackets on - Ray Lewis is heading to the Super Bowl.

2. CHARGERS: Marty Schottenheimer is 5-12 in the postseason. We'll mention it this one time - and then every day until February.

3. SAINTS: One of three NFC teams to have never played in a Super Bowl.

4. BEARS: On the eve of the playoffs, Rex Grossman turns into Shane Matthews.

30. BUCS: Can you convince yourself it was worth the high draft pick? Nah.

Final five words
Thanks for the memories, Mike.