Playoff drought ends after Bucs rout Lions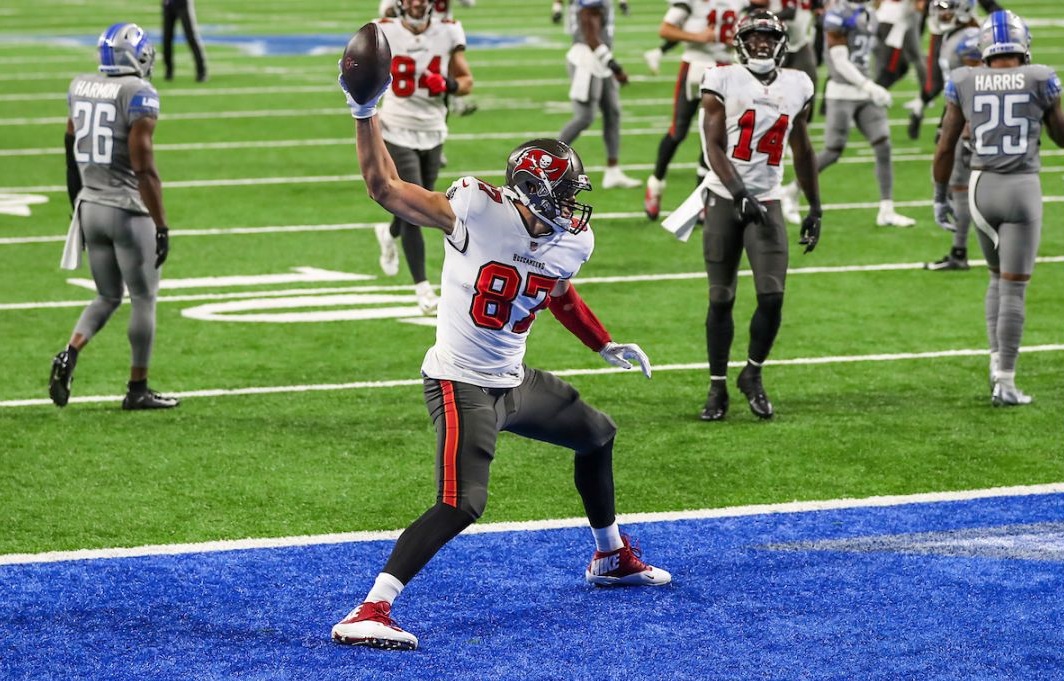 When the drought finally ended, naturally they wanted to drink it all in. Let the moment wash over them as if to cleanse all the years of struggle and sacrifice.

Following the 47-7 win over the Lions Saturday that clinched the Bucs' first playoff berth since 2007, inside linebacker Lavonte David thought about the nine years he has spent falling short of this goal. In the locker room, he hugged defensive lineman Will Gholston, who remembered practicing at Ford Field as an all-star in the Police Athletic League as an 11- or 12-year-old growing up in Detroit.

They were joined in embrace by seven-year veteran Mike Evans, who caught two touchdown passes to reset his single-season club record at 13 and move within 40 yards of his seventh straight 1,000-yard season to start his career, which would be an NFL first.

"Great moment. Great experience," said Evans, who had 10 catches for 181 yards and two TDs. "You know, we've been scratching and clawing every single year to try and make the tournament, and it's seven years for me, nine for Lavonte, eight or nine for Will Gholston - it's been a journey. So we're happy to finally have accomplished it, but that's just where it starts. We want to go as far as we can."

Based on the last two halves that Tom Brady has played, the Bucs could be, as coach Bruce Arians put it, "a pretty tough out." Brady threw touchdown passes to Rob Gronkowski, Evans, Chris Godwin and Antonio Brown and led five scoring drives with 348 yards passing. He left the game at halftime with the Bucs leading 34-0.

Coupled with his 31-point surge in the second half last Sunday at Atlanta, Brady has passed for 668 yards and six touchdowns in his last four quarters of football. "There's a lot of guys that have worked hard to get to this point," Brady said.

The Bucs currently are the fifth seed in the NFC as perhaps the wildest of wild cards. They can lock up that position with a home win over the Falcons next Sunday, which would mean they would travel and face the NFC East winner (locked in as the No. 4 seed) in the first round of the playoffs.

Six days earlier, there had been much hand-wringing about the Bucs having only 60 yards in the first half against the Falcons. Against the Lions, they had a franchise-best 410 before halftime. The Bucs had only one touchdown in the first quarter of their previous six games combined. On Saturday, they set a club record with 34 points in the first half.


What an intoxicating time for Tampa Bay sports. The Lightning won the Stanley Cup. The Rays won the American League pennant and pushed the Dodgers to six games in the World Series. Could it be the Bucs' turn with Brady? The 43-year-old quarterback now owns the single-season franchise record for passing touchdowns with 36, tying for the third-most of his career.

Let's be honest; the Lions (5-10) are a mess. Five coaches were unavailable Saturday due to COVID-19 protocol, including interim head coach Darrell Bevel. Quarterbacks coach Sean Ryan was calling plays for the first time. Evan Rothstein had never called defensive plays until Saturday. Receivers coach Robert Prince was the acting head coach.

The Lions have given up 40 or more points in a game five times this season, the most of any team since 1948. To make matters worse, quarterback Matthew Stafford was forced to leave the game after one series with an ankle sprain. If you want to nitpick, the Bucs special teams were awful. Placekicker Ryan Succop missed two extra points and a field goal. The Lions' only score came on a 74-yard punt return by Lions receiver Jamal Agnew.

But Bucs fans have waited all season to witness the kind of onslaught that occurred Saturday at Ford Field. Arians told David if he won the coin toss not to defer to the second half as they normally do, because he wanted Brady to have the ball first. The plan was to attack the Lions' porous secondary, and he did just that.

Evans was spectacular, and the Bucs continued to make a concerted effort in the second half to keep feeding him the football, inching him closer to the record. After the game, Brady downplayed the playoff entry. "Ten wins gets you something this year in the NFL," he said. "It gets you a spot in the playoffs. There's going to be a bunch of teams make it this year, and only one team will end up happy."

Those weren't tears of sorrow that David said may have been welling in his eyes after the game. "After the game, me and Will hugged each other," David said. "I broke it down to Mike, just gave him a big hug in the locker room. A lot of the guys, everybody was saying, 'It's about time. We're proud of you. ... Right now, I'm just soaking in that moment."

Scream it from the rooftops from Palmetto to Port Richey. Let them hear it from Lutz to Lakeland. For the first time since 2007, the Bucs are headed to the playoffs.

Rick Stroud, Tampa Bay Times, published 27 December 2020