Mike Evans shines, but history is put on hold for another week
He wanted to see history transpire organically. Bruce Arians knew receiver Mike Evans entered the weekend with a plausible shot at a seventh consecutive 1,000-yard season and wanted it for him. But things get dicey when you force throws or try coaxing a record out of tight coverage.

But in one of the biggest offensive romps in Bucs history, nothing appeared forced. Mostly, all seemed fluid. And Evans emerged from Ford Field with that season goal season easily within his elongated reach.

As a result of his most prolific performance of the season (10 catches, 181 yards, two touchdowns) in Saturday's 47-7 embarrassment of the Lions, Evans enters next Sunday's regular-season finale against the Falcons 40 yards shy of the millennial mark. No other NFL player has begun his career with seven 1,000-yard seasons in a row.

"I desperately want that to happen," coach Bruce Arians said. "Whatever he needs - 50 (yards) or whatever he has left - I'm sure Atlanta's not going to want to give it to him, so we'll have to find some creative ways to get it for him."

For a fleeting moment Saturday, it appeared Evans would return home with immortality secured. With a steady run game (111 yards) setting up his play-action, Tom Brady dispersed his spirals to myriad targets at will throughout the first half. Evans found himself isolated on the left side for a 33-yard catch on Tampa Bay's opening drive (resulting in a Rob Gronkowski touchdown), and ended the second by getting behind his coverage and hauling in a 27-yard scoring pass.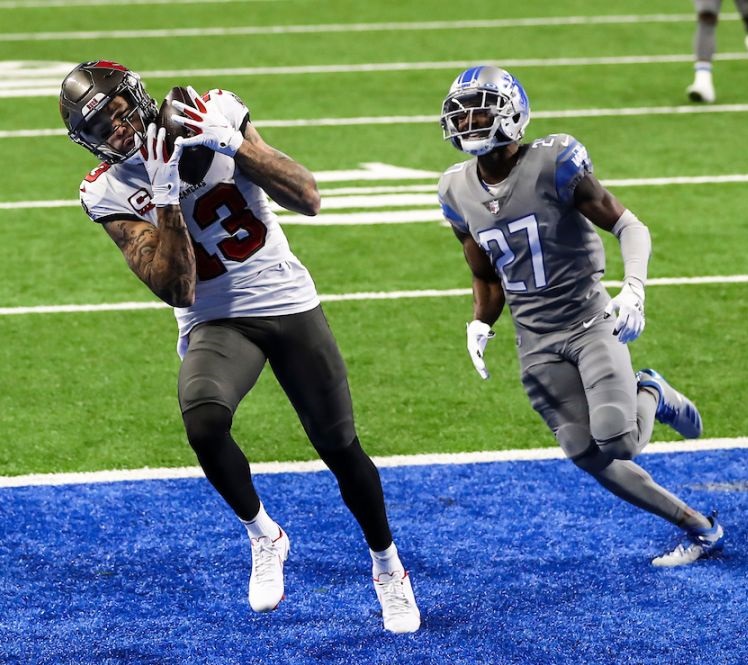 By halftime, Evans already had 120 yards on six catches. When Blaine Gabbert spelled Brady in the second half with the Bucs up 34-0, Arians acknowledged trying to force it a bit to Evans so he could reach the 221 needed for 1,000.

"They care about me, and I appreciate that a lot," Evans said. "All of my teammates, they definitely want me to get the record (and) to be the first in NFL history. It's a huge accomplishment. I'm just appreciative that they care about me like that and that they want me to get it."

The byproduct of Saturday's indefatigable pursuit of 1,000? Other eclipsed records. Evans' two touchdown catches give him 13 for the year, breaking his own Bucs single-season mark. He also became one of seven players in NFL history with at least 8,000 receiving yards and at least 60 receiving touchdowns in their first seven seasons.

In the process, he also seemed to serve notice that, after a series of nagging injuries earlier this season, he's finding his groove and his second wind. Just like his offense.

"Guys seem like they're getting fresher; that sounds crazy," said Evans, who has 16 catches for 291 yards in his last two games. "Early in the season I was hurt really bad, but it's my job to play, like I always say. ... I'm getting back on track, getting healthier, but we definitely as a team have just been battling injuries ... and we're trending up right now, so we're happy about that."

Joey Knight, Tampa Bay Times, published 27 December 2020