Jameis Winston can't help himself, and clearly the Bucs can't either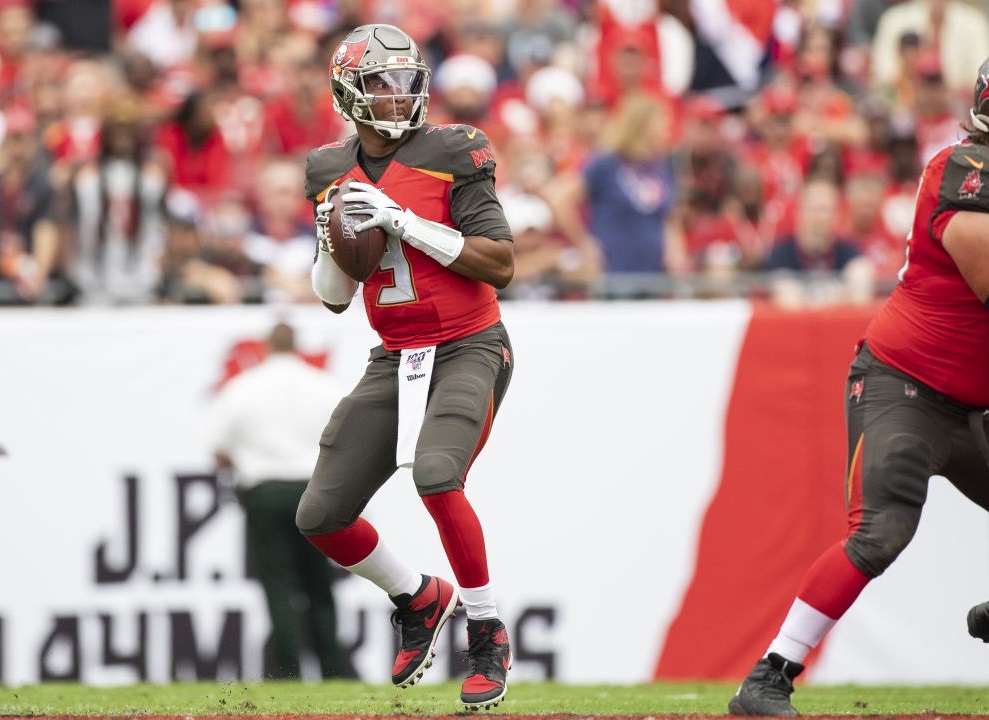 Rick Stroud, Tampa Bay Times, published 22 December 2019

He whipped the Falcons in a down year. The Jaguars were a mess. The Colts looked to be a challenge, but with Indianapolis .500 at the time, it meant they were just turning in circles. The Lions were toothless at quarterback with rookie David Blough. Jameis Winston was good enough to beat those teams, interceptions and all.

At times, his performance was unbelievable. But now we are starting to realize it is also unsustainable. If the Bucs' 23-20 loss Saturday to the Texans taught us anything, it is that.

Good teams will beat bad quarterback play, and that's what happened again. Winston threw four more interceptions Saturday, giving him 28 on the season. His first pass was picked off by cornerback Bradley Roby and returned 27 yards for a touchdown.

It was the fourth time this year his first pass of the game ended in a pick, the sixth time the Bucs' opening drive resulted in an interception. Winston's fourth pass of the game was intercepted as well. He threw three in the first half alone. The Bucs trailed 10-0 and 17-3.

Remarkably, the Bucs' young defense was able to keep hope alive and the Texans off the scoreboard long enough for Ronald Jones to tie the game at 17-17 at halftime with his 4-yard TD run. It was 20-20 at the end of three quarters.

"We're always going to persevere," Winston said. "That's just those guys in the locker room. They're resilient. They're going to continue to play no matter what. But I can't do that. I can't do it. I can't do it. You can't win that way. Consistently. The defense did their job. I didn't do mine today."

Again. Yes, Winston was playing without Mike Evans and Chris Godwin, two of the best receivers on the planet. And sure, he has a broken thumb. That didn't prevent him from throwing for 458 yards last Sunday in Detroit. He kept the Bucs in Saturday's game throwing to a receiver like Ismael Heyman and tight end like Codey McElroy.

Ironically, the one guy on the field he has thrown the most passes to since 2015 let him down. The Bucs needed a field goal to tie, a touchdown to win late in the fourth quarter. On third and 1 at the Houston 38, the Bucs inexplicably hurried to the line of scrimmage and tried to run Jones off tackle but he was dropped for a 2-yard loss by former Bucs cornerback Vernon Hargreaves. "It's a downhill run," Winston said of why the Bucs' were in the hurry-up. "Trying to get the first down quick."

Then on fourth down, Winston threw a strike to Cameron Brate for what would've been a first down and he dropped the football. "I was able to find kind of a soft spot there and unfortunately just didn't come through for the team and it hurts," Brate said.


The Bucs got the ball back and Winston ended the Bucs' chances when former Riverview star Jahleel Addae intercepted his pass for Dare Ogunbowale. Hargreaves, who was claimed off waivers by the Texans in Nov., had seen this all before.

"He doesn't stop no matter what," Hargreaves said of Winston. "He's still going to come at you with everything he has and that's what I admire about him. No matter what you say about him, no matter what you do to him, he's still going to come back and play hard. Today, we got some off him, which helped us win the game."

Winston had help losing it. The referees missed an obvious pass interference penalty early in the game and blew it again after Bruce Arians threw the challenge flag. Mr. No Risk It decided to turtle on fourth-and-1 on the Texans' 23-yard line and settle for Matt Gay's 41-yard field goal to tie the game with 1:18 in the third quarter.

But this was Winston's mess from start to finish and nobody should wear it besides the Bucs' enigmatic quarterback. Even so, there was talk from Arians about the Texans squatting on routes and how the Bucs receivers have to win the one-on-ones. Enough, already.

For five seasons, Winston's turnovers have been a problem. Clearly, Arians isn't the one who can fix them or he would have already. Only a week ago, when Winston became the first NFL quarterback to pass for 450 yards in back to back regular-season games, he said he hoped he was making a good case to remain with the Bucs in 2020.

Before the game, NFL Network's Ian Rapoport reported that the Bucs are "slated" to being back Winston either using a franchise player or transition tag. "There's been no decision on any player," Arians said. "We don't make those decisions until the season is over."

What the Bucs have to decide is whether they can continue to live with Winston's turnovers. He has only had two games this season — a win at Carolina in Week 2 and a loss at New Orleans three weeks later — when he didn't commit a turnover.

"My primary focus is going into a football game and having a turnover-free football game," Winston said. "That's my primary focus. When I do that, I'm going to be a good quarterback. A great quarterback. "I love Tampa. I love this community. ... I definitely want to be here. But also, personally, I want to protect the football and I know if I do that, I will be here."

Winston is talented. He's dynamic. He's capable of putting up big passing numbers. That's entertaining, but it's not enduring. The Bucs have to think about that.