Statistical notes from Tampa
The Tampa Tribune, published 27 December 2010

Seattle still holds the lead in the all-time series with Tampa Bay, 7-4, but the Buccaneers have won the last three times, including the last two in Tampa (also in 2008).

By winning their ninth game on Sunday, the Bucs became the first team in the NFL since the 1970 merger to start 10 different rookies during the season and finish with a winning record.

Three Buccaneer players made their NFL debuts on Sunday: S Larry Asante, WR Dezmon Briscoe and G Brandon Carter. Briscoe also had his first two NFL receptions for a total of 28 yards.

Connor Barth's 46-yard field goal in the first quarter was his eighth successful kick in a row. He had his next attempt blocked to end the streak.

QB Josh Freeman's 10-yard touchdown pass to TE Kellen Winslow in the second quarter gave him a scoring toss in 12 straight games. That ties the longest streak in franchise history. Brian Griese originally set the record at 12 games during 2004 and the first game of 2005.

Tampa Bay's 98-yard touchdown drive in the third quarter, which ended in Freeman's second TD pass to Winslow, tied for the longest scoring drive in franchise history. The Bucs also had 98-yard scoring drives, both for touchdowns, at New Orleans on Dec. 27, 2009 and vs. Carolina on Dec. 30, 2007.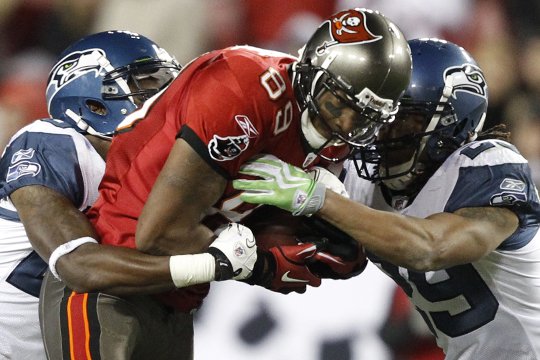 Winslow has a team-high 63 catches on the season after making seven grabs for 98 yards on Sunday. That's the second-highest reception total by a tight end in franchise history, following his own 77-catch campaign in 2009, his first year as a Buccaneer.

WR Michael Spurlock's 79-yard kickoff return in the first quarter was the seventh longest in franchise history. He now owns three of the seven longest kickoff runbacks in franchise history.

The Bucs have won nine games already with one remaining, after finishing 3-13 in 2009. That six-game turnaround already matches the one from 2004 to 2005 (5-11 to 11-5), and the team will have a chance to set the record next week in New Orleans.

The Buccaneers declared the following eight players inactive for Sunday's game: WR Sammie Stroughter, S Dominique Harris, RB Kregg Lumpkin, CB D.J. Johnson, FB Erik Lorig, DE George Johnson, T James Lee, TE Nathan Overbay and designated third QB Rudy Carpenter. Stroughter and Lee were out due to injury.