Freeman continues to set Bucs' standard of excellence
Joe Henderson, The Tampa Tribune, published 27 December 2010

It was late in the game Sunday and No.?5 had just thrown No.?5.

For those who left their Buccaneers translation guide at grandma's house over the Christmas break, No.?5 is quarterback Josh Freeman. And the second No.?5 in that sentence refers to the number of touchdown passes he threw in Sunday's 38-15 blowout of Seattle.

Anyway, offensive tackle Donald Penn caught up with Freeman after the fifth scoring pass — which equaled a team record — and let him know the deal.

"I told him after that last series when we were on the sideline, 'You've done set a standard. I don't want anything less than that from now on. You've done messed up. You've shown you're the best and every game I want that,' " Penn said.

That's some standard. Indeed, Freeman's climb this season toward the upper ranks of National Football League quarterbacks has been remarkable. His own teammates are running out of ways to describe what he does, although thank goodness they keep trying. "He's a special player, he is — he just is," Ronde Barber said. "We've never seen a guy like that around here."

Take this game, for instance. It wasn't just that Freeman equaled a team record by throwing five TD passes, or completing 21 of 26 throws for 237 yards and a 144.2 rating. He used 10 receivers, a feat made more impressive because increasingly reliable rookie Arrelious Benn was knocked out early with a knee injury. Didn't matter.

He threw two touchdown passes to Kellen Winslow and two more to Mike Williams. Maurice Stovall got one. They like to say around the Bucs that it's all about No.?5, but this was 5-times-5. That's Bucs math that adds up to playoff contention heading into the last week of the regular season.

"That was my thought process today, as if you couldn't tell — go let 5 win the game," Raheem Morris said. "Go let 5 play defense, go let 5 play offense, go let 5 dictate special teams; that's what he did today."

We recall what happened last week against Detroit when Morris went away from his money man in the clutch, going conservative with runs and settling for a field goal when a touchdown could have put the game away. Instead, the Lions got a late field goal to force overtime and eventually won. That wasn't going to happen this time. It should never happen again.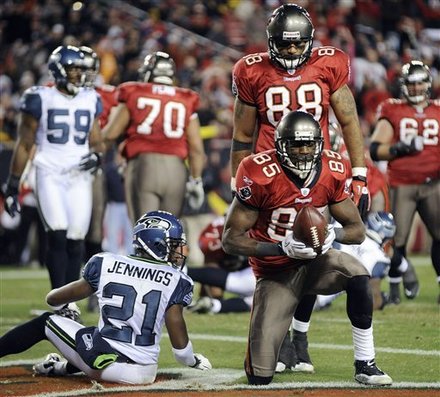 "You appreciate what LeGarrette (Blount) is doing in the running game and how well some of our young offensive linemen are playing, but this team goes how that dude plays. There's no doubt about it," Barber said. "(Freeman) is without question our MVP; we all know that, you all know that. When he plays like he did today, it's hard to beat us."

Freeman's 22 TD passes are tied for second-most in team history. He is the first Bucs quarterback to surpass 3,000 yards since Brad Johnson in 2003. Fine numbers, but it gets better when you consider he hasn't even completed his second full season in the league.

"Hopefully, he'll be in the arguments and MVP chatter soon," Morris said. "That's what we all want from the kid. I'm not saying he's in that chatter now, I'm just saying that's what we want from him because he's that type of player and he's special. This town has never seen that before."

There are those words again — something this town has never seen before. Now it's time to finish the job. The Bucs still need to beat New Orleans to have a chance at the playoffs. At 9-6, they have executed a remarkable turnaround from 3-13 a year ago, but don't tell that to No. … oh, you know his number by now.

"If we don't make the playoffs, it doesn't matter if we're 3-13 or whatever, the season is a failure," Freeman said.

We can debate that later. Now, the Bucs are in the playoff conversation with one game to play, largely because Freeman has done set a standard this town has never seen before.