Bucs ground Seahawks to keep playoff hopes alive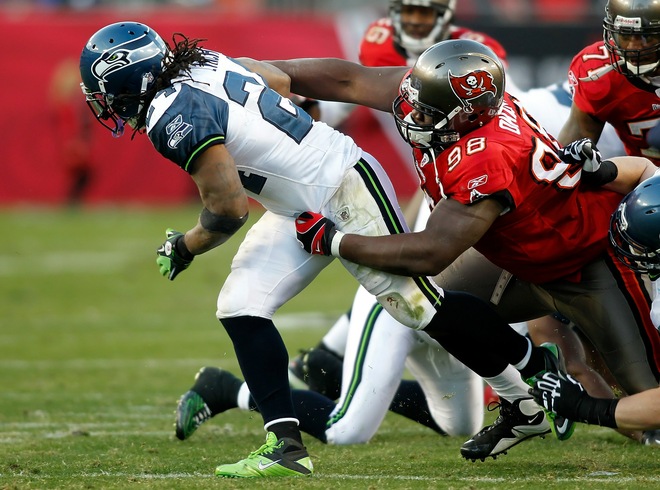 Roy Cummings, The Tampa Tribune, published 27 December 2010

It all seemed outrageous back at the beginning of the season. With the season's end now near, though, it all remains entirely possible. The 10 wins, the playoffs, everything.

Hard to believe. After all, attrition won another round against the Buccaneers on Sunday. This time the two starters it took away were from the offensive side. You wouldn't have known it from looking at the scoreboard.

Concerned that his defense was too beaten up to carry the burden of winning, Bucs coach Raheem Morris put it on his offense to lead the way against Seattle. It responded in record fashion.

Led by quarterback Josh Freeman, who tied a franchise record with five touchdown passes, the Bucs rolled to a 38-15 victory that guaranteed Tampa Bay a winning season the likes of which no one has seen since at least 1970.

That's how long it's been (at least), according to the Bucs, since a team that has been forced to start 10 or more rookies throughout a season has put together a winning record. Talk about hard to believe.

"I had no idea about that,'' Bucs veteran cornerback Ronde Barber said. "That's really amazing. But that just speaks to what (General Manager) Mark (Dominik) has done in putting this team together and keeping it together.

"He's done a great job here getting the right guys for us. They're not necessarily the most expensive guys or the best-known guys, but they've been the right guys and that's the proof right there.

"I mean, people begrudge the Glazers (the Bucs owners) for the way they've gone about doing this — you know, building through the draft and rebuilding the bottom of the roster, but it's worked before and it's working now.''

It's working so well that despite their personnel losses, which stretched to include starting receiver Arrelious Benn and starting fullback Earnest Graham on Sunday, a 10-win playoff season is still possible.

The Bucs will have to beat the Super Bowl champion Saints in New Orleans next Sunday and get some help to do it, but the fact it's all still possible was all that mattered after this one.

"Hey, these are our playoffs,'' left tackle Donald Penn said. "That's how we're looking at it, because it's win or you're out for us now. That's how Raheem put it to us (in a team meeting Saturday) night. These are our playoffs, and I told you guys (in the media) last week (after losing to Detroit) that we were going to bounce back this week and put on a show for you and look what we did. We put on a show.''

Freeman was the star of the show. He completed 21 of 26 passes for 237 yards and the five touchdowns and finished with a career-best passer rating of 144.2. He had a heck of a supporting cast working with him, though.


Rookie running back LeGarrette Blount ran 18 times for 164 yards (an average of 9.1 yards per carry) and nearly stole the show by leaping over veteran safety Lawyer Malloy on his way to a 48-yard gain in the third quarter.

And tight end Kellen Winslow had his most productive game of the season and second-most productive as a Buccaneer, catching all seven of the passes thrown to him for a team-best 98 yards and two touchdowns.

Added up, it was more than enough to reduce the level of responsibility usually placed on the defense. But the defense, stung by its poor effort down the stretch last week against Detroit, did its share. Though it got off to a slow start, allowing Matt Hasselbeck to lead Seattle to an early 7-0 lead, the defense stiffened after that, allowing just 96 yards of offense during the final three quarters.

"We really took it personal, the way we played last week (against the Lions),'' middle linebacker Barrett Ruud said. "The defense lost that game for us last week and that bothered us all week long.''

There's no guarantee it won't come back to bother them again a week from now. Ruud and Freeman admitted as much, saying a 10-win season won't be enough to placate the Bucs anymore. "If we get 10 wins and we don't go to the playoffs, we'll be looking back at that game against Detroit and those (two losses to) Atlanta and wondering 'What if,' " Ruud said.

"If we don't make the playoffs,'' Freeman concluded, "it's going to mean exactly the same thing as 3-13 did. I mean, that's what we're all in it for, to try and win championships. That's our goal.''

And with a week to go, it's still within reach.