Galloway is back … sort of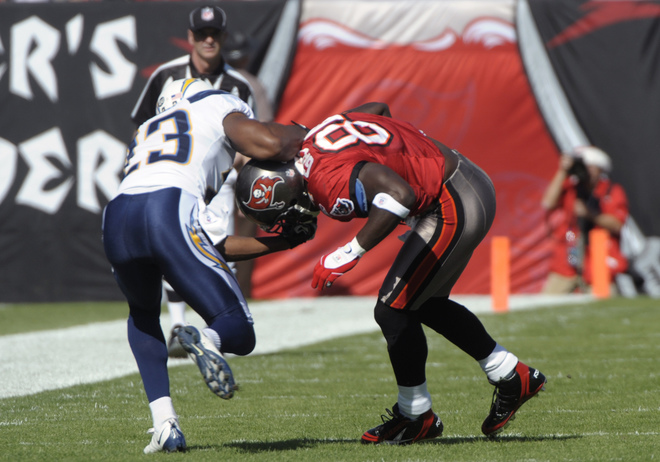 Stephen F. Holder and Dave Scheiber, The St.Petersburg Times, published 22 December 2008

Joey Galloway didn't speak to reporters Sunday. Even if he had, there would have been little to discuss. Galloway made it back on the field against San Diego but barely made a ripple on the stat sheet, finishing with one reception for 4 yards. One development of note, however, was that Jon Gruden managed to play Galloway alongside Antonio Bryant, something Gruden had said was difficult to accomplish because they play the same position.

Jeff Garcia said Bryant stayed at split end while Galloway lined up in the slot (in three receiver sets) or as the flanker. But the Bucs weren't able to exploit the defense while both playmakers were on the field. "The one time they were the only two receivers out on the field and we had a route individualized for Joey, (the Chargers) did a pretty good job of covering the route," Garcia said. "They collided with Antonio, and he never got to clear things out. Then they sat underneath on Joey, and I had to go to the fullback out in the flat. But that's just one play. We'll have some other opportunities."

Garcia said playing sparingly has been a difficult adjustment for Galloway. "I just hope he continues to battle through it," Garcia said. "I know it's been frustrating for him. It's been frustrating for us not having his playmaking ability out on the field. But he's handled it like a pro."

Ground game grounded
For what it's worth, the Tampa Bay defense finally regrouped and found a way to limit a potent running game, holding San Diego and star RB LaDainian Tomlinson to 90 rushing yards after giving up 474 combined rushing yards in their previous two games. Tomlinson's longest run was 13 yards. But the Bucs' inability to rush the passer (and subsequent weak defense against the pass) overshadowed their success against the run.


Bryant's bumpy ride
At times, Antonio Bryant showed shades of brilliance. At others, he was frustrating to watch. It was that sort of day for this season's top offensive weapon, who notched his third consecutive 100-yard performance. The afternoon didn't start the way Bryant envisioned. He fumbled on the Bucs' first possession at the San Diego 41, and the Chargers converted the turnover into a 7-0 lead. Bryant dropped a third-down pass early in the second quarter that hit him squarely between the numbers (and would have gained a critical first down), and he dropped another shortly thereafter.

But he offset those glitches with the season's longest play from scrimmage, a 71-yard touchdown pass that took advantage of the Chargers' blown coverage in the third quarter. "A couple plays came my way that I didn't come up with early in the game," he said. "I put a stop to two, potentially, three drives with a fumble and two drops. That's really not (being) a good fire starter for my team. I kept blowing out our flame."

Bryant was as frustrated as anyone afterward, openly showing his fiery and competitive side. "I'm a sore loser," he said. "I cannot sit here and have a 200-, 300-yard game and lose. It doesn't matter. I'm a guy who puts my body on the line. Then, you look at a guy like Jeff (Garcia) who has to get stitches today and he's out there bleeding. Everyone was like, 'Are we going to call a timeout?' I'm like, 'Shoot, if he's rolling, I'm rolling.' I can't deal with losing. I hate losing. We knew coming into this game what our situation was."

Quick comeback
One of the sequences that was most emblematic of the Bucs' day came when the Chargers responded to a Tampa Bay field goal despite taking possession with 10 seconds left in the first half. Bucs K Matt Bryant had just converted a 49-yard field goal only to have his end-over-end kickoff returned 28 yards by Darren Sproles.

That positioned San Diego at its 36. Rather than take a knee to end the half, the Chargers called for deep routes, allowing QB Philip Rivers to throw a 25-yard strike to WR Vincent Jackson. K Nate Kaeding then booted a 57-yard field goal to negate the Bucs' score and send Tampa Bay to the locker room deflated — and down 20-10.

"We just got outexecuted," said LB Barrett Ruud, who tackled Vincent to prevent further damage. The play was a microcosm of what the Bucs experienced all day. Rivers dismantled the secondary in the middle of the field, completing many of his passes on deep crosses.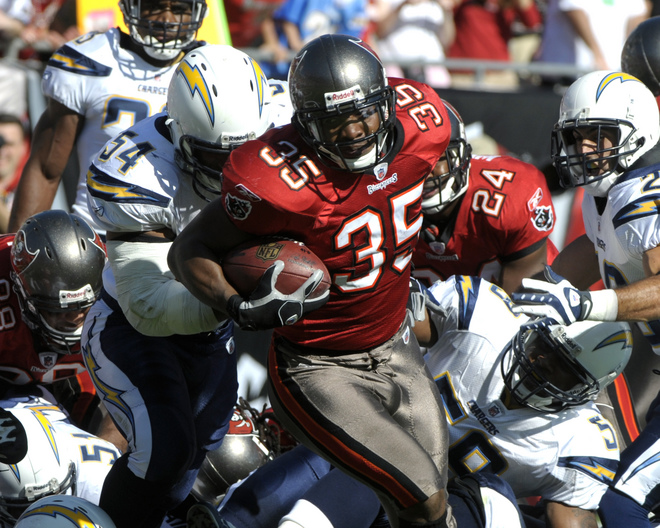 Askew, again
B.J. Askew, scored his second touchdown of the season when the Bucs called a fullback dive on first and goal from the Chargers 1 in the first quarter. But it wasn't as though Askew could enjoy his rare opportunity as he continues to establish himself as a viable short-yardage option for the Bucs in the wake of RB Earnest Graham's season-ending ankle injury. "The main thing is we want to come away with a win," he said. "Regardless of how many balls you catch or touchdowns you score, we want to get the most important category. Right now, we're just fighting to get a win."



Quick hits
San Diego's victory kept the team in the playoff race despite a 7-8 record. A win over the Broncos (8-7) Sunday night would give the Chargers the AFC West championship.

Bucs DE Jimmy Wilkerson recorded his fifth sack of the season in the second quarter. He had one sack in his first five seasons.

Bucs K Matt Bryant's 49-yard field goal tied his longest of the season and left him one behind Martin Gramatica (32) for most field goals in a single season.

Bucs QB Jeff Garcia's 7-yard rushing touchdown was the 26th of his career and capped the longest drive in terms of time off the clock (7:19) for Tampa Bay this season.

The Bucs' 337 points scored are third best in team history, behind only 2000 (388) and 2002 (346).

Nowhere to run
The Bucs had 4.1 yards per carry, but the running game had little impact largely because they never got into a consistent rhythm. RB Warrick Dunn pointed to the Bucs' slow start that forced them to throw more than intended. "We wanted to run the football, but we just couldn't get into a rhythm," he said.

"When you get behind early like we did, you try to use the pass to get you back in the game. We did get back into it and we thought maybe we could establish the run in the second half, but then it started to become a shootout. We had to make some plays just to stay in the game." The Bucs had 27 total carries, but eight of them came from QBs Jeff Garcia and Luke McCown. Garcia was the Bucs' leading rusher with 45 yards on six carries.


Big game, small package
Chargers RB Darren Sproles measures 5-6 and weighs 181 pounds. But his performance loomed large Sunday, when he averaged 31.8 yards on kickoff returns and 22.5 yards on punt returns. He added a 32-yard touchdown reception, during which he left Tampa Bay defenders stumbling over themselves as he weaved his way into the end zone. At least the Bucs can't say they were surprised.

"We knew coming in that he had great ability to return," said CB Elbert Mack, a member of the kickoff coverage team. "He's compact, but he's strong. A lot of people just see that he's short. But he's not just short; he's short and strong. It's easy for him to break tackles when you're not in the right position to tackle. If you don't break down or you take the wrong angle, well, he's just electrifying."

Sproles' returns gave the Chargers great field position throughout the afternoon, including his 43-yard punt return that set up San Diego's final offensive touchdown. The Bucs can certainly relate to his impact, given Clifton Smith's return efforts this season. "When you have a guy back there like that, you count on him to get you good field position," Mack said. "We have a guy like that, too."