Bucs Now Face Historic Collapse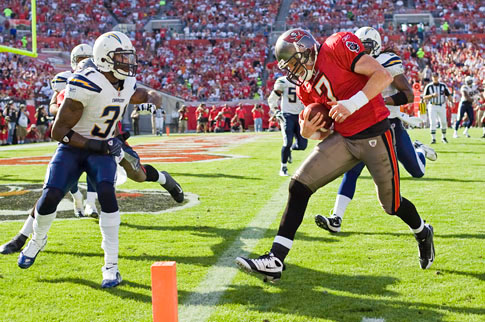 Ira Kaufman, The Tampa Tribune, published 22 December 2008

Heading into the final game of a regular season that once appeared divine, the Bucs are suddenly seeking to avoid a collapse of historic proportions. Since the NFL realigned into eight four-team divisions in 2002, all 36 of the clubs that opened at 8-3 or better went on to earn a playoff berth.

But since starting 9-3, Tampa Bay has dropped three consecutive games and now the Bucs need a win Sunday, plus some brotherly love from Philadelphia, to secure the NFC's final postseason seed. "At this time of year, it comes down to who wants it more at the end of every game," Bucs DT Chris Hovan said. "Today, we didn't get it done, but we'll get through this and find a way to get into the playoffs."

There are some similarities between Tampa Bay's current plight and the saga of the 1979 Buccaneers, who also began the year 9-3 before suffering a three-game tailspin. Needing one more win to guarantee a playoff spot, the '79 team beat Kansas City 3-0 in a driving rainstorm at home to finish 10-6, advancing to the postseason for the first time.

The key difference? This three-game slide has robbed the Bucs of an opportunity to control their own playoff destiny. "I wouldn't have believed it," CB Phillip Buchanon said of Tampa Bay's late-season distress. "Because of the leadership on this club, I never would have believed that ... not this team."

Like Buchanon, T Donald Penn didn't see this precarious scenario as a real possibility before the surging Bucs headed to Carolina for a Monday night showdown only two weeks ago. "We're not getting the breaks right now, but we're still trying," Penn said. "There's a lot of fight left on this team. A couple of weeks ago, we were in control. Now, we're hoping teams lose ... it's sickening."


Charge it
The chant began as soon as joyous San Diego players headed off the field at Raymond James Stadium: "Let's go, Buffalo."

Three hours later, the Bills obliged with a 30-23 upset victory at Denver that sets up a Broncos-Chargers matchup in San Diego on Sunday for the AFC West title. "We're a very prideful team and we showed that today," said San Diego G Kris Dielman, an AFC Pro Bowl starter. "We had a good game plan and this was a good showing of what this team could have accomplished all year long."

If they finish 8-8, the Chargers would win the division and host Indianapolis in an opening-round playoff game, armed with a four-game winning streak. "Tampa's a good team and it's tough to make that trip from the West Coast, but we adjusted today and proved what we're capable of," said Chargers S Clinton Hart.

Short fields
San Diego's average starting position for its 11 possessions was its own 40. Only twice did the Chargers begin a drive inside their own 30, and Darren Sproles played a key role in the outcome with his versatility.

Before Sproles opened up a 10-point lead by scoring on a 32-yard screen pass midway through the fourth quarter, he provided San Diego with good field position by returning Matt Bryant's kickoff 28 yards, just seconds after Tampa Bay grabbed its first lead of the day. "When they went ahead 24-20, nobody panicked," Chargers G Mike Goff said. "That was a huge drive. We got it done against one of the better defenses in the league."

Philip Rivers capped the 11-play, 63-yard march by finding Antonio Gates on third-and-goal from the 5 as Buchanon turned the wrong way in the right corner. "We didn't want to settle for just three points," Goff said. "Tampa's a team built on defensive speed and Monte Kiffin's a genius, but we had the answers today."