Tom Jones, The St.Petersburg Times, published 22 December 2008

Now that it's official that Bucs defensive coordinator Monte Kiffin will leave the team to join son Lane at the University of Tennessee, the hot name to replace him is Bucs DBs coach Raheem Morris, left. To borrow a quote: Not so fast, my friend. On ESPN's Sunday NFL Countdown pregame show, reporter Chris Mortensen said Morris is indeed a hot name out there. Not to be a defensive coordinator but possibly a head coach somewhere.

With the recent success of young coaching stars such as Pittsburgh's Mike Tomlin, Arizona's Ken Whisenhunt and Baltimore's John Harbaugh, teams might be looking more for young blood instead of old-guard coaches such as Bill Cowher. Interestingly, Howie Long on Fox's pregame show had a similar thought: "Perhaps the days of the retread coach hire are dead."

Best point
Sure, give Bucs returner Clifton Smith all the pats on the back you want. But save a couple of "attaboys" for others, too, for the Bucs' success on kickoff returns, especially Sunday. "Part of it was Clifton Smith," CBS's Dan Dierdorf said during the replay of Smith's 72-yard return in the first quarter. "Most of it was the blocking. Look at that hole!"

Worst commercial
Nothing against QB Brett Favre or against Wrangler jeans (in fact, I'm wearing a pair — honest I am — as I write this), but those "I'm comfortable in Wrangler" commercials with Favre playing pickup football in the mud are getting old. If Favre isn't going to retire, can we, at least, retire those commercials? (But I love those Subway five-dollar-foot-looong commercials.)

Worst use of hands
Antonio Bryant was a rally killer in the first half. It's like he kept coming up with the bases loaded and hitting into double plays. A fumble that killed what looked to be a scoring drive. A drop that would have been a key first down. Another drop that would have been a key first down. "Wow," CBS's Dan Dierdorf said. "They have got to get Antonio Bryant's head back into the game."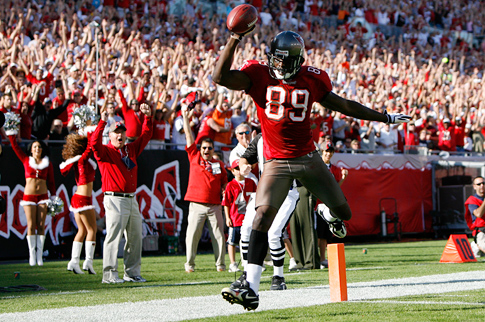 Best use of hands
After Antonio Bryant hauled in his 71-yard, practically-a-fair-catch, harder-to-catch-than-you-think touchdown pass, we take back everything we just said about him.

Best line
CBS's Greg Gumbel came up with a new way to say Jon Gruden will give players a second (and sometimes third and fourth) chance: "Where people will throw you out to pasture, Jon Gruden will see you get a little more grass to eat."

Strongest words
CBS analyst Dan Dierdorf laid into Bucs CB Phillip Buchanon after Buchanon was beaten on a touchdown by Chargers TE Antonio Gates early in the fourth quarter. Kind of surprising. Not that Buchanon didn't deserve to have his play analyzed by Dierdorf but that Dierdorf was as frank as he was. It's something many analysts won't do.

Best crew
How refreshing to hear a couple of solid announcers. CBS's team of Greg Gumbel, left, and Dan Dierdorf beats some of the broadcast teams we've been getting in recent weeks. It's funny about Dierdorf. He sort of became lost in a sea of analysts after ABC blew up its Monday Night Football crew, including Dierdorf, in the late 1990s. But he remains one of the better analysts out there.

Least missing person
CBS did not use a sideline reporter for Sunday's game. Did you notice? Did you miss it? Didn't think so.

Best calls
We are usually so quick to jump on officials for goofing up that we need to give them credit when they get things right. The two intentional grounding calls — one against each team — were handled well by the officiating crew, which, come to think of it, had a pretty good day.

Best shot, best shots and toughest player
Listen hard and you can still hear the echoes of CB Quentin Jammer's vicious hit on Bucs QB Jeff Garcia, left, late in the fourth quarter. CBS immediately had a tough call to make, something that all networks have to grapple with from time to time. Did it show the blood pouring from Garcia's face or risk looking like it was glorifying what just happened?

It's a fine line between showing the news and exploiting it. In the end, CBS made the right call to show replays of the hit and live shots of the blood continuing to stream from Garcia's face. What made it the right decision was that Garcia was able to continue playing. And, the bigger factor, it is CBS's job to cover the game.

As far as Garcia continuing to play, most of us would be out of work for a week if we had been cut like that. This guy took two seconds off. Say what you want about his performance, but this guy has guts.

Final thought
Have you ever seen a team go from that good to this bad in 14 days? From 9-and-3 to 9-and-dead. Just to drive this point home, the Bucs have given up 92 points in the past three games. The last time they gave up that many points in three games? The 2005 season when they gave up 96 points over three games. But the Bucs won two of those three games. They lost to the Panthers (34-14) then beat the Redskins (36-35) and Falcons (30-27).