Tom Brady leads Bucs' comeback over Falcons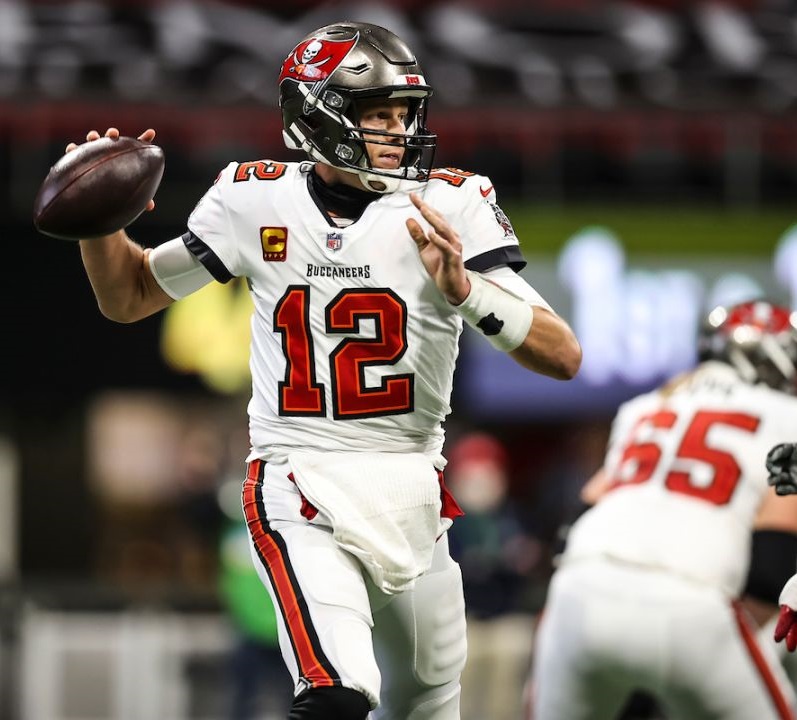 This was a comeback story by two players who know something about them. One has been ripping the hearts out of teams on the biggest stage for 21 seasons. The other has failed several times to straighten out his life off the field and is down to one final chance to resurrect his career.

So when Tom Brady connected on a 46-yard touchdown pass to Antonio Brown with 6:19 remaining to give the Bucs their first lead in a 31-27 win over the Falcons Sunday, there was as much reflection as celebration.

Although the hole wasn't as deep and the stakes weren't as high, Brady did it again to the Falcons in much the same way as when he overcame a 28-3 deficit to lead the Patriots to a win in Super Bowl 51.

After another horrifically slow start which saw the Bucs trail by 17 points more than midway through the third quarter, Brady led Tampa Bay to scores on every possession in the second half until a punt with less than two minutes remaining while passing for a season-high 390 yards and two touchdowns. Meanwhile, Brown fell to his knees and said a prayer of thanks, not only for his first TD catch in 15 months, but for what is likely his last opportunity to play in the NFL.

But after the victory, which improved the Bucs to 9-5 and guaranteed their first winning season since 2016, coach Bruce Arians asked his players a rhetorical question that has been puzzling them for several months. "That's the way we're capable. That's the way we should be playing," Arians said. "My comments to the team after the game was, 'If we can play 30 minutes like that, why the hell can't we play 60?' br>
"And it's frustrating. We lost to the Chiefs and Rams by three, both of those games playing this way. And it's not going to happen. We're not going to beat good teams playing this way. We've got to play better in the first half than we played today."

Slow starts have killed the Bucs. They had only five plays in the first quarter last week against the Vikings. Matt Ryan and the Falcons led 17-0 to start the second half as the quarterback completed 23 of 31 passes for 235 yards and two of his three touchdowns. There's no logical reason why the Bucs have been outscored 59-7 in the first quarter of the last six games. "It was great poise by everybody," Brady said. "Everybody hung in there. Got off to a tough start but found a way to win."


The Bucs made a couple of adjustments Sunday that paid off for them in the second half. Former Bucs head coach Dirk Koetter, the Falcons' offensive coordinator, had been using max protection by keeping a running back in. So Tampa Bay turned linebacker Devin White loose in the second half any time the running back stayed in block and double covered both outside receivers.

White had a monstrous second half, recording three sacks, 12 tackles (four for loss) and two passes defensed. "He had the (running) back man-to-man, he had the man protecting, so it gave us another rusher," Arians said of White. "(Three) times, they were big, big sacks."

Offensively, the Bucs did a better job of running the football and protecting Brady, allowing him time to shred the Falcons secondary. Receiver Mike Evans made some big catches in traffic and finished with six receptions for 110 yards. Brown had five catches for a season-high 93 yards and the game-winner.

Of course, with Brady under center, the Bucs feel like they're never out of a game. Ryan could only have had a feeling of deja vu watching Brady carve up the Falcons in the second half. "He's just a winner," Arians said of Brady. "He knows how to do it. Tom has always been a fourth-quarter player."

Brady has 38 career comeback wins, and it's almost become expected of him. Sunday's second half only served notice to the rest of the NFC how dangerous the Bucs can be if they play that way for four quarters.

"It was a great team effort in the second half," Brady said. "Great to see us play that way in the second half under pressure. But we're going to have to do it for 60 minutes, and it's going to be a great point of emphasis for us."

Meanwhile, since being traded from the Steelers to the Raiders in the 2019 offseason, Brown's off-field problems have cost him. He was suspended and eventually released by the Raiders for skipping work and fighting the general manger. The Patriots had Brown for one game until there was a second accusation of sexual assault and he was released. He was eventually suspended eight games for pleading no contest to assault on a moving van driver.

After catching the touchdown pass from Brady, Brown dropped to his knees. One comeback was nearly complete, the other had finally landed Brown in the end zone.

Rick Stroud, Tampa Bay Times, published 21 December 2020