Bright lights, big pity: Winston, Bucs wilt in prime time spotlight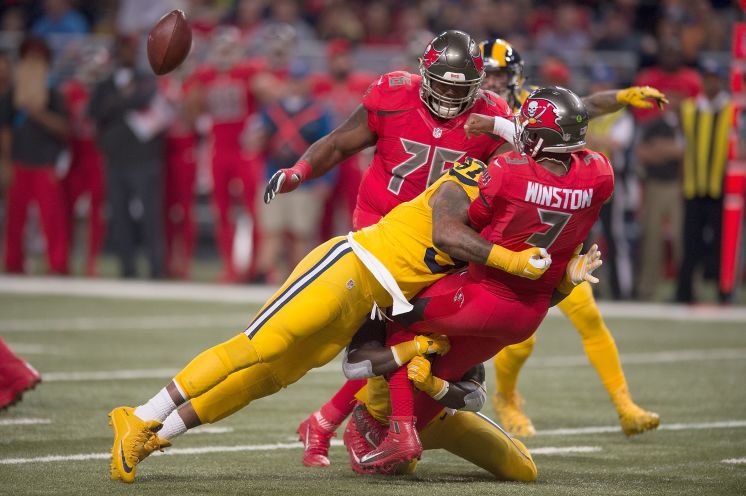 Roy Cummings, The Tampa Tribune, published 18 December 2015

The Buccaneers went into their prime-time game against the Rams on Thursday night with more than winning on their minds. In addition to hoping to climb back into the NFC's playoff picture, they were out to prove they're not the same team that was embarrassed by the Falcons on this stage early last year and that they're growing into a force to be reckoned with.

The mission was a failure. The Bucs racked up 509 yards of offense, but most of that came in a desperate, failed attempt to rally from a 22-point deficit during what proved to be a 31-23 loss to the Rams in what might have been the last game for the potentially Los Angeles-bound franchise at the Edward Jones Dome.

No one should be surprised. The Bucs never have been good prime-time players. They were 19-24 overall in prime-time appearances, including 1-2 in Thursday night games before taking on the Rams. And like this one, all of those Thursday losses weren't close, the Bucs losing 31-13 to Carolina in 2013 and 56-14 to Atlanta last year.

This one had to sting more than those, though, because it all but extinguished what was left of their faint playoff hopes. With the Bucs losing, wins by Minnesota and Seattle on Sunday officially would knock Tampa Bay out the playoff race for the eighth straight year and for the 30th time in the franchise's 40-year history.

"With so much at stake, you just want to play better football,'' Bucs coach Lovie Smith said. "We had opportunities. We did a few good things along the way. Offensively, we had a lot of yards, but not enough points. And defensively, you have to be able to not give up big touchdown passes and big plays.''

The Bucs (6-8) had the usual array of iniquities to blame for their second loss in five days. Danny Lansanah, who started at middle linebacker for the first time since last year, dropped a potential interception that he likely would have returned for a touchdown.

Rookie wide receiver Donteea Dye, playing again in place of an injured Vincent Jackson (knee), dropped what should have been a score-tightening Jameis Winston touchdown pass in the end zone.

And then there were the penalties. Defensive end William Gholston kicked a Rams lineman to earn a post-whistle unnecessary-roughness penalty that helped set up a late first-half Tody Gurley touchdown run.


And tight end Austin Seferian-Jenkins was flagged for delay of game for throwing the ball out of the end zone after he caught a 7-yard pass to the Rams 1 when the outcome was still in doubt. Docked 5 yards to the Rams 6, the Bucs tried three passes but eventually settled for a field goal that cut the Rams' lead to two scores but did little to improve the Bucs chances of finishing off their rally.

"When you play like that, you have these type of results,'' Smith said. "Not scoring enough on offense, not being able to stop them on defense, and penalties we can't make. It's all a part of the bad play that we had tonight.''

One of the biggest problems once again was in the secondary, where the Bucs allowed Rams backup quarterback Case Keenum to complete 14 of 17 passes for 234 yards and two touchdowns, Keep in mind that the Rams had thrown for 200 or more yards just three times prior to Thursday and had thrown only one touchdown pass in their previous nine games before welcoming the Bucs to town.

But with the Bucs unable to generate much of a pass rush (they recorded just two sacks and failed to force a takeaway for the third time in four games), Keenum had the second-best passing day for a Rams quarterback this year.

"We gave up a couple of big throws, let them get behind us when we shouldn't have,'' Smith said. "A good job by them. But we didn't put up much fight — I shouldn't say not much fight — we just didn't challenge them enough on some of those throws.''

The Rams challenged the Bucs effectively, limiting Winston to 11 completions on 23 attempts for 125 yards through the first three quarters. But Winston surged down the stretch to give the Bucs a chance. He completed 18 of his final 37 passes for 238 yards and two touchdowns in the fourth quarter to become only the fifth rookie in NFL history to throw 20 touchdown passes and run for five, but it wasn't enough.

"We had a lot of plays where we were kind of close, but really far away,'' Smith said. "Being close just doesn't do it on a night like tonight. So that's kind of the story.''

The problems Keenum created for the Bucs began on the game's first series, when he connected on passes of 11 yards to Tavon Austin and 19 yards to Gurley before hitting Austin again with a 17-yard strike to give the Rams a 7-0 lead with 11:54 to play in the first quarter.

The Bucs responded two series later with a 53-yard field goal, but the Rams trumped that with another touchdown, this one coming just three plays later on a 60-yard touchdown pass from Keenum to Kenny Britt, who beat cornerback Jude Adjei-Barimah with a double move before hauling in Keenum's second touchdown pass of the game.

The Bucs responded this time by putting together one of their more cohesive drives of the game, eventually moving the ball to the Rams 23. That drive, though, stalled out on a fourth-and-1 play in which Rams defensive tackle Aaron Donald dropped Doug Martin for a 2-yard loss.

It wasn't long after that Gholston lost his cool. After stopping Gurley for a 3-yard gain on first-and-10 play from his own 28, Gholston kicked Rams tackle Greg Robinson, who had locked up Gholston's other leg.

That gave the Rams a first down at the Bucs 12, from which Gurley ran the final 3 yards to give the Rams what proved to be an insurmountable 21-3 halftime lead. At that point, though, the Bucs were just beginning to waste playmaking opportunities, because it was on the Rams' next possession that Lansanah dropped a Keenum pass with no one between him and the end zone.


And it was at the end of the Bucs first third-quarter possession that Dye, who dropped a critical pass during the Bucs loss to the Saints last week, dropped a ball thrown right into his hands in the end zone.

Dye was just getting started, though. He hauled in a 46-yard pass from Winston early in the fourth quarter, but thinking he was down when he had not been touched, he tossed the ball away at the Rams 2. Luckily for Dye and the Bucs, Luke Stocker had hustled downfield and he pounced on the ball at the Rams 4. One play later, Winston hit Stocker with a 3-yard toss to make it 28-12.

But the Bucs couldn't even get the extra point right. Though Winston threw complete to Russell Shepard for what appeared to be a 2-point conversion, the Bucs were called for holding and settled instead for a 43-yard Connor Barth PAT.

If the Bucs did anything to erase the image many no doubt have of them, it happened late in the game when they put together a 98-yard touchdown drive and then tacked on a late field goal. But even in doing that they only solidified their image as Seferian-Jenkins was flagged for delay of game for throwing the ball out of the end zone after making a 7-yard catch to the Rams 1.

That dropped the Bucs back to their 6 but three passes into the end zone failed to garner a touchdown, so the Bucs settled for the 24-yard Barth field goal that cut the Rams lead to 31-16 with 7:30 left.