Bucs win, but win ugly against the Vikings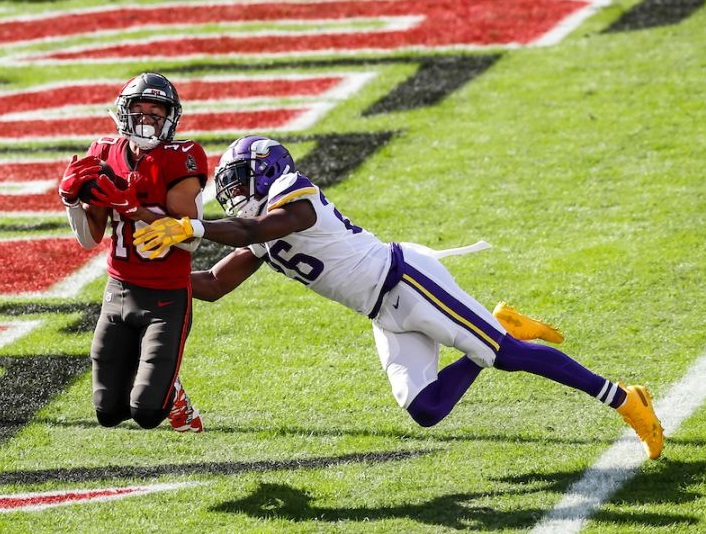 Underneath his Kangol hat, Bruce Arians has a head that is hard and covered with some thick skin. Despite all the scrutiny of his relationship with quarterback Tom Brady, the Bucs head coach was never going to scrap his "No Risk It, No Biscuit" offense for a more meat-and-potatoes approach.

"When asked earlier this week about our identity, we just showed our identity," Arians said following the Bucs' 26-14 win over the Vikings Sunday at Raymond James Stadium. "We can do any damn thing we want to do."

Most of the problems that plagued the Bucs heading into the bye week didn't appear fixed early Sunday. The Bucs' offense couldn't make first downs, the defense couldn't get off the field and Brady missed some open receivers to start the game. But any win - aesthetically pleasing or not - was what the Bucs (8-5) needed to snap a two-game losing streak.

How fitting was it that the play that got it all started was a 48-yard pass to Scotty Miller on a post route for a touchdown? You can't blame Arians for some of his stubbornness. But the fact is, the Bucs did make some subtle but important changes on both sides of the ball that paid off Sunday.

The Bucs committed more to the run game. They had more rushing attempts (26) than Brady had passes (23), his fewest since the 2015 season finale with the Patriots. Arians also benched running back Leonard Fournette and returned LeSean McCoy to the backup tailback role. "We just wanted to get 'Shady' back involved," Arians said of McCoy. "He's fresh, and he showed it today. He made it all pay off for me. I took the risk, and he made it paid off."


McCoy hadn't had a rushing attempt since Oct. 18 but ran the ball four straight times for 32 yards on the first drive in the second half. It resulted in Brady's second TD pass, a 2-yarder to tight end Rob Gronkowski. "It's very tough to be that patient," McCoy said. "I haven't played since Week 3 or 4, so I've been waiting. ... It's funny. You play this game so long, and coaches and players are surprised. And in my head, I've always known I can make plays. Just give me an opportunity."

Gronkowski's touchdown, combined with his ability to draw a pass-interference penalty on a Hail Mary pass at the end of the first half that resulted in a field goal, gave the Bucs the lead they needed to make the Vikings one-dimensional. Having essentially two weeks off without contact helped the Bucs physically, but their tackling was awful early in the game.

Vikings running back Dalvin Cook rushed for 78 of his 102 yards in the first half. But once the Bucs made the Vikings one-dimensional, the defensive line was free to pursue quarterback Kirk Cousins. The Bucs recorded six sacks, including two by suddenly hot linebacker Shaquil Barrett, who has eight on the season and rushed again from the right side, where he's most productive.

Not only that, the takedowns of Cousins came at the most opportune times. The Vikings had five drives inside the Bucs' 40-yard line, including two inside the Tampa Bay 15, that didn't result in points. Wayward placekicker Dan Bailey missed three field goal attempts and an extra point, which was the Vikings' undoing.

But right before each field-goal attempt, the Vikings went backward. There was a sack by Ndamukong Suh before Bailey's 36-yarder that was wide right. A false start before his second miss from 54 yards. Sacks by Antoine Winfield Jr. and Barrett on consecutive plays before his 46-yard attempt went wide right.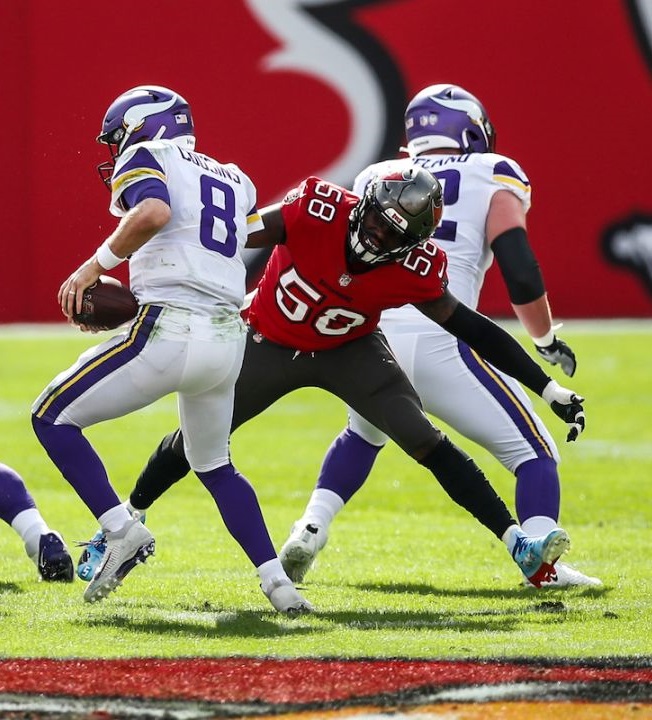 Even Bucs defensive coordinator Todd Bowles seemed to get back to the basics. There were fewer blitzes and more safety help over the top of receivers Adam Thielen and rookie Justin Jefferson. When the Vikings finally did score another touchdown in the third quarter on Cousins' 14-yard pass to Irv Smith Jr., it took 15 plays and 8:33 to reach the end zone.

Offensively, Arians added some more pre-snap motion and play-action, which seem to help Brady, who was never sacked and did not turn the football over. Where the Bucs were beaten was in time of possession. If you take away the 21 seconds at the end of the first half and two minutes to run out the clock at the end of the game, the Bucs basically had seven full possessions in the entire game.

Where did Brady think the Bucs made progress? "Us complementing our run game, pass game — everything," he said. "Just finding a rhythm. Finding ways to win games and making plays in situational football like we did at the end of the first half and the start of the second half."

For all the handwringing, after a few minor tweaks and a simplified game plan, Arians feels confident his offense is indeed the right fit for Brady. "They're in sync," Arians said. "They know what we're trying to get done, and Tom did a great job of protecting the ball and making big plays."

Rick Stroud, Tampa Bay Times, published 14 December 2020