Bucs pass rushers go hunting and bag six sacks against Vikings
The scenario hadn't unfolded at Raymond James Stadium in more than a month, going on a millennium. Or so it seemed. But there it was Sunday: The Bucs leading by two scores entering the fourth quarter, with every elapsing second putting the foe closer to a must-pass situation. Or as coach Bruce Arians described it, "It was hunting time for the defensive line."

Such is the weekly objective for Todd Bowles' unit: Try and neutralize the running game so the front three and the edge rushers - namely Shaquil Barrett and Jason Pierre-Paul - can pin their proverbial ears back and high-tail it to the quarterback.

While the Bucs never really neutralized Vikings workhorse Dalvin Cook (22 carries, 102 yards), Minnesota's kicking deficiencies (three missed field goals) and some timely Tampa Bay offense put the rushers on alert in its 26-14 triumph. "I knew coming out of the open date (that) tackling was going to be an issue," said Arians, who watched the Vikings control the ball for 12½ minutes in the first quarter.

"It is in December anyway, because it's so long since the last game that you've tackled. You just don't tackle in practice and you can't. I was upset about the tackling in the first quarter, but I really was happy with the pass rush."

The Bucs' six sacks were their most since their Week 3 win against the Broncos. One must backpedal to 2013 to find a game in which they tallied that many. "Oh yeah, we most definitely were ready to feast and get after the quarterback," said Barrett, who accounted for two sacks Sunday and now has six multi-sack games since the start of 2019. "We knew they had to pass, and we were ready to take advantage of it."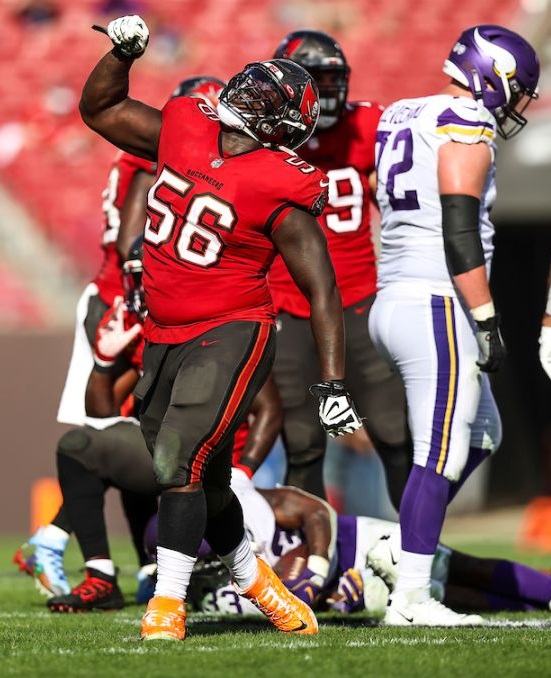 On this day, the "hunters" mostly bagged their prizes in tandem, though Barrett's third-and-4 sack (on a stunt up the middle) on the game's opening possession put the Vikings out of field-goal range.

But take the fourth quarter's critical opening drive. There was rookie safety (and Minnesota native) Antoine Winfield Jr. getting through to Vikings quarterback Kirk Cousins on second and goal from the Bucs 8, followed by Barrett sacking him on third and goal from the 20. The plays nudged beleaguered kicker Dan Bailey back to a 46-yard field goal try, which never had a chance.

The Bucs answered with a 48-yard Ryan Succop field goal, giving then a 26-14 lead with 5:20 to play. On the ensuing drive, Cousins passed on eight of his first nine plays before being dropped by second-year end Patrick O'Connor. Two plays later, on fourth and 13 from midfield, Cousins fumbled after being sacked by Pierre-Paul. Ball game.

"We just had to stop them in the run and up front first, and then make them do uncomfortable stuff and throw the ball like that," O'Connor said shortly after his first NFL sack. "We knew what we had to do going in, and then we just took advantage of third downs. Everyone was getting after them all day. Good result."

Joey Knight, Tampa Bay Times, published 14 December 2020