Bucs' Mike Evans likely to miss extended time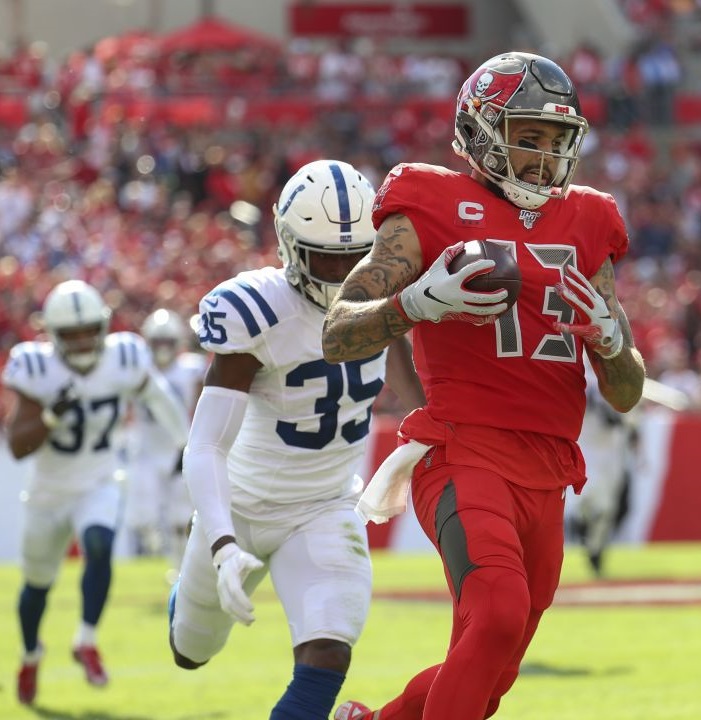 Eduardo Encina, Tampa Bay Times, published 9 December 2019

One of Mike Evans' longest touchdown receptions of 2019 might be his last. Bucs coach Bruce Arians gave Evans a grim prognosis following Tampa Bay's 38-35 win over Indianapolis Sunday, a game Evans left with a right hamstring injury sustained on his 61-yard touchdown reception. "It's not good," Arians said. "... I'd be shocked if Mike made it back before the last week."

Arians expects Evans to miss at least the next two weeks, the Bucs' road contest in Detroit next Sunday and a Dec. 21 home game against Houston. The Bucs season ends Dec. 29 at home against Atlanta.

This could mean a premature end to Evans' sixth-straight 1,000-yard receiving season to open his NFL career. He and Hall of Famer Randy Moss are the only receivers to accomplish that feat. The touchdown catch was Evans' only reception Sunday. He has 67 receptions for 1,157 yards and eight touchdowns on the season.

On the touchdown Sunday, he beat Colts cornerback Pierre Desir with a stop-and-go route. Jameis Winston hit Evans in stride down the right sideline. Around the 15-yard line, Desir dove for Evans' feet. Evans skipped up to avoid the tackle but landed lame, limping for the final yards into the end zone. Evans went to the ground holding the back of his right leg. After receiving attention from team trainers, he limped off the field under his own power.

Evans wasn't available after the game. Since the start of 2016, Evans has played in 60 of the team's 61 games. He's missed just three games during his six-year NFL career. Evans dealt with a left quad injury that kept him out of the third preseason game, but he's played all 13 games this season.