Only one opinion on Bucs matters now: the Glazers'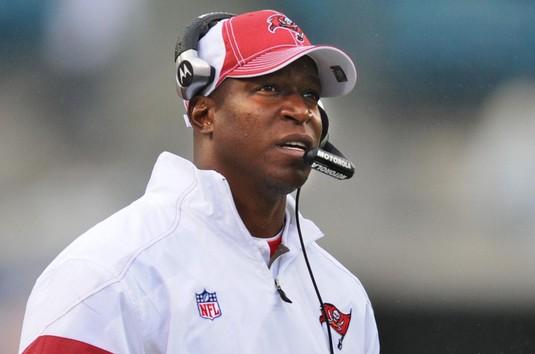 Gary Shelton, The St.Petersburg Times, published 12 December 2011

On the field, they are awful. Through the season, the Tampa Bay Bucs have identified who they are. They are worse by the week, and they might have just passed on their last chance to win.

On the sideline, they are terrible. Over a seven-game losing streak, the Bucs have established that, too. A season has slipped away from them, game after unwinnable game, and the notion of how to regain control seems to befuddle those who are in charge of coaching this team.

On the television screen, they are unbearable. They cannot hold onto the ball, and they cannot throw it straight, and they cannot tackle whichever opponent is scampering through them. They make pedestrian quarterbacks look like stars and star quarterbacks look like immortals.

Ah, but up in the owners' box, in the place where the big bosses sit? How must the Bucs look from there? As a season continues to turn into pestilence, this is the last question that matters. What do the Glazers think?

It no longer matters how coach Raheem Morris describes another defeat; only what Joel says to Bryan about it. It no longer matters why quarterback Josh Freeman has regressed so severely; only what Bryan says to Ed. It no longer matters why the end zone the Bucs are defending is busier than a public park; only what Ed says to Joel.

It is in their hands. All of the important questions — and all of the impending answers — belong to them. Do you blow it up now? Do you change coaches tomorrow? Do you wait until January?

Do you hire a general manager to replace Mark Dominik? Do you insist on free agents before next year? Are you still convinced Freeman is a franchise quarterback? Do you offer to refund tickets for games in which the Bucs allowed 30 points or more? Just to be nice, do you offer to black out road games, too?

Frankly, if the goal is to ever sell another ticket, it is time to do something. By now, it is obvious it will not be the players doing it. Or the coaches. Or the front office. Once again, Tampa Bay waits on the owners to get as embarrassed by all of this as the rest of us.

This was the worst loss of the season, of Morris' tenure, of the past decade. Over the years, the Bucs have lost a great many games, and some of them left fans feeling angry or sick or disgusted or betrayed. Try as I might, however, I can't remember one that was uglier than this one.

You think you have seen the worst of it. You have seen this Bucs team lose, and you have seen them backslide, and you have seen them unravel. You have questioned their effort and their talent and their ability to be coached. And you assume you are shockproof. You assume there is no misery they can unleash that will surprise you, no torture that will shock your senses.


Then they open a fresh can of inepti­tude, and zowie, they amaze you once more.

Start with this: Jacksonville is a dreadful team. Most weeks, it is like winning the lottery when the Jags get a first down. Whenever their rookie quarterback, Blaine Gabbert, somehow completes a pass, you want to stop the game and give him the ball. Through the first 12 games of this season, the Jags had not scored as many as 21 points in a game even once. Against the Bucs?

They got 41, and it could have been more if the offense didn't spend much of the second half diagramming the Gatorade bath they gave interim coach Mel Tucker.

For crying out loud, how do you lose to this Jacksonville team by 27 points? Especially when you jump ahead 14-0? After that, however, came the avalanche. There might have never been a team that unraveled so fast and so far. Over 7:36, the Jags scored 28 points on 25 plays.

This is who the Bucs are. You should be required to get a tetanus shot and wear a gas mask before watching them. They are the zombies from The Walking Dead on offense and the ghosts from American Horror Story on defense.

Ask yourself this: Who are the Bucs going to end their losing streak against? Dallas on Saturday night? The Panthers in Carolina? The Falcons in Atlanta? They will be underdogs in all three games. They are the Sons of Booker Reese, and they are staring 4-12 in the eye.

Look, it's hard to lose seven in a row in the NFL. In the Bucs' first 32 seasons, they managed seven-game losing streaks only eight times (twice in the first season).

Throughout the game, you figure the Glazers might have discussed one or two of these points, too. Hey, they can't be happy, either. The stands are emptying, and the fans are restless, and this team looks as if it would lose to the 3-13 team of 2009 by 14 points.

So what are they going to do? We'll see. But I have to be honest. When Morris took 23 minutes before showing up for his news conference, I half expected an interim head coach to walk in instead.

Keep this in mind, however. They fired Jon Gruden after he lost only seven games in the regular season. They fired Tony Dungy after he lost only seven games in the regular season. Morris? He has lost seven in a row. And counting.