This Bucs loss the type that gets a coach fired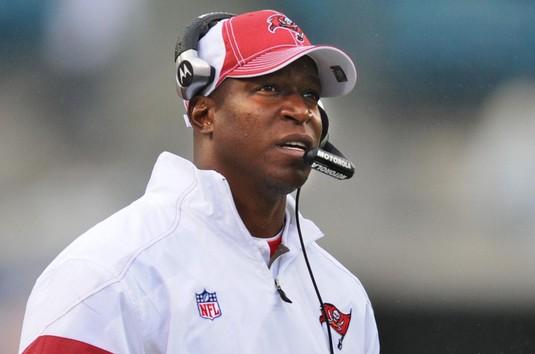 Joe Henderson, The Tampa Tribune, published 12 December 2011

This is the type of game that gets a coach fired. The Tampa Bay Buccaneers self-destructed in a cyclone of turnovers, penalties, and just plain ol' bone-headed mistakes Sunday. The result was their seventh consecutive loss, this time 41-14 to the Jacksonville Jaguars.

Let me repeat that: They were beaten by Jacksonville, which had one less day to prepare thanks to playing last Monday, is led by an interim coach, and is about to change ownership. This is Jacksonville, which had won three games prior to Sunday.

This was pathetic. Then again, Leto High School can beat you if you turn the ball over seven times, which the Bucs did.

It's barely worth pounding home the point anymore about the job status of embattled Bucs head coach Raheem Morris. Everyone from here to Neptune can hear the sizzle under his chair as the seat gets hotter and hotter. If you're looking for a defining moment to his slop though, I refer you to the second quarter against the Jags – the pitifully mediocre Jaguars.

The Bucs led 14-0 two plays into the second quarter and looked nifty in doing so. They got their first touchdown in the first quarter of any game in 2011 to start the game. They controlled the ball. The defense held up its end. Jacksonville was ripe for plucking. But these are the Bucs. Nothing is safe.

So, there was the fumbled punt by Preston Parker, returned for Jacksonville's initial touchdown with 7:36 left in the half. With 2:05 play before intermission, the Jags' Maurice Jones-Drew scored from 1 yard out to tie the game. That was set up on 62-yard pass to tight end Mercedes Lewis after a breakdown in the secondary.

Were we done? No, we weren't done. After a holding call against Parker put the Bucs at their own 11 on the first play after the kickoff – bad day, my man, bad day – Freeman was sacked and fumbled in the end zone. Touchdown, Jags.


Were we finally done? No, we weren't done. An interception by Freeman gave Jacksonville the ball at midfield with 1:02 before the half. You know what's coming next, don't you? A touchdown pass of 5 yards to Jones-Drew with four seconds left before halftime made it 28-14.

Couldn't anyone make a positive play for this team? Couldn't anyone even make a smart play?

I would say we've seen it all before, but this was worse than most. Example: With 12:25 to play down 14, the Bucs had Jacksonville second-and-20. So, what happens? A simple toss to Jones-Drew, who ran through would-be tacklers for 24 yards and a first down.

This loss clinched a losing season for the Bucs, but that's not even the worst of it. They'll be underdogs in their final three games – Dallas next Saturday at Ray-Jay, then trips to Carolina and Atlanta.

Think about it. They could close the season with 10 consecutive losses. The pressure to make a coaching change would be enormous.

You don't make a move like that, though, because of fan pressure. You make that move because you think it's the only way to make your football team better. So, you look for signs of growth and improvement among the young players.

You look for something to show things will get better. Then you see a game like this, and there's nothing much else to say. Except, of course, that games like this get coaches fired.