No rest for weary defense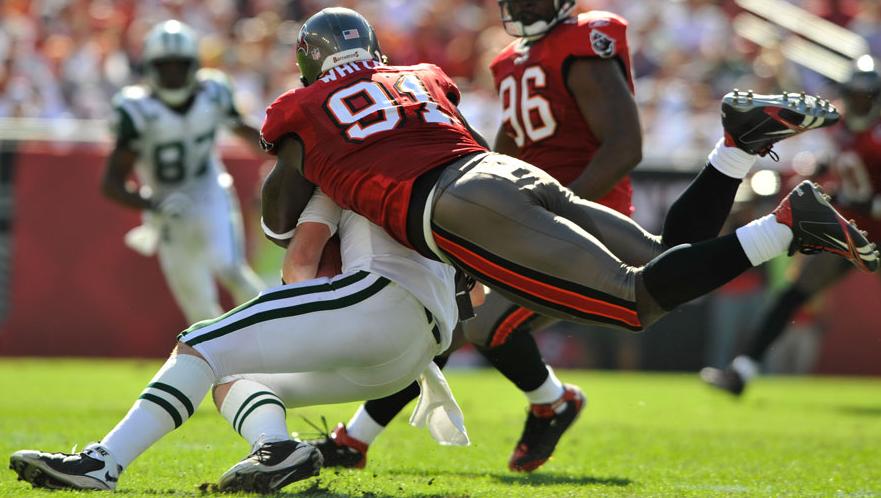 Stephen Holder, The St.Petersburg Times, published 14 December 2009

The impact of the Bucs' offensive failures Sunday was not limited to one side of the ball. As a result of the team's inability to sustain drives or even move the ball in the first half, the defense spent an unmanageable amount of time on the field on a day when the humidity level in Tampa exceeded 90 percent.

The Jets ran 42 offensive plays in the first half to the Bucs' 20 and had the ball nearly twice as long (19:27 to 10:33). By comparison, Carolina ran 54 total plays in its win over Tampa Bay last week.

"Fatigue did play a little bit of a factor," DE Jimmy Wilkerson said. "We got away from the heat for a little while, but then it finally got back here, and it was kind of a shock. We were kind of gassed. But that is partly our fault as players with getting our bodies prepared physically with staying hydrated."

Said DE Stylez White: "We were trying to rotate our guys and give guys breaks, but it was a long day (Sunday). It was a long, hot day."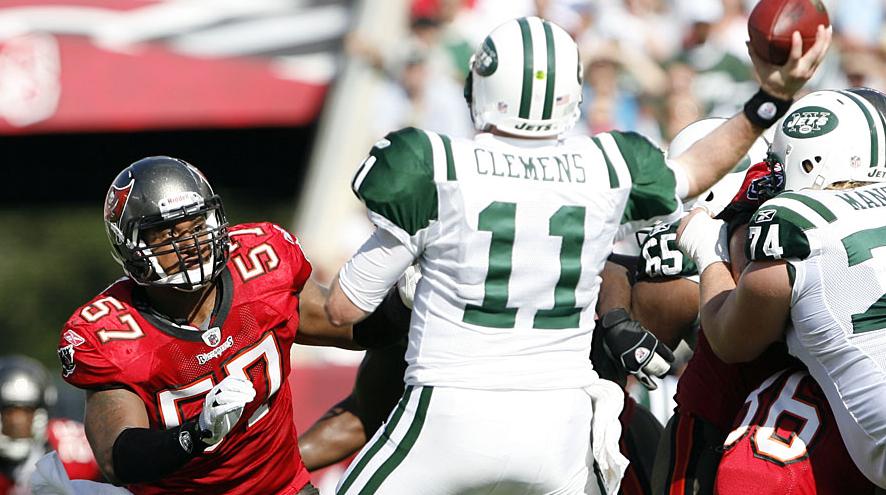 First down the hard way
The Bucs had been stumbling their way through a dreadful offensive performance, held without a first down into the second half.

When the Bucs took possession with 10:36 left in the third quarter, they were soon setting up for another punt — until they got a break. It took LB Adam Hayward being roughed up by Jets LB Bart Scott, who drew an unnecessary roughness penalty, for the Bucs to pick up (drum roll, please) a first down.

The Bucs were headed for a three and out when QB Josh Freeman was sacked for a 2-yard loss by CB Donald Strickland on third down. Freeman thought he was handled roughly after the whistle and exchanged words and pushes with defenders. The words continued once members of the punt team, including Hayward, hit the field. That's when he became embroiled in the dustup.

It ended with Scott ripping off Hayward's helmet. "I'm glad I could help my team get a first down," Hayward said, only half joking. "Whatever it takes."

The drive ended up producing a 43-yard field goal, the Bucs' only points. Scott didn't take his error in judgment lightly. "I got the retard of the day award by helping us get a post-play penalty to give up the shutout," he said.


The view of a veteran
Ronde Barber has been among the team's most reliable defenders for 13 seasons. It has been no different this season, with Barber recovering from a shaky start to play solidly.

But this is shaping up as Barber's worst season from a grander perspective. With his team 1-12 and close friend Raheem Morris under intense pressure to improve the club, Barber admits it has not been an ideal year. "This is probably as low as I've been in a while," he conceded. "But you know what? It can only go up from here, right?"

"We are trying to build something. I'm not accustomed to this," he said. "Maybe some of the other guys on this team have been in some other programs. All we can ask from our guys is to finish this thing out and play hard. … You can blame it on a lot of different things: youth, or new coaches or a new quarterback. They are all excuses to me. We have to find a way to get better.

"I've had good years, and I've had bad years. This is a year that stands out for the wrong reasons. At the end of the day, I'll look back and say I fought through it. And hopefully 53 guys on this team say the same thing."

For the team's few longtime veterans, getting through a season such as this after much success over the years must be trying. But Barber maintains these experiences are necessary. "Sometimes, you have to get your butt kicked before you learn how to fight back," he said. "We need to get to that point."


Playing a man down
Starting WLB Geno Hayes sat out with a hamstring injury, and the Bucs used a platoon approach to replace him. Adam Hayward started, but he switched often with Matt McCoy. McCoy said the plan was for him to play when the Bucs were in their base defense and Hayward to play when in their nickel package.

But with exhaustion a constant issue, that plan gave way to a scramble approach. "We ended switching a little bit because we were getting gassed," McCoy said.

Next in line
The Bucs haven't had much fortune in their return game lately. Pro Bowl return man Clifton Smith went on season-ending injured reserve last week after sustaining his second concussion of the season. Then late last week, his replacement — rookie WR Sammie Stroughter — injured his back in practice and began having complications. The Bucs chose not to play him Sunday.

Next up was journeyman WR Yamon Figurs, appearing in just his third game since signing with the Bucs this season. Figurs, on his third team in as many seasons, was unspectacular but did the job, returning five kickoffs for 105 yards (21 yards per attempt). His longest return was 27 yards. As a punt returner, Figurs had two attempts for 21 yards.

One vs. the Bucs
The Bucs offense totaled a paltry 124 net yards against the Jets. Seven players — and that's not even counting quarterbacks because that would be too easy — outgained the Bucs by themselves.