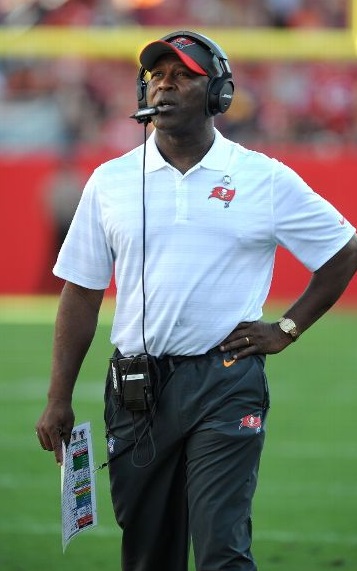 Lovie Smith's coaching part of Bucs' problem
Lovie Smith stood behind the podium after Sunday's loss to the Bengals and took all the responsibility, accepted all the blame. Hey, you don't have to tell us twice. Most already are blaming this 2-10 mess on the coach, and the angriest of Bucs Nation want to see Smith fired. Like, right away.

Of course, that's silly. Smith's seat isn't even lukewarm, let alone hot. And it shouldn't be. He inherited a bad team and it can't be fixed in one season. But, you know what? If this were Year 3 of the Greg Schiano regime or Smith was some first-time head coach, a game like Sunday's is the type that would get a coach fired.

The Bucs had 13 penalties for 94 yards, including the embarrassing 12-men-on-the-field call that took them out of field-goal range in the final minute. That lack of discipline has become something of a staple for the 2014 Bucs.

The Bengals practically begged Tampa Bay to win this game. Their quarterback threw three interceptions, and they tried an onside kick that backfired. Yet the Bucs couldn't do much with any of it. "That's how 2-10 football teams play," Smith said. "They find a way to lose it in the end."

Actually, Lovie, give your team more credit than that. It used all 60 minutes to find ways to lose. While the Bucs tossed and turned Sunday night over the inexcusable 12-men-on-the-field penalty, it was the previous drive that makes you scratch your head — and might have been the real reason they didn't win.

With just more than five minutes left and trailing 14-13, the Bucs were facing second and 10 at the Bengals 41. They needed maybe 6 or 7 yards for a decent attempt at a go-ahead field goal. Instead of throwing, the Bucs handed the ball to Doug Martin for a loss of a yard. Following an incomplete pass, the Bucs punted.

Perhaps this is where it might be pointed out that Marcus Arroyo isn't really working out as the offensive coordinator. Maybe he is under orders from Smith to go conservative, and the offensive line is a continual mess, but Arroyo's play-calling lacks innovation and ingenuity. It also lacks something else: points.

The best part of this offense are WRs Mike Evans and Vincent Jackson, and those two seemed like afterthoughts Sunday. Together they were targeted 13 times for an offense that ran 55 plays. Your two best players should be involved more than that. The shame of it all is the Bucs defense is playing pretty well, but no one cares when the losses continue to pile up.