Too many men on the field adds up to Bucs defeat
Lovie Smith always has been a glass-half-full kind of guy. Now, he has a football team to match. While Smith's defense continued a recent run in which it has fulfilled expectations, his offense continued to come up empty on Sunday. On this occasion, it was largely because, when it was needed most, the Bucs offense was overflowing – with personnel.

In what proved to be the game's deciding moment, a penalty for having 12 men on the field wiped out a 21-yard reception to the Cincinnati 20-yard line and prohibited the Bucs from kicking a potential winning field goal in the final minute of a 14-13 loss to the Bengals at Raymond James Stadium.

The penalty was one of 13 against the Bucs, who came into the game as the fourth-most penalized team in the NFL. But there was no question which of those dirty baker's dozen proved costliest as the Bucs fell to 2-10 overall in Smith's first season.

"That's how 2-10 football teams play,'' a clearly frustrated Smith said. "They find a way to lose it in the end. When you make dumb, stupid penalties like that throughout the game, it will end up biting you in the end, which it did.''

This bite left Smith's Bucs as the 23rd team in franchise history to suffer through 10 or more losses in a season and the first since 1983 to start 0-6 at home. Not that any of Smith's recent predecessors did any better in their home games. Since the beginning of the 2009, the Bucs are 14-32 at home. Mistakes such as those that cost Tampa Bay on Sunday are a big reason that record is so lopsided. They were also the reason Smith and most everyone inside the locker room were so frustrated.

The Bucs defense, after all, once again put Tampa Bay in a position to win, limiting the Bengals to 288 total yards and forcing them to punt with 2:01 to play. And it looked like the Bucs would win, especially after wideout Louis Murphy caught a 21-yard pass to the Bengals 20-yard line on second-and-15 with 26 seconds left in the fourth quarter. But as quarterback Josh McCown prepared to spike the ball to set the stage for a winning field-goal try, Bengals coach Marvin Lewis threw his red challenge flag onto the field.

One of his assistant coaches, working from the press box, noticed before the snap of the previous play that the Bucs had an extra man on the field. Though coaches cannot challenge rulings in the final two minutes of a game, Lewis feared officials would not call for a review before the Bucs snapped the ball. So, he threw his red flag and was penalized a timeout. Meanwhile, an official's review confirmed the finding.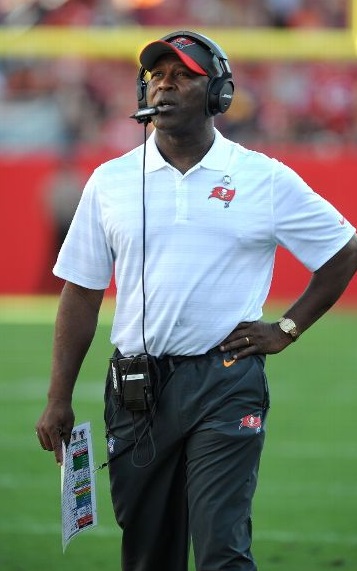 The extra man turned out to be rookie wide receiver Robert Herron, who failed to come off the field when tackle Oniel Cousins checked into the game as an extra blocker. Smith wasn't ready to blame Herron, though. "That's a coaching error on our part,'' Smith said. "We didn't catch it. It shouldn't happen. It's simple as that. It was a miscommunication, so blame the head coach. Bad move on my part not seeing that.''

McCown, who said he was busy assessing the defense, didn't catch it either, but added that the error was rooted in the fact the Bucs played this game without their top three tight ends. Starter Brandon Myers (calf) and reserves Austin Seferian-Jenkins (back) and Luke Stocker (concussion) all missed the game because of injuries, which forced the Bucs to alter their basic blocking schemes. The Bucs made extensive use of a third tackle instead of a tight end.

As it turned out, they might have used the tactic one time too many. "They had pressured us in that down and distance situation previously," McCown said. "And so we were trying to get a shot down the field, and to make sure we were protected we ran (Cousins) on. But, obviously, we did not get Robert off. And, again, I just have to do a better job of looking up and seeing it in the midst of calling out protections and routes, because that just can't happen.''

The fact it did resulted in yet another wasted effort for a Bucs defense that seems to have found its groove. Tampa Bay entered the game ranked fourth overall in total defense over a span of the previous five games. And for the second time in their past three games, they forced at least three takeaways.

Cornerback Johnthan Banks secured the first of three first-half interception of Bengals quarterback Andy Dalton on the first play of the game. But after taking over at the Cincinnati 9-yard line, the Tampa Bay offense lost five yards and settled for a 32-yard Patrick Murray field goal and a 3-0 lead.

The Bucs extended their lead to 10-0 on a 7-yard run by Doug Martin early in the second quarter, but began to falter soon thereafter, gaining just 76 net yards on their next eight possessions. "The defense is playing good, but we're not complementing them,'' right tackle Demar Dotson said. "We're not going down and putting up sevens, we're putting up threes — and sometimes not even that. The end of the game can't come down to a (penalty) like that. That just shows the lack of discipline we have. There was a lot more stuff in this game than that, but there was no excuse for that.''