Bucs defenseless all the way around Sunday
Martin Fennelly, The Tampa Tribune, published 5 December 2011

Raheem Morris might need to fire his defensive coordinator, Raheem Morris, if he gets that chance. In other news, Morris stepped into his new role as Bucs team travel coordinator at the end of third quarter during Sunday's disastrous 38-19 loss to Cam Newton and the Carolina Panthers.

He told defensive tackle Brian Price to hit the road after his dumb personal foul more than helped Carolina's final scoring drive. "I sent him to the locker room," Morris said. "I told him to go home."

Morris followed with a slip-up, right into the cameras, a very naughty word. Defense is a four-letter word right now for this team. It has this season careening toward the rocks of 4-12, and a whole lot of bodies swept back out to sea, coaches, coordinators, players, with even the front office in need of watertight doors.

This defense is allowing roughly 394 yards a game after Carolina's 385 yards Sunday. This Bucs D, after a frisky start, is heading for historically bad, perhaps the worst in franchise history, and this is Bucs history we're talking about, kids. Only the 2-14 Bucs of 1985 allowed more yards per game, just barely.

Yes, Carolina's running game and rookie Newton's everything game are formidable, but the Panthers' 4-8 record seems a world away from the Bucs' 4-8. It's all about direction.

"He's a good quarterback and they're doing a good job of using him at what he's done well," Bucs safety Sean Jones said of Newton. "He's grown. Unfortunately, we had to see him late this year. He's matured a lot. He's doing a good job of maturing."

That's more than you can say for this too-young Bucs defense. "Our youth is rearing it's ugly head right now, to be honest with you," Ronde Barber said before talking about Morris dismissing Price, whose penalty was one of the nine the Bucs had Sunday.

"That's absolutely the right call," Barber said. "It's unacceptable. It just is what it is. We all love Brian Price and Brian plays with a lot of emotion. But you just can't have that. It hurts our team, it hurts him, it's not who we want to be."

This unit has taken a major step back. It is showing no real overall signs of growth, it still can't stop the run, it really isn't growing into anything you can pin 2012 on. Yes, Da'Quan Bowers and Adrian Clayborn show promise off the ends, and Mason Foster is holding his own at middle linebacker.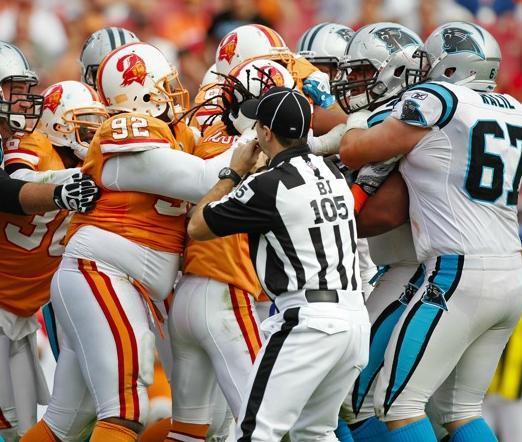 Maybe it's a youth thing. "You've got to throw that young crap out window," Bucs linebacker Geno Hayes said. "Guys got to play smarter no matter how old they are."

And better in the case of Hayes and linebacker sidekick Quincy Black, both major disappointments. Morris is right behind them, or maybe in front. His players swear by him, but maybe he needs to stick to being motivator-in-chief, if he gets a chance to stick at all.

"I enjoy what I do. I'm not doing a great job of it," Morris said. "We've got to be better. And we'll get better. I promise you that. I've got no choice, because it is what I do. I'm not going to sit here and act like having a defensive coordinator would have made it any easier to tackle Cam Newton. That is not the case. We've got to get better all around, players, coaches, personnel, everything."

It all goes back to the lunacy of ever putting a unit this young, with this little depth, on the field in 2011. The Bucs thought young, GM Mark Dominik built young, oh, so young, too young. The Bucs are getting what they paid for, or didn't. By the way, this is the third year of the rebuilding – not the first, not the second.

Lots and lots of things are rearing their ugly little heads. "Whatever don't kill you makes you stronger," Foster said.

"A 16-game season is a grind," Barber said.

It makes you wonder about the future, immediate and distant, for players and for coaches. If this keeps up, the guess here is Brian Price won't be the last one to be told to leave.