Plenty of talk, rough stuff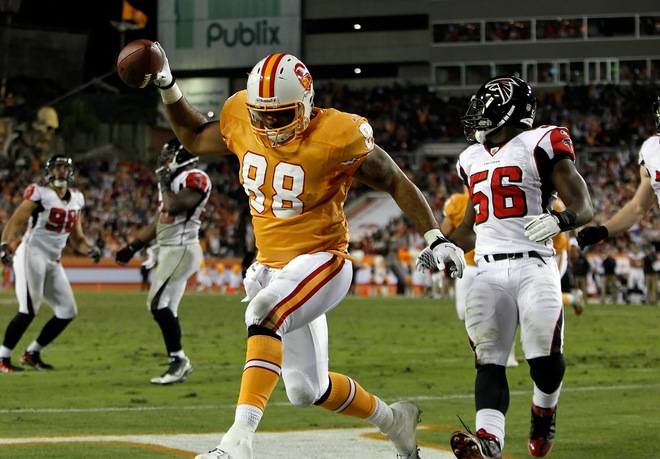 Ira Kaufman, The Tampa Tribune, published 6 December 2010

Even by division standards, Sunday's matchup between the Buccaneers and Falcons was a chippy game. Atlanta rallied for a 28-24 triumph in a taut struggle that featured a combined 15 penalties for 157 yards.

There were four flags for unnecessary roughness and two personal fouls — including one against Tampa Bay QB Josh Freeman for hitting CB Brent Grimes out of bounds following a game-sealing interception.

"There was a lot of chirping out there and a lot of hitting,'' Atlanta C Todd McClure said. "It was a division game with a lot at stake and a lot of emotions out there on the field. I have to say both sides got a little caught up in it today.''

Tip of the helmet
After registering their fifth consecutive win against Tampa Bay, the Falcons saluted their young NFC South adversaries. "Tampa's a good football team,'' Falcons FB Ovie Mughelli said. "They're not the best team in the NFC, like they said they were, but I like their spunk. Their defense made us work for every yard we got today.''

Tampa Bay's two losses to Atlanta this season came by a combined 10 points. "That's a highly competitive football team across the hall,'' Atlanta GM Thomas Dimitroff said. "I love their fire. They are going to be a tough team for years to come.''

Passing fancy
The Bucs went back into their film vault for a fourth-quarter call that padded their lead to 10 points. Earnest Graham took a handoff from Freeman and started running to his right before pulling up and finding TE John Gilmore for a 2-yard scoring pass.

"It was a play we had run a couple of years ago,'' said Graham, who flipped a 3-yard TD pass to former Bucs TE Alex Smith at Kansas City in 2008. "(Coach Raheem Morris) just put it back in and it was a great time to run it.''

Edge battle
Donald Penn has arguably played on a Pro Bowl level this season and count Atlanta DE John Abraham among his admirers. Abraham was held to three tackles and no sacks Sunday and Penn did not give up a sack against Abraham in two games this season.

After Sunday's duel, Abraham told Penn he deserves to be in the Pro Bowl this year, a compliment Penn appreciated, even after a tough loss.

"Rah (Morris) showed a video (Saturday) night and the first clip of the video was when we were in the playoff hunt (2008) and we had (Brian) Griese back there and I gave up that sack on the last drive," Penn said. "That was the first clip he showed. That really hit me hard. I haven't given up a sack to Abraham since that play.''


Spirit of giving
LeGarrette Blount celebrated his 24th birthday by giving instead of receiving. After Blount scored on a 6-yard TD run in the first quarter, he ran to the stands and gave the football to his father, Gary Blount.

"Just having the (family) support that I have (was why he gave away the ball)," Blount said. "Just having the support and knowing they are going to be here every game. It was kind of a special thing for me, and on top of that, it was my birthday. … I should have received a win."

Extra points
CB Aqib Talib (hip) and C Jeff Faine (triceps) suffered injuries for Tampa Bay.
The Bucs suffered back-to-back losses for the first time this season.
The Falcons had gone four consecutive games without a giveaway before Matt Ryan was intercepted twice.
The paid attendance for Sunday's matchup was 53,955 and the game was blacked out locally.
With his seventh TD catch, Mike Williams tied the franchise mark for rookies set by Michael Clayton in 2004.