Meet the toast of the coast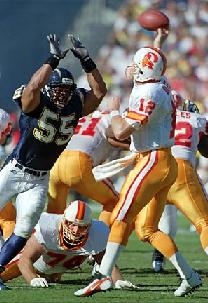 Rick Stroud, The St.Petersburg Times, published 18 November 1996

It was more than just a game that ended their westward woe. More than just a rare celebration on a red-eye flight of a victory led by their dead-eye quarterback. The Tampa Bay Bucs proved something to themselves Sunday. They can overcome bad plays, their own sad history and upset an upstart team like the Chargers. On the road. Coming from behind. And to be specific, even next to the Pacific.

"I don't know what to do on the plane because I usually get p----- off, put on my headphones and go to sleep," Bucs cornerback Martin Mayhew said. "Now, I guess I'll have to stay awake and celebrate a little bit. I think it's a tremendous confidence-builder for us. We were down 14-0 at their place and to win the game going away says a lot. Not that it's going to change the way the sun rises tomorrow."

By the time it set Sunday, the Bucs had buried at sea their sorry history of losing on the West Coast. Trent Dilfer passed for a career-high 327 yards and the defense produced three interceptions to enable the Bucs to overcome a two-touchdown deficit and rally to upset San Diego 25-17.

And with the victory, so many of the Bucs' bleak streaks came crashing down like waves pounding the coastline. The Bucs (3-8) snapped a 10-game road losing streak, one that dated to their 20-13 win over expansion Carolina on Oct. 1, 1995. They no longer can be considered toast on the West Coast. Tampa Bay had lost 12 straight games and were 1-19 on shorelines from San Diego to Seattle. Their previous victory came in 1980, when they beat the San Francisco 49ers 24-23.

It provided the Bucs with the first two-game winning streak under Tony Dungy heading into Sunday's game at Houlihan's Stadium against New Orleans. "I think it shows the guys when we do things the way we're supposed to and we hang in there, we can play with anybody," Dungy said. "I think they believe that, but when it happens, it makes it that much more special."

Dilfer was about as hot as devil's breath. With the Chargers (6-5) committing eight defenders to the run, he scorched them with 232 passing yards in the first half - more than he had in any game this season. His 30 completions were just one shy of tying a team record held by Vinny Testaverde since 1989. "I looked at the scoreboard once and saw how many yards we had passing," Dilfer said. "But I'm not really into stats, and I would say that even if I had a 150 quarterback rating, instead of 50. I just want to win games."

As splendid as Dilfer performed, using nine different receivers and leading the Bucs to 423 total yards - their most since 1994 - he made two plays that normally would be enough to beat them. He was sacked and stripped of the ball by defensive end Chris Mims, losing the fumble at the San Diego 20. The fumble led to John Carney's 42-yard field goal, enabling the Chargers to make their lead 17-13.

Another drive was halted when Dilfer was intercepted in the end zone by safety Rodney Harrison while trying to throw the ball away to avoid a sack. "You've seen this football team for so long now. What have we never been able to do? Overcome adversity," Dilfer said. "We've crumbled under adversity in the past. What we've been able to do lately is maintain our poise and realize it's a long game."

The Chargers would've been wise to heed that advice. The Bucs spotted them a 14-0 lead in the first quarter. Wide receiver Charlie Jones caught a short slant pass from Stan Humphries, stepped out of a tackle by Mayhew and blew by safety Melvin Johnson like he was rooted on his way to a 63-yard touchdown on just the third play of the game.

It took the Chargers exactly one play to score after rookie Marvin Marshall muffed a punt after signaling for a fair catch at his 14. Tailback Leonard Russell scored after taking a handoff from Humphries. "I've been here for a while and there were times in the past if we were down 14-0 on the road, I would've said it's going to be a long game," Bucs guard Ian Beckles said. "But we showed a lot of character."

The defense went to work, harassing Humphries into throwing three interceptions and sacking him twice. It was the sixth straight game the Bucs held an opponent to 17 points or fewer. And this time, the defense pointed the way to the comeback. "They hadn't shown us anything," Mayhew said. "They hit the quick slant on me and the guy runs away from me and scores. It was one big play. Then we fumble the punt and bam! They score. We hadn't really gotten into our game."

John Lynch, Charles Dimry and rookie Donnie Abraham provided the picks. In fact, it was Lynch's interception and 25-yard return that set up the Bucs' go-ahead TD - a 1-yard run by Errict Rhett - to leave the Chargers trailing 22-17 with 6:02 remaining. The Bucs clinched it when the running and receiving of fullback Mike Alstott allowed them to hold the ball for 3:47 and drive 33 yards in 10 plays for Michael Husted's 19-yard field goal. "We were down 14-0. We could've packed it in and went home," Bucs tackle Warren Sapp said. "But there was no way. We came out and just dominated them. We got in their face and punched them in the mouth and that's what we want to be known as."

Make no mistake, Dilfer was the hero. "Trent has been playing better," Dungy said. "They gave us a lot of eight-man fronts to take the run away and we knew we had to throw the ball more than we wanted to. But he was really fantastic. They felt they were going to make Trent win the game and he was up to the task."

But it was more than Dilfer's performance. Or the dominating defense. Or breaking the West Coast jinx. "We came back and fought," Dilfer said. "The character of this team and this coaching staff won this game, more than Mike Alstott, more than John Lynch or the guys who made the interceptions. What won this football game was character."