Bucs use four touchdowns from Leonard Fournette to beat Colts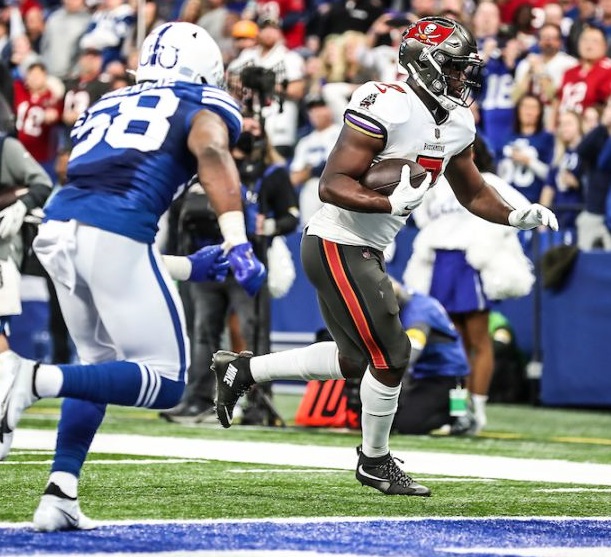 Leonard Fournette is a do-it-all running back. So when a player from a freshman basketball team at Notre Dame Prep in Pontiac, Mich., set up a group chat Wednesday morning and mistakenly included Bucs cornerback Sean Murphy-Bunting in the conversation by typing a wrong number, Fournette took the phone and paraded it around the locker room.

The stunned team got FaceTime greetings from players such as tight end Rob Gronkowski, cornerback Richard Sherman, linebackers Lavonte David and Devin White and receiver Mike Evans. Then Fournette aimed the phone at quarterback Tom Brady.

"That was from Sean. Sean passing the phone and getting on a group message from a bunch of kids from Michigan," Fournette said. "I didn't believe him, though. So he passed me the phone, and there was like 20 of them.

"I said, 'Hey, ya'll want to meet some of the players? I'll pass it to Mike, Rich, Gronk and Tom, because I think Tom was getting a massage or something. So I just waited for them to speak to them, because (Brady) is a Michigan guy, and I knew that would make their day."

Fournette was certainly dialed in during Sunday's 38-31 win over the Colts in Indianapolis, scoring four touchdowns, including the game-winner with 20 seconds remaining. The Bucs needed to produce five turnovers, including an interception by Pierre Desir on the final play of the game after a 72-yard kickoff return by Isaiah Rodgers, to seal the victory. "Part of me was telling Lenny to go down so something like that wouldn't happen," coach Bruce Arians said of Fournette's 28-yard touchdown run.

Fournette rushed for 100 yards and three TDs and caught seven passes for 31 yards and another score. But it was his halftime speech that he credits with turning around the Bucs' road misfortunes. "I'm like, 'Man, you have to have a will and a want. And you have to be willing to risk everything. Play by play, you have to want to win, want to fight each and every play,'" Fournette said. "And I think they understood that message and came out and played the lights out."

"You can tell the mood. The energy was down. ... It was just the little things that were separating us to win the game from them. Just trying to boost everybody coming out, and thank God it worked."


Gronkowski, who led the Bucs with seven catches for 123 yards, said Fournette's speech set the tone for the second half. "It got everyone fired up," Gronkowski said, "and he went out there and backed it up, too."

As great as Fournette was, it was the Bucs' defense that made some of the biggest plays to ignite the comeback. Trailing 24-14 and with the Colts looking to expand the lead with the ball on the Tampa Bay 20-yard line shortly after the start of the second half, linebacker Shaquil Barrett made the biggest play of the game. He sacked quarterback Carson Wentz, stripped him of the football and recovered the fumble.

That led to Fournette's 4-yard touchdown run. On the next possession, safety Antoine Winfield Jr. leaped high to intercept a Wentz pass that he stole from the hands of Michael Pittman Jr. at the Bucs 5 and returned it 30 yards to the 35.

The five turnovers were even more surprising, since the Colts entered the game with the league's best giveaway-takeaway ratio at plus-15. But the Bucs were able to keep Fournette fresh for the final drive by rotating him with Ronald Jones, who rushed seven times for 37 yards and a touchdown.

"We had a game plan," Fournette said. "I think Coach B.A. did an excellent job of rotating the backs. I was a lot fresh at the end. RoJo came in and did his job ,and as a unit it's all about winning."

That was a lesson Fournette had to learn last season, when he had trouble accepting his role as the No. 2 back behind Jones. Fournette is embracing his workhorse role this season. He already has 975 total yards from scrimmage (621 yards rushing, 354 yards receiving), and his 51 catches are more than Mike Evans.

"Definitely, it means a lot, but you have to earn it, too," Fournette said of his workload. "That's during reps in practice, going over after practice with Tom and running the routes we're trying to perfect."

When Fournette went looking for Brady Wednesday to talk to the high school kids, he was told the quarterback was getting a massage and wouldn't be done for another 10 minutes. So Fournette chatted with the kids in the meantime.

Finally, Brady came on camera wearing his hat backwards. "How's it going fellas?" he said. "That was sweet," Brady said Sunday. "I think that was Lenny figuring out how to organize that."

After Lenny handed off to Brady on Wednesday, Brady spent Sunday handing off to Lenny. When the Bucs called his number, he delivered.

Rick Stroud, The Tampa Times, published 29 November 2021