Tom Brady throws two interceptions in Bucs' 27-24 loss to Rams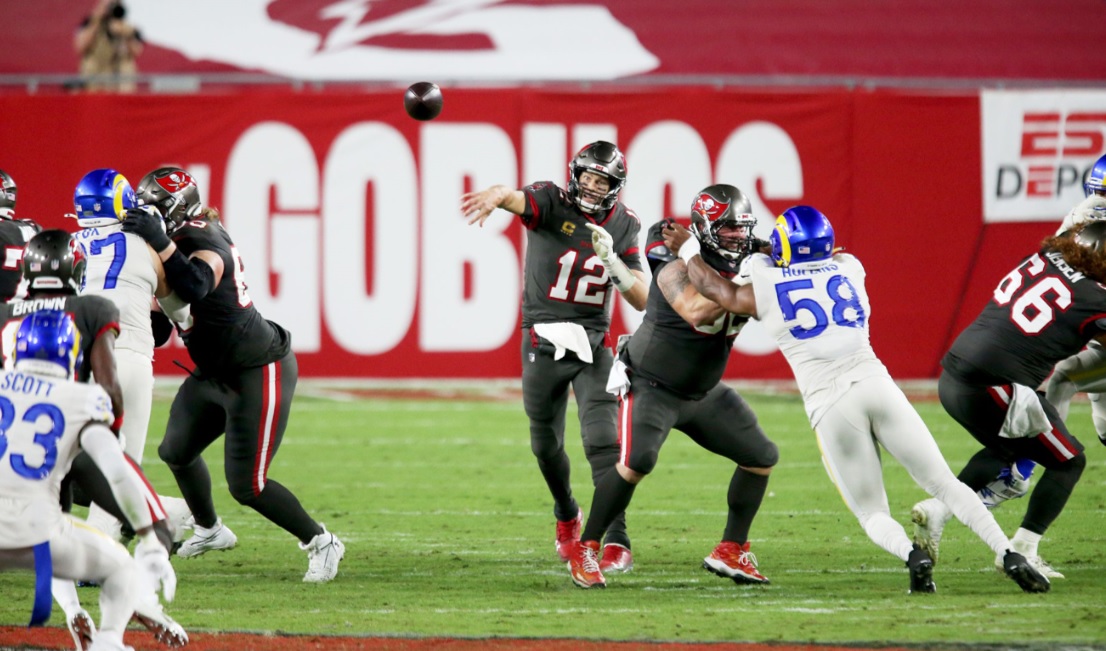 Show us what you got, Tom Brady. This was the chance to show why the Bucs went out and signed the greatest quarterback of all time. This was the Bucs trailing the Rams by a field goal Monday night with 2:32 remaining and one timeout.

For the six-time Super Bowl winner to add to his 38 career fourth-quarter comebacks and show how he put together those 47 game-winning drives. But against the better teams this season, Brady has suffered one of his worst stretches of football. Brady threw his second interception - Rams rookie safety Jordan Fuller had both - with 1:49 left to finish off a 27-24 loss.

Seven of Brady's nine interceptions this season have come against the Saints and Rams, two of the biggest contenders in the NFC. Brady and coach Bruce Arians said the final pass, intended for tight end Cameron Brate, was a missed read of the Rams coverage.

"It was just a bad read,'' Brady said. "Cameron was running up the seam and at the last second I saw the safety coming over and threw it over Cam's head. It was just a bad read and a bad throw, decision, everything.''

The loss dropped the Bucs to 7-4, including 1-3 in prime time games, with the Super Bowl champion Chiefs and Patrick Mahomes headed to Raymond James Stadium on Sunday, leaving little margin for error in the playoff race. Brady finished 26-of-48 for 216 yards with two touchdowns and the two interceptions. In fact, the Bucs' longest offensive play was an 18-yard completion to receiver Mike Evans. Brady's first interception, in the third quarter, came while he was under pressure on a deep pass to receiver Chris Godwin.


There were also some drops, mostly by running backs Leonard Fournette and Ronald Jones. "The first (interception) he got hit. It looked like he had Chris going right down the middle and he stepped up and just didn't get enough on it with the pressure,'' Arians said. "The last one was just a misread of the coverage.''

Meanwhile, the Rams' Jared Goff splintered the Bucs defense with quick, short passes. He finished 39-of-51 for 376 yards with three touchdowns and two interceptions. Receivers Cooper Kupp had 11 catches for 145 yards and Robert Woods added 12 for 130 and a touchdown.

With the Bucs trailing 24-17, Goff made his biggest mistake of the game and was intercepted by safety Jordan Whitehead. Brady made the Rams pay, throwing a 13-yard touchdown pass to Godwin, who dove over the pylon to tie the score at 24 with 3:53 to play. To make it hurt a little more for Bucs fans, Matt Gay - who was cut by Tampa Bay in the preseason and was kicking in his first game for the Rams - nailed a 40-yard field goal with 2:36 remaining to give the Rams the winning margin.

The defeat leaves the Bucs season in peril. Currently, they would have the sixth playoff seed in the NFC. The Rams and Seahawks (7-3) are tied atop the NFC West, with the Rams holding the tiebreaker. The Bucs fell another game behind the Saints, who swept them. Now the Bucs don't own a tiebreaker over the Rams.

"Like they said last week, they told us every game is like a playoff game,'' Whitehead said. "That's the mentality we have to take into this week. We felt we had energy. We know this is a game we had to win. It's hard to lose an NFC game. We've just got to bounce back, and we've got another tough one next week.''


Brady's first interception led to a go-ahead touchdown for the Rams. Tied at 17 in the third quarter, Brady was hit as he fired a pass down the middle of the field somewhere between Evans and Godwin. It went directly to Fuller, who returned it to the Tampa Bay 37. From there, Goff needed only a few plays to throw his third scoring pass, a simple 4-yard swing pass to running back Cam Akers. It was the first NFL touchdown catch for the rookie out of Florida State.

Surely, something is wrong with the Bucs offense. It's too inconsistent. Eleven games into the season, even with all the new faces, Brady should look a lot more comfortable and play that way. He has lost all his touch on the deep ball since hitting three of them against the Raiders in Week 7. Receiver Antonio Brown dropped one Monday, and Evans drew a pass interference on another. But other than that, the deep passes are not really close.

"When we took our shots, we missed them,'' Arians said. "We had that one (pass interference penalty), but you know, those balls we've got to hit.'' Why is the passing game so inconsistent? "Still trying to figure that out,'' Arians said. "I mean, at times, we looked really, really good. And then there are times where we obviously don't. I felt very, very comfortable in the two-minute drive until that throw.''

If nothing else, Brady has been accountable. But what the Bucs needed Monday was to be accurate. They needed Brady to show them how to win big games. In the final two minutes. Trailing by a field goal. "I think that's a good word, 'disappointed,' '' Brady said. "I have to do a better job. Absolutely.''

Rick Stroud, Tampa Bay Times, published 24 November 2020