Bucs starting to win back Tampa Bay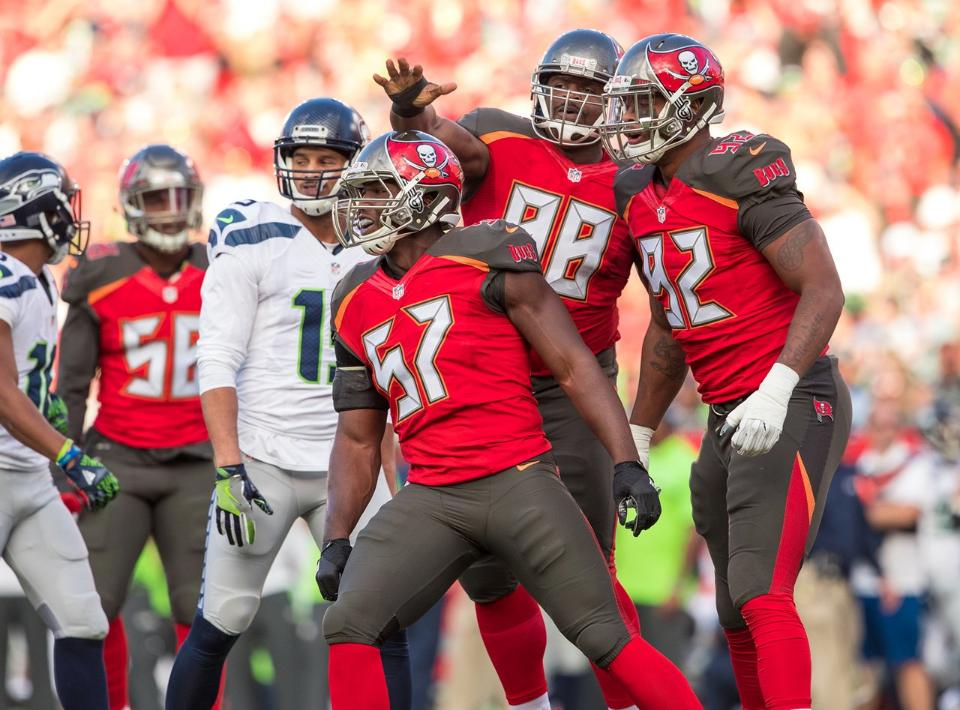 Martin Fennelly , The Tampa Bay Times, published 28 November 2016

It was the kind of victory that can help a team take a town back. It sure felt that way early Sunday evening. It rattled inside your head like the Bucs defense rattled Seattle bones in an emotional 14-5 win. For a moment, at least, anything seems possible and the Bucs seem like a dangerous team.

That after a remarkable 60 minutes of football, one that had the big crowd of 63,674 at Raymond James Stadium fully engaged. They never let up. This was a Bucs crowd, an old-time Bucs crowd, with old-time Bucs defense to match. The Bucs and their fans were pewter partners again. "Sounded like it," Hall of Famer and former Bucs great Warren Sapp said. "I know that sound."

And that kind of defense. This was the kind of win that forges belief. On teams. In towns. It was a righteous follow-up to the upset in Kansas City. This was beating a Seahawks franchise that won it all three years ago, that brings swagger, that knows how good it is. And now we're wondering just how good Dirk Koetter's Bucs can be. It was that kind of win.

It was hard to get around just how hard these Bucs played, or that cornerback Alterraun Verner played at all after his father's death Friday. But Verner played, and made big plays, and he cried. His teammates had no choice but to follow, with their play and in their tears with Verner. What a moment. What a day.

The Bucs defense merely wreaked havoc on quarterback Russell Wilson and the Seattle offense. Wilson was either running away from Bucs or under Bucs. There was Verner's interception. There was linebacker Lavonte David pulling that ball away from tight end Jimmy Graham and running away with it. "I just wanted it," David said.


They all did. And then there was receiver Mike Evans beating cornerback Richard Sherman, and quarterback Jameis Winston mostly making the right plays, and the offensive line standing tall. Tampa Bay dominated both sides of the line of scrimmage.

And there was that crowd. Been a long time since there was one like this at Raymond James. You knew it was different as soon as the game began. Give yourselves a hand, folks. "That place was rocking," Koetter said. "I was trying to talk to guys on the field, and it was a waste of your breath because you couldn't hear a word you were saying."

This is the sound a town begins to make when it begins to believe. You couldn't hear it when the Bucs were 1-3 or 3-5. You couldn't even see it at 4-5. And who could have predicted Sunday even at 5-5. It was that big of a jump. The kind that seasons can turn on. The kind that towns can turn on.

The Bucs have Tampa Bay's attention. Now it's just a matter of what they do with it. The Bucs are the ones who've put fans on the fence all these seasons. Or on the other side. Or under the fence. So many lousy performances. It was a sin that a football team has lost a football town as badly as the Bucs have over the past eight years.

Sunday doesn't guarantee that the corner has been turned. Maybe Sunday and this three-game win streak is a big tease. Maybe it comes crashing down next Sunday in San Diego, where once upon a time the Bucs won a Super Bowl.

This isn't 2002. But we were reminded Sunday of what a football town can look and sound like. We'd nearly forgotten.