Blount batters 49ers with bruising effort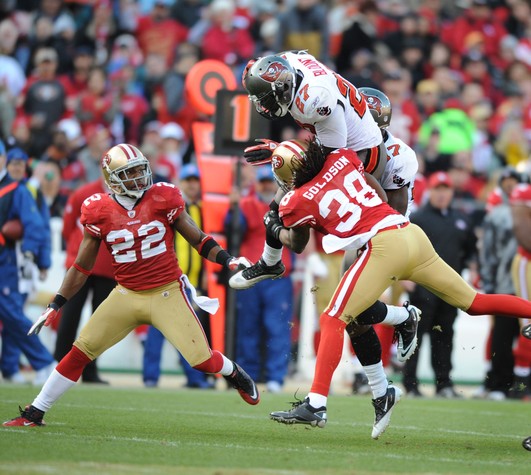 Ira Kaufman, The Tampa Tribune, published 22 November 2010

After LeGarrette Blount's first pro start Sunday, all anyone wanted to talk about was the way he finishes. Tampa Bay's 247-pound running back added to his highlight-reel rookie season with another impressive effort in a 21-0 victory against the 49ers.

"It still amazes me that he slipped past everybody in the draft," Buccaneers C Jeff Faine said after Blount hammered the NFL's 10th-rated run defense for 82 yards in 26 carries. "He's a phenomenal player and we think we're helping him up front. We're jelling and things are starting to roll."

Since Blount replaced Cadillac Williams as the featured back, Tampa Bay's ground game has become a consistent threat. Blount almost outgained San Francisco all by himself in the opening half as he gained 55 yards and thoroughly outplayed counterpart Frank Gore, one of the league's most versatile backs.

"I'm definitely counting my blessings being with this team," said Blount, a former Oregon standout whose draft stock plunged after he punched a Boise State player 14 months ago. "All I want to do is help anyway I can. Anything I can pull out of my game, I'll do it."

Sunday's memorable moments included a hurdle, a jarring collision and a hug. "He's a violent young man," Coach Raheem Morris said. "Blount hugged me in the locker room and I'm still hurting."

So is 49ers LB Parys Haralson, who absorbed a second-quarter forearm shiver from Blount that lifted him off the ground. Late in the third quarter, Blount pulled away from the grasp of LB Takeo Spikes and gained 16 yards, jumping over S Reggie Smith in the process.

"Today Blount came in and he ran the ball on us," 49ers Pro Bowl MLB Patrick Willis said. "That's something we pride ourselves in, being excellent in the run, and we didn't come through."

Playoff bound?
Buccaneer players may be reluctant to use the P-word, but NFL history suggests they now have a good chance to keep playing beyond the Jan. 2 regular-season finale at New Orleans.

Since the NFL re-aligned in 2002 to eight four-team divisions, 28 of the 36 clubs (78 percent) that opened 7-3 advanced to postseason play.

"It's still early," Faine said, "and the veteran leaders of this team know you can be 9-3 and still not make the playoffs. As for the younger guys, they don't know any better. We just tell them to keep focusing on the next game."

Only the 8-2 Falcons have a better record than the Bucs in the NFC. "Being 7-3 feels good," DE Stylez G. White said. "It feels like all the hard work is paying off for us. Right now, we're a confident team with a confident coach."


Business trip
After improving to 4-1 away from Raymond James Stadium, the Bucs can take aim on the best road record in franchise history, the 6-2 mark set during the 2002 championship season.

"We're going into these road games with a chip on our shoulders and some confidence," G Davin Joseph said. "We're taking a business approach and it's working with. You see all these young guys keeping their focus in team meetings, guys staying at the team hotel rather than going out. The results speak for themselves."

Money down
Tampa Bay's defense had struggled on third down for much of the season, with opponents converting at a 46.2 percent clip, but that trend changed suddenly at blustery Candlestick Park.

The 49ers, who went 0-for-11 on third down last week while beating the Rams in OT, converted only three of 12 on third down Sunday. "It was awesome," rookie S Cody Grimm said. "We really played well as a unit, especially on third down. Today, we got off the field."

CB Aqib Talib was ecstatic after the Bucs generated two takeaways and forced six punts. "A shutout is the ultimate compliment," Talib said. "Our D-line put a lot of pressure on them and there's nothing better than a shutout."

Extra points
Ex-Bucs Brad Johnson and Dexter Jackson attended the game.
Rookie DT Gerald McCoy limped off the field in the final seconds but said he was fine after the game.
CB Ronde Barber, who failed to register an interception in 2009, posted his 40th career interception and third of the season.
The Bucs are now 3-0 this season against Heisman Trophy winners, giving the stiff arm to San Francisco's Troy Smith, Cincinnati's Carson Palmer and St. Louis rookie Sam Bradford.