Win not a bad way to start for Josh Freeman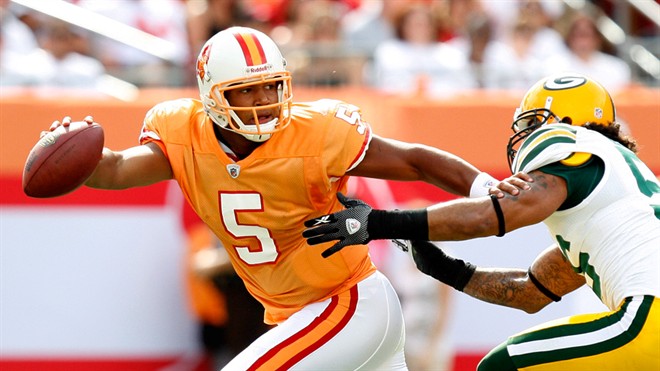 Gary Shelton, The St.Petersburg Times, published 9 November 2009

The fans belonged to him now. They leaned over the railings, reaching out toward him, calling out his name in adoration. There was gratitude in their eyes, and there was admiration in their voices, and in the shadow of a scoreboard they could finally read without pain, it was as if they could not love him enough.

Josh Freeman, winning quarterback, walked quickly toward the tunnel and beneath the cheering fans. He glanced up quickly, and a small smile creased his face, and it was impossible not to wonder how many times the scene might repeat itself before he is finished.

Here at the beginning of a career, it seemed like a pretty fair way to walk away from a football field. Kid Quarterback won Sunday. In his first start, Freeman was a Hollywood script in a Creamsicle jersey. His arm was as good as advertised, and his feet were quicker than you had suspected, and his composure was better than anything you might have imagined.

As for the result, a 38-28 win over Green Bay, it was something you have not seen in a while. A victory, I believe they call it around the NFL. How much better could a first start be? For his coach, Freeman won a football game. For his teammates, he won a reprieve from the misery of a season that turned ugly early.

And for himself, he won over some of those who have criticized him since he became the Bucs' No. 1 draft choice (17th overall) in April. Just like that, for the first time all year, there was a reason to look forward to the future.

True, it was only one game, and yes, Freeman had plenty of help, and granted, there were moments when Freeman looked like the rookie he is. There is a lot of polishing to be done before Freeman can be considered accomplished.

That said, Freeman was good in all the right moments Sunday afternoon. In the red zone, he threw three touchdown passes. In the fourth quarter, he hit 6 of 10 passes for 78 yards and led his team back from an 11-point deficit. And on fourth down, on the most crucial play of the game, he threw a perfect pass to fellow rookie Sammie Stroughter for the winning touchdown with 4:14 to play.

"The most important thing was when he made the plays," said Byron Leftwich, who has become a mentor for young quarterbacks since being replaced in the season's fourth game. "You know how they say some guys always make the plays at the right time? That was the best thing about Josh, how he played in the fourth quarter when they had the lead."

Say this for Freeman, too. He carries himself like a quarterback. Off the field, he speaks quietly, and he is so laid-back at times that you think he's about to fall asleep in midconversation. But did you see him spitting nails on the sideline after he overthrew Michael Clayton? Yeah, there is enough fire there.

There is enough poise there, too. Freeman never seemed to be in a hurry, not when he was being pressured out of the pocket, not when he fumbled a snap, not when he threw an interception. There was never a moment when it seemed as if he had gotten in over his head.

There were so many promising snapshots of Freeman. The way he moved around in the pocket. The great scramble and throw to Kellen Winslow for a touchdown. The 72-yard drive for the winning points. "I wasn't feeling pressed at all," Freeman said. "The situation is stressful, but the mood was, we all had to get it done."


You wonder how many people were surprised by what they saw. For whatever reason, Bucs fans had been slow to warm to Freeman. Perhaps it is that so many of them thought it was unwise for the Bucs to draft a quarterback — especially one with a losing record — when they had so many other needs.

Perhaps it is Freeman's demeanor. Perhaps it is that the longer the Bucs waited to start him, the more fans thought Freeman was giving them a reason to wait.

"The guy plays with the same look on his face all the time," running back Earnest Graham said. "I've heard people question his work ethic, but I think it's his demeanor as a person. People confused his personality with what he does as a professional. When he threw a touchdown pass, he celebrated, but it wasn't like he was going crazy out there. He's just always cool."

Said center Jeff Faine: "This isn't a knock on him, but there is still a lot of potential inside of him. We're just scratching the surface today. There are a lot more brighter days ahead of us with him. Even when there was pressure in the pocket, he would take two steps and look downfield. You can tell he's a special talent, but as far as his demeanor, he is way ahead of the curve."

As for Freeman? He didn't seem particularly impressed with what he did Sunday. In a world where some players treat little victories like grand accomplishments, that's a good thing, too.

"There is definitely tons of room to improve," Freeman said. "It was great to get the win, don't get me wrong. But there are a lot of aspects to my game I need to clean up to get more consistent, whether it's the interception or the fumbled snaps or just getting the completion percentage up (14-of-31, 45 percent)."

Oh, it's going to get bumpy. We all know that. Rookie quarterbacks don't drive a smooth highway. For a start, however, this will do.