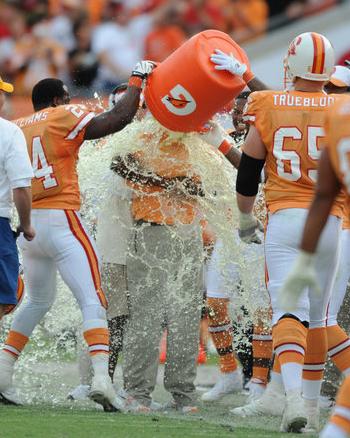 Anwar Richardson, The Tampa Tribune, published 9 November 2009

Ronde Barber knew Coach Raheem Morris eventually would get his first win. Barber just did not know when it would occur. "It was going to happen eventually," Barber said. "It's not like he was going to go 0-and-forever."

Morris may have lost the first seven games of his pro career, but he finally earned his first victory Sunday, 38-28 against Green Bay. At 33, he is one of the youngest coaches to record an NFL victory in the modern era.

"Obviously, it's not about me. It's about us," Morris said. "It's about everybody who is a part of this. It's about the organization from the top to the bottom. Everybody is included. Everybody has worked hard for this.

"I got just as hard as a hand slap from Danny, the grounds guy, to the general manager, Mark Dominik, to the ownership. It doesn't matter where you are in the building. It doesn't matter what you do for us. We try to treat everybody the same."

While Morris may stress treating everyone equally, Bucs players singled him out after Sunday's win. Derrick Ward and Cadillac Williams worked together to douse Morris in his first Gatorade bath as a head coach. After the game, Barber presented Morris with the game ball to commemorate his friend's historic victory.

Although Bucs players were elated about their first win, most were happier for Morris. "Raheem is a coach that players would dream to play for," Williams said. "His charisma, his attitude, his swagger. As a player in this league, it's peaches and cream that he's the guy you want to fight with.

"For us to go 0-7, what hurt me was really wanting to get Raheem his first win because he's such a good guy. It's been a tough seven games. We've had some heartbreakers. Then for him to address the team after a loss every time, it wasn't good. It was good for him to come out and address us after a win."

Now players are hoping to hear Morris speak after another victory. "We hated that it took so long, but it feels good for 'Ra' to come in here with a smile on his face with a winning speech instead of a losing speech," Bucs cornerback Aqib Talib said. "Now we just got to build on it. We got to keep it going."