There's still a little magic left in Ryan Fitzpatrick's right arm
Eduardo Encina, Tampa Bay Times, published 29 October 2018

You won't hear Bucs players acknowledge that the team's offense runs better with Ryan Fitzpatrick at the controls. They're not about to get involved in a quarterback controversy. But after he orchestrated a fourth-quarter comeback that brought the Bucs back from an 18-point hole dug for them by Jameis Winston and his four interceptions, it's hard to argue that there's not still a little Fitzmagic left in the 35-year-old bearded wonder's right arm.

The result was ultimately another narrow loss for the Bucs, a 37-34 setback amid the swirling wind at Paul Brown Stadium, but new life for the NFL's favorite backup QB. After Dirk Koetter watched Winston throw his fourth interception, a misjudged throw right at safety Jessie Bates that was returned for a touchdown with 2:10 left in the third quarter, he turned to Fitzpatrick — who hasn't played since falling behind five touchdowns at the half in Chicago — and told him to get ready.

"That's something I've practiced over the course of my career," Fitpatrick said. "I'm standing around and made a few 10-to-15-yard throws. It doesn't take a lot to get this thing going."

The Bucs would score on three of Fitzpatrick's four drives, and his only misstep might have been that he gave the Bengals too much time after Tampa Bay's game-tying drive in the fourth, and Cincinnati drove down the field in the final 58 seconds to kick a game-winning field goal. "Fitz is a good football player," offensive tackle Ali Marpet said. "He's a good football player making good football plays. It's him making plays and us doing our job and the receivers doing their job."

But before that, Fitzpatrick sprinkled in a little bit of everything in drawing up the Bucs' unlikely comeback, from an 18-yard scramble on third-and-21 that set up a 38-yard field goal for Chandler Catanzaro on his first drive of the day to the game-tying two-point conversion throw he pinpointed to Chris Godwin in traffic in the the end zone. "Yeah, fantastic," Koetter said. "Hats off. That's why you've got a veteran backup. He comes in after a pick-six, so he had about two minutes to warm up. He went in there and played with composure and did a great job getting us back."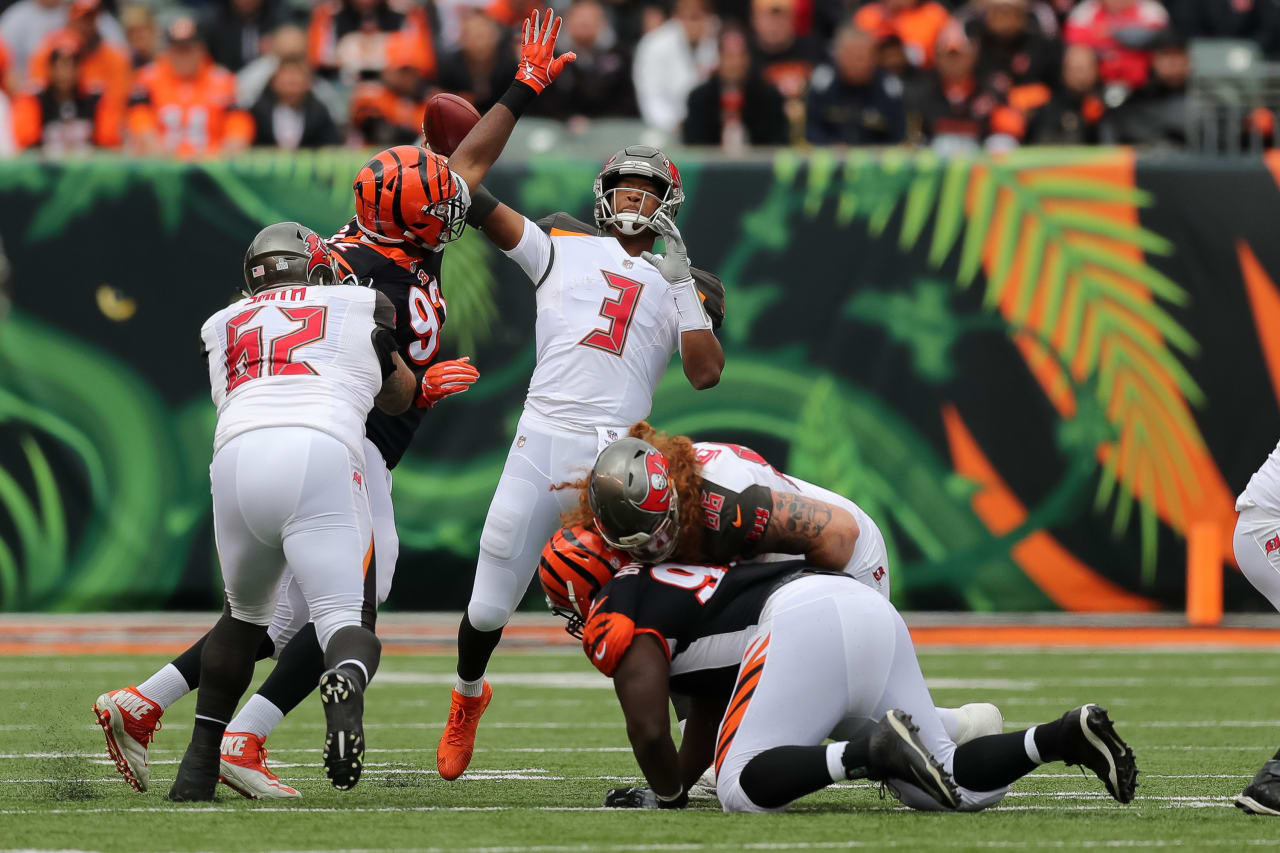 After Catanzaro split the uprights to make it a two-possession game, Mike Evans found space downfield along the right sideline, and Fitzpatrick put perfect touch on a 72-yard touchdown pass that brought the Bucs within eight. "It was a double-move," Fitzpatrick said. "Mike ran a great route. You don't get a lot of those in the NFL, so it's good when they happen."

Fitzpatrick missed DeSean Jackson deep on the next series — ending a three-and-out drive — but he had another chance to tie the game with 3:16 left in the game, the Bucs pinned back at their own 12. He would go 6-for-9 on that game-tying drive, connecting with five different receivers, from Evans to Jackson to Godwin to running back Jacquizz Rodgers, who made two key receptions out of the backfield.

On the first of two do-or-die plays, Fitzpatrick found O.J. Howard along the right side on a fourth-and-three from the 18-yard line, and Howard found the end zone. "The guys up front blocked their tails off," Fitzpatrick said. "We had to throw the ball downfield a little bit. They gave us a variation of coverages, but everyone was involved — our wideouts, O.J. Howard made a great catch, Jacquizz (Rodgers) got involved. Depending on what they were doing, I was trying to take what they were giving me."

And as the Fitzpatrick memes resurfaced on Twitter, he stood in the pocket, dodged a tackler, stepped up in the pocket and rifled a throw through the Cincinnati defense to Godwin in the end zone. "A second of pure panic," Fitzpatrick called the play. "I was trying to figure out who was open, and Chris (Godwin) found a nice soft spot."

Despite the loss, the Bucs now have a full-fledged quarterback controversy. Their franchise quarterback has thrown 10 interceptions in 3-1/2 games, and the cool, collected Fitzpatrick another taste of FitzMagic from just more than one quarter in Cincinnati.

"Every game is different," Fitzpatrick said. "It's hard to make a comparison between opponents, or quarterbacks. Each game is its own individual piece. Both of us prepare as best we can. During the Pittsburgh game, I had three picks in the first half. For me, that's something where I have to dig down deep and try not to let it bother me. It's something over the years that I've learned."