Martin muscles into spotlight for Buccaneers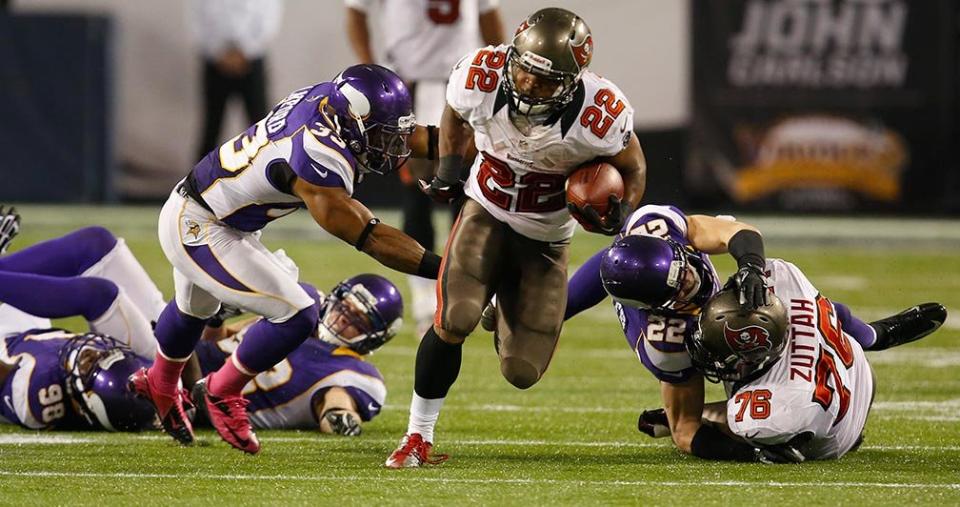 Gary Shelton, The St.Petersburg Times, published 27 October 2012

All along it was supposed to be Doug Martin who was elusive. Not stardom. He had been good. On the other hand, he had been a couple of yards short of great. He had been decent. Still, he hadn't been quite dynamic. He had been solid. In the search for the next Bucs running back, he had not been convincing. Until now.

For Martin, and for the Tampa Bay Bucs, everything changed in Thursday night's win over the Minnesota Vikings. Martin spun, and he slashed, and he somersaulted. He was evasive, he was elusive, and he was explosive. In short, he performed as if his first NFL prime-time game should have been called the Doug Martin Variety Show.

Martin had the first 100-yard day of his career in the Bucs' 36-17 victory. He carried the ball 29 times, more than any game this season, for 135 yards. He had a 41-yard run. He had a 64-yard catch in his 79 receiving yards. He had 214 yards total. Also, he introduced his nickname, "Muscle Hamster," to America.

Oh, so that's why the Bucs drafted Martin in the first round this year. "It was a little frustrating," Martin said of the start to his season. "But you just have to be patient in this league. If you stick to your job, it'll come to you."

Patience works for Martin, and for those who watch him. This was the back the Bucs have expected all along, a guy who can keep the chain moving. "Doug was awesome," said quarterback Josh Freeman. "Not only in the way he runs or the way he catches or the way he pass protects. It's in the way he prepares. The moment is never too big for Doug."

If Martin can make this kind of impact consistently, he promises to add another dimension to the Bucs' offensive attack. It would make Freeman better, and it would help the offensive line control play, and it would enable coach Greg Schiano to play the clock and field position the way he has wished to play them all along.

And when you get down to it, is excellence really too much to ask of a running back? Evidently not. If the Vikings' wonderful Adrian Peterson was the back everyone was talking about before the game, it was Martin they were talking about afterward.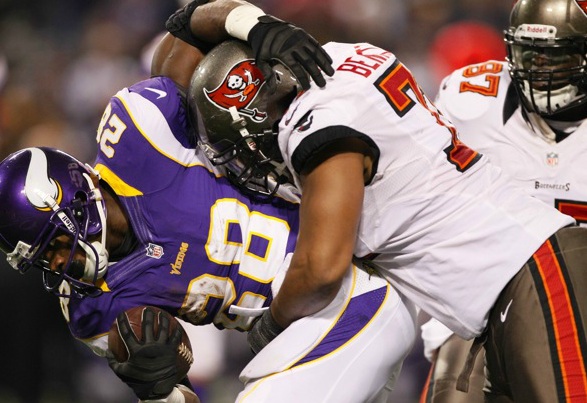 To be fair, there hasn't been anything particularly disappointing about Martin's performance. It's just that a lot of people expected more. They expected, well, this. They expected another weapon in the arsenal.

Martin never has had the luxury of being a rookie. From the time he was drafted, he was supposed to make a difference. Along the way, there have been times Martin has been asked to do too much, and times he has been used too little. As the coaching staff has searched for answers for Freeman, and for the right side of the offensive line, and for tight end Dallas Clark, Martin has seemed to be wheel that didn't quite squeak.

Remember the Dallas game, when Martin ran 19 times and was held to 2 yards or less on 11 of those carries? After that, his carries were reduced from 21 times a game in the first three games to 12 times over the past three. Who saw this coming? Going into Thursday night, Martin was 19th in the NFL in rushing. Counting quarterbacks and wide receivers, his 4.1 yards per carry was 111th in the league.

Still, there had been signs. Martin averaged 5.9 yards per run against the Chiefs (76 yards) and 5.3 against the Saints (85 yards). "He was this close," said wide receiver Mike Williams.

Give Martin credit for this: He continued a long line of Bucs running backs running past the Vikings. James Wilder had 219 yards rushing against them in '83, and Cadillac Williams had 148 against them in his debut in 2005. Warrick Dunn had 115 against them in '98, and Mike Alstott had 129 in '01, and Ricky Bell had 101 in '79.

Add Martin to the list. For most of the night, Minnesota gave the impression it was one big play, maybe two, from making it a game. And then Martin would make another play.

By the end of the night, you had finally seen what is special about Martin. He can slide to open space like Dunn, and he can pile up total yardage like Wilder. Who knows? A few more efforts like this one, he might be as popular as Alstott. After this, Martin isn't just carrying the ball. He's carrying the possibilities.