The one that got away? It sure is
Gary Shelton, The St.Petersburg Times, published 22 October 2007

How? That is the first question they will ask. How in the blazes did this game slip away from them?

Some failures do not fade quickly, and some defeats are not easily erased. Sometimes, especially when the disappointment is as self-induced as Sunday's loss by the Bucs, the questions will not go away. Sometimes, they will sneak out and gnaw at a team until it realizes what it has left unclaimed.

Where? That is the next thing they will wonder. Where exactly did this team lose control of an utterly winnable game?

The Bucs' latest defeat is going to sting for a while. And when you get down to it, shouldn't it? Never has Tampa Bay turned so many good offensive performances into so few points. Rarely has the final score looked so much like a mystery. Detroit 23, Tampa Bay 16. And after this, which way is the season heading?

The Bucs dropped a football game Sunday ... literally. They blew it and they botched it, they muffed it and they misplaced it. In the end, they left it lying on the 1-yard line like an uncashed check. In a game that could haunt the Bucs for months, that was the worst part of the day: the sheer amount of waste it produced.

Jeff Garcia? He was terrific Sunday afternoon with his 18 straight completions and his 316 yards. And the Bucs took his performance and tossed it into the trash bin.

Earnest Graham? He was everything you want in a tailback with his 92 yards rushing and 99 yards receiving. And the Bucs wadded his statistics and flipped them out the window.

The opportunity? It was right there, as close as your collar and your cuffs, and the Bucs could not claim it against a Lions team that has improved all the way to not quite wretched.

So how does a team lose a game in which it gained 144 more yards than its opponent and keeps the ball for almost 12 minutes longer?

For the Bucs, it's as easy as dropping a football. Or missing a tackle. Or whiffing on a block.

Most of all, the Bucs lost Sunday because they were at their worst when the game meant the most. Remember that first and goal on the Lions 1 when they couldn't handle a center snap? Remember the first and 10 in the second quarter when Davin Joseph was called for a personal foul after an 11-yard gain to the Lions 14? Remember the first-quarter fumble on a routine handoff?

Much of the Bucs' problems, of course, are the lack of playmakers in the offensive huddle. Aside from wide receiver Joey Galloway, there isn't a lot of speed to burn. To be successful, the Bucs must string together a lot of medium-distance plays before they can come across an end zone.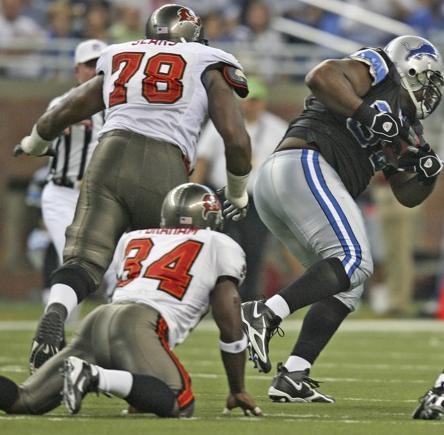 Take Sunday, for instance. The Bucs gained 78 yards on a 16-play drive and didn't end up with points. And another 78 yards on a 15-play drive that didn't result in points. That said, good teams finish off their drives. Good team seize their opportunities. Good teams don't give up 93-yard drives when they still have a chance to win. "It's ridiculous," Ronde Barber muttered as he dressed. "Just ridiculous."

Barber has lost games before, of course, but this time, he was seething. He dressed like he was angry at his trousers. Barber knows what the Bucs let get away. A lot was riding on Sunday's game for the Bucs. For any team, there are miles between a 5-2 record and one of 4-3. A win and the Bucs would have been 5-2 in the muddled NFC. A win and the Bucs could have gained some distance in the NFC South.

"I feel like we've slid back with the also-rans and the middle of the pack," Barber said. "The Lions have improved, but I really feel like it was the things that we did that beat us today. It's different when a team comes in and physically whips you. I didn't feel that way."

The thing is, there are a lot of teams just like the Lions - and similar to the Bucs, for that matter - ahead on the schedule. There are a lot of games the Bucs can win if Garcia and Graham play the way they did Sunday. There are a lot of games the Bucs can lose with fumbles on the goal line and sloppy tackling. If those games go just so, this defeat could last for a while. "Hopefully, it won't matter," Barber said. "But if it does, we'll look back on it and say that's one that got away. One that we gave away."