Vindication, But Not In Form Of A Victory
Joe Henderson, The Tampa Tribune, published 22 October 2007

The usual postgame interrogation with Jeff Garcia was proceeding normally Sunday after the Bucs lost 23-16 to Detroit. We talked to him about the two lost fumbles in which he played a part and the general misery associated with a game like this. Garcia met every question head on and gave the best answer he could.

But then he was asked about coming back to Detroit and the emotion of losing this way, in this town. He stiffened for a moment, appeared to choose his words carefully, and maybe offered a glimpse of the gloom he really felt inside.

'Of course, coming back to a place where you once had an experience, you want to play well,' he said slowly. 'You want to do the best possible job to give your team a chance to win a football game.'

Back to a place where you had an experience. That's a civil way of saying he got run out of town after one miserably unhappy season in 2005. He was hurt for part of that year, got caught up in a quarterback controversy with Joey Harrington, and the town chose sides. Garcia lost. He was not offered a contract to return.

So it would follow that he would return and do everything right and make Detroit rue the day it let him go. He almost did. He had a phenomenal day passing - 37 of 45 for 316 yards and two touchdowns. He completed 19 of 20 in the first half!

But he also was involved in a botched handoff and mishandled snap that turned into recovered fumbles by the Lions, including one early in the fourth quarter when the Bucs were seemingly about to score. Fumbles that turned the game around. 'Jeff Garcia was superb today,' Jon Gruden said. 'I don't know how much better you can play than that.'

But Garcia knows how. He took the fall for 'two critical errors' that turned the ballgame. 'It didn't happen the way it's supposed to happen,' he said. 'You can't explain it.'

In his brief time with the Bucs, Garcia has proven to be both a leader and a winner. He has been the man who can do no wrong. At least a few people in these parts, however, have a different view. He was loudly booed upon being introduced, and Lions receiver Roy Williams told reporters last week that Garcia failed in Detroit, ''Cause he blamed everybody else. He blamed everybody else but himself.'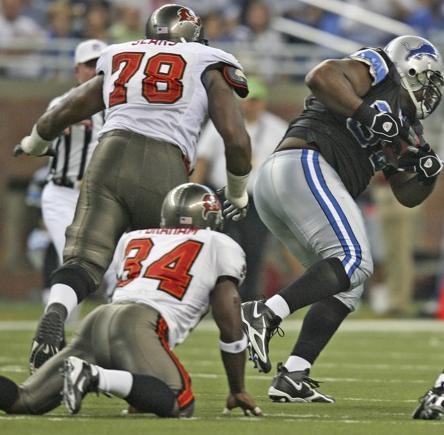 Some of the Bucs said they sensed Garcia's determination to show 'em as he headed back to Detroit. 'I'm sure he did want it. Any time someone goes back to their old team, they want to get a victory bad. We all felt that and wanted to help him get it done,' Jerramy Stevens said.

They almost certainly should have gotten it done. The Bucs seemed to move at will for much of the game - they outgained the Lions by 144 yards. Garcia completed 18 passes in a row at one point, a team record for a single game. 'Through my experience and being where I'm at in my career, you can't afford to allow things that happened in the past to create an emotional situation that's going to take you away from what you need to do as a player on this team,' he said. 'I felt like I came into this game very much under control.'

But his fumbled exchange with Graham in the first quarter set up Detroit's first touchdown and put the Lions in front 10-0. 'I believe I just caught Earnest's elbow,' he said. 'I maybe didn't put the ball in his stomach like I need to.'

And the last fumble was the killer. The Bucs trailed 16-7 and had first down at Detroit's 1 with 12 minutes to play. Detroit drove the field after that for a score to put the game out of reach. 'I think we were our own worst enemy today,' he said.

In this, of all places. The NFL doesn't allow anyone to languish long after a game, even one like this. Jacksonville is coming up next, which means the Bucs need to store up on extra ice for all the bruises Garcia is sure to take. The Jags do like to mix it up a bit.

This one's going to hurt for at least a little while, though. It's a loss, which is bad enough. It could have - should have - been a win, which makes it worse. And it happened in Detroit. 'I'm sure that after we look at the tape, we'll see that he did everything he could to help us win the football game,' receiver Ike Hilliard said.

They didn't win, though. Sometimes it happens that way, but this one sure would have been sweet. The Bucs could have left 5-2. Garcia could have won a measure of vindication that surely would have been at least a little satisfying, whether he ever would say so or not. It was all right there, waiting to be claimed in this place where he had an experience.