Bucs defense torments Aaron Rodgers, Packers in 38-10 romp
Shortly after watching Packers quarterback Aaron Rodgers carve up his defense for 10 points on the first two drives of the game, Bucs defensive coordinator Todd Bowles gathered his players on the bench.

The matchup was billed as a shootout between Rodgers and Tom Brady. But the Packers already owned a 20-3 advantage in offensive plays and the game could've gotten out of hand right then if not for the sideline sermon Bowles delivered Sunday.

Sure, Rodgers had the league's No. 1 offense and had been near-perfect entering the game in throwing 13 touchdown passes and no interceptions while only being sacked three times this season.

But there is a big difference between respect and retreat. "Todd Bowles just told us, 'We're respecting those guys too much,'" linebacker Devin White said. "'They've got to earn our respect, and play them honest. Just be ball hawks and get after them.' And I think once he said that, he kind of gave everyone the green light to go make plays."

What happened in the 38-10 win over the Packers was the Bucs reminding everyone that the "D" in their DNA stands for defense. On the next series, cornerback Jamel Dean jumped a pass from Rodgers to Davante Adams and returned the interception 32 yards for a touchdown. When Rodgers targeted Adams again, the pass was deflected by cornerback Carlton Davis and into the arms of safety Mike Edwards, who ran it back 37 yards to the Green Bay 2-yard line.

One play later, Ronald Jones, who had his third straight 100-yard rushing game, scored his first of two touchdowns and the route was on. The Bucs didn't call off the dogs until they had scored 38 unanswered points, sacked Rodgers five times and hit him on 11 other occasions. Considering the damage the Bucs did to Rodgers, all that was missing was an appearance by Jake from State Farm.


"I'd say Dean's pick set the tempo for the rest of the game," White said. "We knew those guys didn't deserve to be on the field with us, because we've got too much talent and fly around to the ball. And the thing is, we always have fun."

Rodgers finished 16-of-35 passing for 160 yards with no touchdowns and the two picks. His 45.7-percent completion percentage was his third-lowest in a game in 185 career starts. In fact, the Bucs played one of their cleanest games in franchise history. They did not commit an accepted penalty, had no turnovers and didn't allow Brady to be sacked.

Bruce Arians had been harping on how the Bucs had beat themselves in the 20-19 loss at Chicago when they were penalized 11 times for 109 yards. Ndamukong Suh was flagged for roughing the passer on Rodgers on one play Sunday, but the penalty was offset by Rodgers being called for intentional grounding.

Suh sacked Rodgers after that, and the two could be seen exchanging words for the rest of the football game. "That rivalry goes back a long time, and I'm sure the cameras caught some of that stuff," Rodgers said.

The most memorable incident occurred late in the 2014 season when Suh stepped on Rodgers' arm at a December game at Lambeau Field. Suh originally was suspended one game but had it reduced to a $700,000 fine when he successfully appealed, saying it was too cold and he couldn't feel his feet.

In any case, it was Dean's interception that started a feeding frenzy on defense not seen since the Bucs were perennial playoff contenders. "When I saw the formation and I saw how everything started to develop, I was like, 'I have to make this play, because I know what's coming,'" Dean said. "And once I saw him throw it, I was like, 'Yeah, it's mine.'"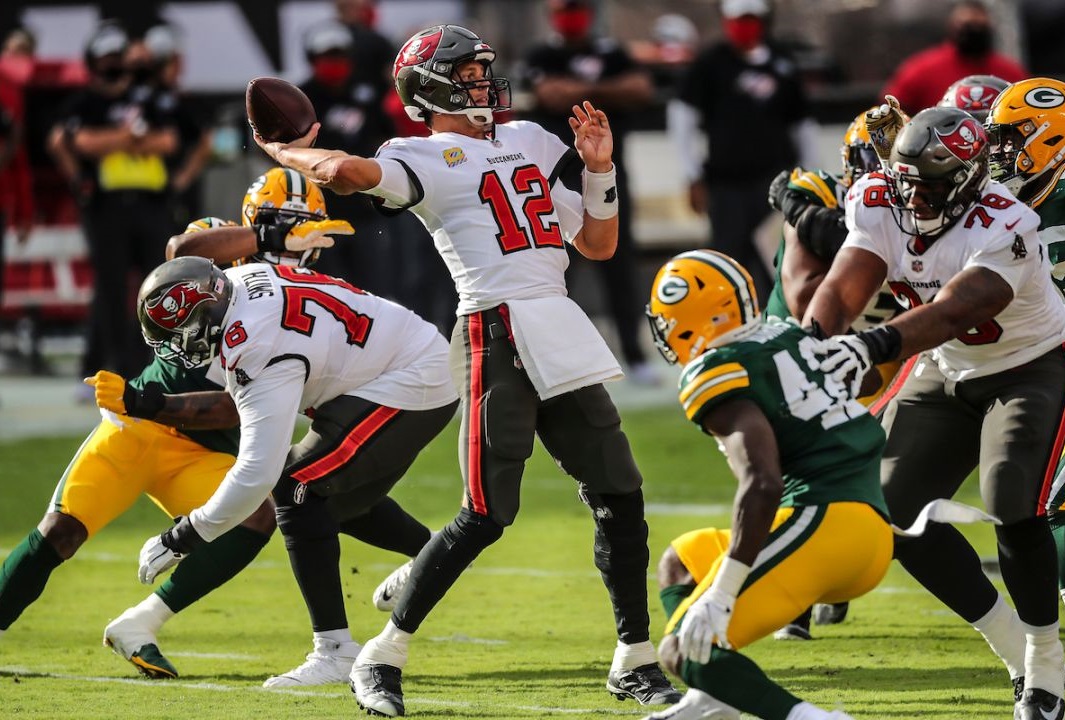 What's stunning is that it was only the third time Rodgers had thrown a pick-six in more than 6,200 passing attempts. "Yeah, I mean that (stuff) happens," Rodgers said. "... I haven't had a lot of those over the years. But the wind was blowing pretty good right to left, and ... I felt good about the spot. I knew it was tight, we've hit throws like that, but I missed my spot by probably a foot or so and the kid made a good play."

The Bucs entered Sunday's game as the league's top rushing defense, allowing 58.4 yards on the ground per game. They bottled up running back Aaron Jones, holding him to 15 yards on 10 carries and allowed 94 yards rushing overall. Rodgers said the Packers had a poor week of practice in Green Bay, where it was cold and windy outdoors.

That sounds like an excuse, because the truth is the Bucs turned back the clock on Rodgers. For one game, although only 15,540 were in attendance, Suh pressured Rodgers like Warren Sapp, Lavonte David went sideline-to-sideline like Derrick Brooks and Dean was aggressive like Ronde Barber. "Like I said in the beginning of the season, we want this team to be a defensive team, because at the end of the day, we want to be the guys on the field when it's crunch time," White said.

Brady didn't have to do much. He was efficient in competing 17 of 27 passes for 166 yards with TDs to Rob Gronkowski and rookie Tyler Johnson. In the end, Brady didn't have to beat Aaron Rodgers. The Bucs' defense did it for him. "I feel good about the team," Rodgers said. "Might need to add an extra finger to the scotch, but I do feel good about the team. I've played for so long, you're going to have a couple stinkers."

Rick Stroud, Tampa Bay Times, published 19 October 2020