Injury Creates Familiar, Unsettling Scene
The Tampa Tribune, published 15 October 2007

Tampa Bay's show of solidarity after injuries became another heartrending and familiar sight during the Bucs' 13-10 victory against Tennessee. Alex Smith became this week's casualty after a player rolled on an ankle early in the fourth quarter. Smith was prone on the ground in obvious pain, and Tampa Bay's bench emptied once players realized another teammate had a serious injury. It was the same support they showed Cadillac Williams, Luke Petitgout and Michael Pittman when those players suffered major injuries this season, but it began when Paris Warren dislocated his ankle in Tampa Bay's final preseason game.

Smith, who was taken off the field in a golf cart, said his injury is being classified as a left ankle sprain, but he will undergo more testing today. The Bucs need Smith to return as soon as possible because the team apparently will be using two-TE sets a lot to help the injury-plagued backfield. 'It's crazy. You can't go into a game thinking about getting injured. It's part of the game, but unfortunately I came up with one today,' Smith said. 'Hopefully it won't keep me out long.'

In addition, Bucs DE Patrick Chukwurah injured his left shoulder and will have an MRI this morning. Chukwurah, who recovered his first career fumble in the second quarter, had played well after suffering a MCL injury during the preseason.

Tampa Bay has lost Williams (knee), Petitgout (knee), Mike Alstott (neck), Sabby Piscitelli (foot) and Chris Simms (spleen) to season-ending injuries this season; Pittman (ankle) will be out for at least six weeks; CB Brian Kelly missed his second start because of a groin injury, while Smith and Chukwurah's status will be determined.


'It gets old. I told myself I was going to scream if I see another cart come on the field,' Bucs RB Earnest Graham said. 'It happens. I think Alex is going to be fine, so you got to be happy about that. Injuries are part of the game, but man, we're getting quite a few of them.'

Despite Tampa Bay's consistent medical problems, Coach Jon Gruden could not be happier with the way his team has responded. 'We have some pro football players in our locker room who are giving us everything they have. I know you see it. I know our fans see it,' Gruden said. 'We have some young guys that are learning some valuable lessons from some great veteran football players. That's exciting. We've got a long way to go, but that was a huge win for us today.'

Adams gets his first sack
It took six games for rookie DE Gaines Adams to record his first sack, but he grabbed one during the opening quarter. Tennessee had third-and-4 at midfield when QB Vince Young attempted to scramble out the pocket. Young ran into his own teammate, fell, and Adams touched him on the ground for a 4-yard loss. 'I finally got one. Hopefully there will be many more to come,' Adams said.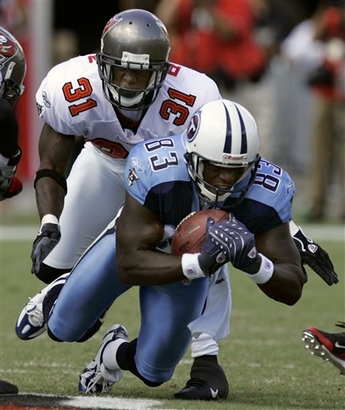 Buchanon steps up
Phillip Buchanon arguably can vie for having the biggest turnaround of any NFL player this season. Buchanon, a former first-round pick who was given up on by Oakland and Houston, continued his resurgence this week. He was given the opportunity to start his second game because Kelly was out with a groin injury. He took full advantage by recording his second interception of the season, and added eight tackles and defended a pass. 'I'm just playing football. I'm just trying to have fun and enjoy myself,' Buchanon said. 'With guys like Jermaine Phillips helping me out, it just makes it so much easier for me.'

Buc notes
Jerramy Stevens started his first game for Tampa Bay. Stevens started 26 games when he played for Seattle.
Matt Bryant's 43-yard game-winning field goal was his longest kick this season.
Tampa Bay has yet to give up a first-half point at home.
Kevin Carter recorded his 99th career sack in the fourth quarter
Tampa Bay's offensive line did not give up a sack for the third time this season.