Hard to strut with a limp, but the Bucs defense is getting it done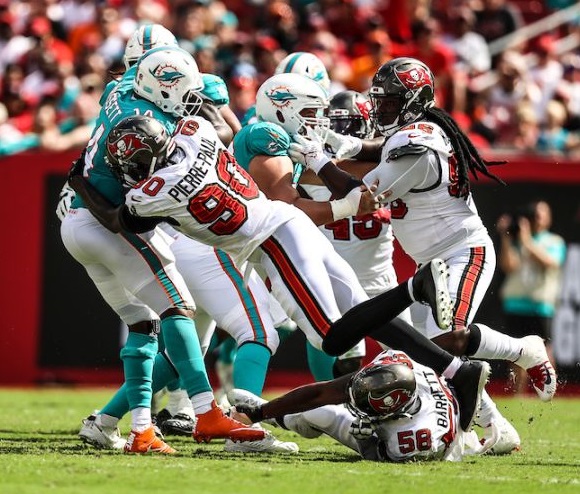 Tampa Bay's banged-up secondary is giving up yards, but still winning on the scoreboard. There will be times, later this season, when the Bucs defense looks more ferocious. When teeth will be bared, claws will be sharpened and opponents will shiver.

There will be times, when the playoffs draw near, that Tampa Bay coaches will turn the defense loose. Linebackers will blitz, cornerbacks will press and crowds will go wild. For now, however, it's mostly quiet as a handful of guys you've barely gotten to know are asked to protect the cargo of a season.

This version of the Bucs defense under coordinator Todd Bowles is playing a tempered, sensible and cautious style of football. And that's good enough. "I loved Todd's game plan," coach Bruce Arians said after the Bucs beat the Dolphins 45-17 on Sunday afternoon. "I thought it was excellent."

It's hard to overstate how impressive the defense has been the past two weeks, even if the numbers say otherwise. The Bucs have faced five quarterbacks, including one rookie and one backup, and have surrendered an average of 319 passing yards a game.

Opponents look at the banged-up Tampa Bay secondary and dream of receivers running post routes into the sunset. The defense came into the week having surrendered more passing yards than any team in the NFL, and Dolphins journeyman quarterback Jacoby Brissett started off by completing 8 of 10 passes for 119 yards in the first dozen minutes Sunday. Yet Tampa Bay won in a cakewalk because the offense is that good, and the defense was that smart.

This is, without a doubt, the right way to approach Tampa Bay's injury problem. Arians might be a no-risk-it-no-biscuit philosopher on defense, but he understands the algebra of the current situation. The offense is good enough to score 28 points against anyone, and so the defense just needs to make sure it does not surrender quick, easy, long scoring strikes. "Situational football," Arians called it.


With three-quarters of the starting secondary on the shelf, linebacker Jason Pierre-Paul playing in pain, and now with linebacker Lavonte David on the sideline after an apparent ankle sprain against the Dolphins, the Bucs are a fuzzy facsimile of the defense that conquered Kansas City in the Super Bowl eight months ago.

So they are playing more zone coverage than normal with the safeties making sure no one gets behind them. They are picking their spots with blitzes. Basically, they are just trying to hold down the fort while their teammates are still lined up in the physical therapist's office.

"It's a little harder when we get to the middle of a game and someone is thrown in there like that," linebacker Shaquil Barrett said of David's departure. "But in practice, we work on it a lot when we know someone is going to be out or down. We work on our communication."

Cornerback Richard Sherman, who has had only a handful of practices since being signed in late September, has given up a ton of completions but is keeping everything in front of him. The basic concept is to make teams drive the length of the field and hope they either make a mistake or have to settle for a field goal. "He's a pro," Arians said in the postgame radio show. "That's probably the highest compliment I can give anybody."

The plan did look a little shaky early in Sunday's game. In the first five plays from scrimmage, the Dolphins had gains of 21 and 34 yards and ended up driving 70 yards in less than four minutes. The second drive wasn't much better with running back Myles Gaskin running past Pierre-Paul in a broken zone coverage and hauling in a 24-yard touchdown pass.


Yet, from there, the Bucs regrouped. They completely shut down Miami's running game and started putting more pressure on Brissett. After gaining 145 yards in the first quarter, the Dolphins only picked up 184 yards the rest of the game.

"Coach Bowles came in and gave us a message; the message was received," Barrett said of the turnaround. "We wanted to go out there and play the way we were supposed to be playing all four quarters and we were able to do it."

To be fair, the Dolphins are not a great offense. Or even a good offense. Nor was New England's offense last week. The Bucs will face a much tougher test with Eagles quarterback Jalen Hurts in Philadelphia on Thursday night. Considering it's a short week, Arians told the Bucs radio network that it was doubtful David would be available for the Eagles game, which makes the chore that much more difficult.

For now, however, the Bucs do not need their defense to go out and win a game. They just need to make sure they don't lose it.

John Romano, The Tampa Times, published 11 October 2021