Manning slowly picks apart Bucs
Gary Shelton, The St.Petersburg Times, published 8 October 2007

The new batch of commercials should arrive any day. After all, the world cannot get enough of Peyton Manning. This time, the ads should feature something small, something deadly. Power tools, perhaps. Ginsu knives. Who knows? Maybe someone will bring back the Veg-o-Matic.

If you are looking to carve something up, this is your man. He sliced, he diced. He chopped, he whittled. For a guy who has made a career of cutting deep and often, he seemed fairly content in bleeding an opponent with paper cuts. If you do not believe it, just ask the Bucs, the latest slab of meat to get hacked up by Manning.

The Bucs didn't just get popped Sunday afternoon, they got Peytoned. In one afternoon, they went from one of the NFL's surprising success stories to just another bunch of guys in the latest Manning highlight reel.

A team cannot be beaten as soundly as the Bucs were in their 33-14 loss without it raising a brand new set of concerns. For Tampa Bay, the pass rush still has not arrived. The running game has disappeared. The injured list is getting longer.

Yeah, you could look at Sunday's defeat that way. Or this way: Too much Manning.

Sometimes, the story is about the other guy. Sometimes, a better-than-expected team runs into a better-than-anyone quarterback. Sometimes, a team finds itself as the supporting actors in the Peyton Manning story.

Manning was terrific against the Bucs. Without his best receiver, Marvin Harrison, and without his best running back, Joseph Addai, Manning picked the Bucs clean. He was patient, he was precise. And for all of their other problems, the main reason the Bucs were never in the game was because of him. "That damn Peyton Manning," said Jon Gruden. "He really irritated me today."

Over his career, Manning has irritated a lot of coaches and frustrated a lot of teams. Most of the time, he has done it in chunks. Eighty yards here. Seventy there. A man doesn't surpass 4,000 yards in a season seven times by throwing 5 yards at a time.

This time, he did. This time, Manning took smaller bites. Of his 29 completions, 20 of them were for less than 10 yards. Eight were between 10 and 16 yards. Only one went for more than 20 yards (compared to 19 in his first four games).

Because of Manning, the Colts were able to convert 75 percent of their third downs. (Manning was 5-of-7 with all five completions going for first downs.) Because of Manning, the Colts were able to hold the ball 161/2 more minutes (more than a full quarter of play). Because of Manning, the Colts were able to wear down the Bucs' run defense in the fourth quarter. "He's as good as they come," said cornerback Ronde Barber. "I can't imagine anyone better. I know Tom (Brady) did us a couple of years ago, but this was ... surgical."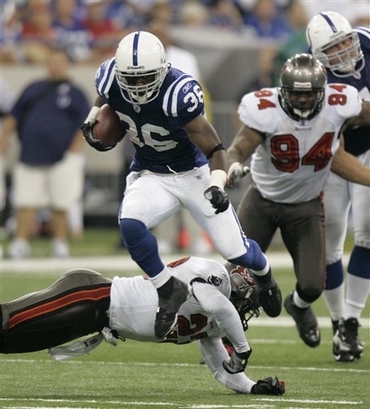 There was a time, Barber said, when he considered Brett Favre as the game's best quarterback. And, yes, he says he has tremendous respect for Brady. But he says Manning is the best the team has seen. "We've been beaten handily before, but he just dissects you," Barber said, "He just knows where to go with the ball every time."

This time, Manning was going to players named Anthony Gonzalez and Kenton Keith and Bryan Fletcher and Clifton Dawson. Admit it: They are hardly the Four Horsemen of your Fantasy Team. When Manning was rushed, he would find a way to check down. When it was third down, he would find a way to move forward. "Sometimes, you have to tip your hat to that quarterback," Gruden said. "That guy is truly phenomenal. What can I say? I was really amazed at what he did today."

The good news for the Bucs, of course, is they are finished with Manning for the year. The bad news? In the next two weeks, they have Tennessee's Vince Young and Detroit's Jon Kitna, both of whom are having good years despite Sunday's struggles. That's the challenge, for the Bucs and for everyone else. How much of Sunday was because Manning was excellent, and how much of it was because the Bucs weren't?

It would help, of course, if the Bucs' pass rush would finally arrive. That's a founding principle of this defense, remember, to put heat on the quarterback. When you look at how well the linebackers have played, and how much the secondary has improved, the pass rush seems to be the final piece of the puzzle. Yet, in five games, the defensive line has seven sacks.

The more you look at the dwindling backfield of the Bucs, the more you realize that, as much as ever, this season rests in the hands of the defense. If the Bucs are to be successful, they cannot allow other quarterbacks to look like Peyton. If the Bucs are to be successful, they have to make them look like, well, Eli.