Bucs show national audience their will to win
Rick Stroud, The St.Petersburg Times, published 4 October 2011

The Tampa Bay Buccaneers waited nearly eight years for a Monday Night Football game at Raymond James Stadium and the youngest team in the league was going to leave an impression. So against the Indianapolis Colts, the baby Bucs proved they would grab, push, shove and fight. And that was just what they did after the whistle.

Overcoming more than a football field in penalties, the Bucs also showed a sellout crowd and national television audience their will to win and flair for the dramatic.

Quarterback Josh Freeman extended all 6 feet, 6 inches of his body for a key first down and two plays later running back LeGarrette Blount exploded for a 35-yard touchdown run with 3:15 remaining in the game to give the Bucs a 24-17 win over the Peyton Manning-less Colts.

It was the ninth comeback victory in which the Bucs have trailed by 10 points or more since 2008, the most in the NFL during that span.

"You want to go in every week and play a spot-free football game, but that's rarely how it goes," Freeman said. "I think we showed a lot of people that regardless of penalties — we didn't turn the ball over — but whatever the adversity, we continue to play four quarters and persevere. That's kind of our makeup, that's how we've been getting it done."

With their first three-game winning streak since 2008, the Bucs (3-1) maintained a first-place tie with the New Orleans Saints in the NFC South. The Colts fell to 0-4 for the first time since 1998, Manning's rookie season. Blount bludgeoned the underbelly of the Colts defense, rushing for 127 yards and a touchdown.

"LeGarrette was huge, just huge for us," Freeman said. "Like I said, when we get the big fella rolling, he's tough to deal with. LeGarrette got a seam, and he's such a tremendous athlete, he's tough to deal with."

Freeman passed for 287 yards and a touchdown. But what the third-year pro from Kansas State did with his legs was nearly as impressive. Before the final kneel down, he rushed five times for 28 yards and a TD while picking up several key first downs. "I don't like to run, but I'm kind of good at it," Freeman said. "It's whatever it takes to win."

Like many of the Bucs wins, this one wasn't pretty. Tampa Bay was penalized 14 times for 106 yards. Colts quarterback Curtis Painter, making his first NFL start for injured starter Manning and backup Kerry Collins, threw touchdown passes of 87 and 59 yards to receiver Pierre Garcon. But the Bucs defense came up big, sacking Painter four times — two by Michael Bennett and one apiece by Gerald McCoy and Adrian Clayborn.

"We tried to treat this like any other game," cornerback Ronde Barber said. "The nation got a chance to see who some of our young rush men are. That's going to showcase those guys a little bit. Obviously, Free(man) got a chance to shine and he did and LeGarrette, it's nice having that kind of threat in your backfield. Nobody wants to hit that dude at the end of games."

The Bucs tied it at 17-17 when Freeman hit receiver Preston Parker on a 13-yard touchdown, the first of Parker's career. The Colts had a good chance to take the lead, McCoy sacked Painter to force a 43-yard field goal attempt that Adam Vinatieri missed left with 11:38 to play. Freeman and the Bucs have been prone to slow starts and Monday was no exception. Tampa Bay entered the game having scored one offensive touchdown in the first quarter, in the opener against Detroit.

The Bucs trailed 10-0 in the second quarter. They failed to take advantage of a short field after Michael Bennett sacked Painter, stripped him of the ball and recovered the fumble at the Indianapolis 32-yard line. The scoring chance ended when Conner Barth hit the right upright on his 46-yard field goal attempt.

Freeman and the offense got cranked up in the second quarter. Facing first and 20 at the Tampa Bay 9, Freeman hummed a dart for 44 yards to Arrelious Benn. After three more completions, including an 11-yarder on third down to Mike Williams, Freeman scored his second rushing TD in as many games with a 1-yard sneak.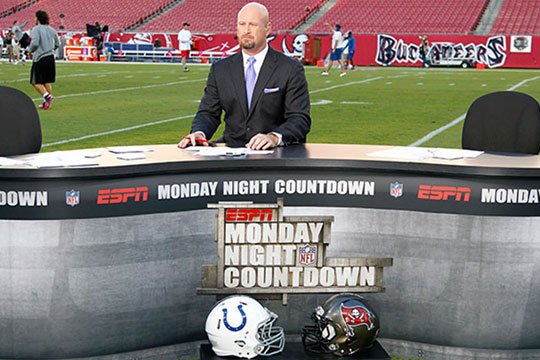 The Bucs had a chance to tie before the half. Operating the two-minute drill, Freeman used five completions to move from the Tampa Bay 29 to the 12. But facing third and 2 with no timeouts, Freeman was sacked by Robert Mathis with 17 seconds remaining. The Bucs ran the field goal team onto the field with time running out and Barth's 37-yard attempt was good. But the Bucs had 12 men on the field and the half ended.

The Bucs tied it at 10 by taking the second half kickoff and driving close enough for Barth to connect on a 46-yard field goal. Painter made his first NFL start and looked sharp early on. He completed passes to Reggie Wayne and Dallas Clark on third down to move the chains and set up a 45-yard field goal by Vinatieri for a 3-0 lead. It was the Bucs' first Monday Night Football game at Raymond James Stadium since 2003 and their past collided with their present.

Two former Bucs coaches were in the house — Tony Dungy and Jon Gruden, who called the game for ESPN. Former Bucs quarterbacks Trent Dilfer and Steve Young hosted Monday Night Countdown and former quarterback Shaun King attended.

"We'll take it," Barber said. "We never felt like we were going to do anything but win this week. They have some talent on that team, we knew that. … Take away their two big plays, and this was a dominant performance by our defense. We'll take ugly."